A Pew Research study of teenagers' online habits shows that while just about all teens go online daily, what they do and what apps they use vary widely. The survey, conducted online (rather than by phone, which Pew admits has greatly affected the results) shows that teens' habits and haunts depend on a number of factors, from family income to race and gender. Facebook was by far the most popular single platform, with 71 percent of all teens reporting using it. But interestingly, as household income increases, Facebook use drops off sharply, while use of Instagram, Snapchat and Twitter jump.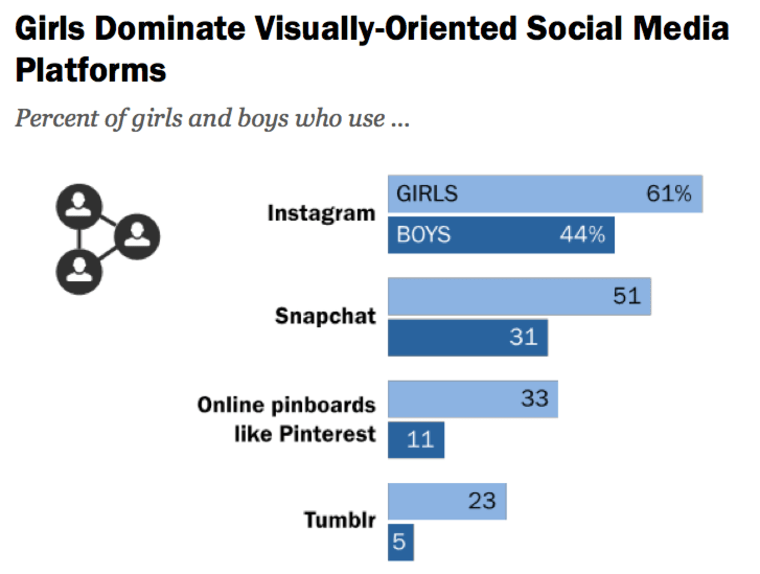 Girls were much more likely than boys to use visual social media sites frequently. Half of girls are on Snapchat versus a third of boys, one in three uses Pinterest compared with one in 10 boys, and almost a quarter are on Tumblr while just 5 percent of boys are. Boys, on the other hand, are far more likely to have access to a gaming console (91 percent versus 70 percent) and play games online.
Teens of black or Hispanic backgrounds more often had mobile phones from which to access such services (though fewer had desktops or laptops), and were twice as likely to use messaging apps like WhatsApp and Kik.
The report goes into much greater detail on the differences between various demographics. You can download and read the research at Pew's website.
IN-DEPTH
— Devin Coldewey