Of the more than 2 million Airbnb listings worldwide, the one most booked is a mushroom-shaped geodesic dome surrounded by redwood and oak trees in Aptos, California.
The tiny cabin, owned by Michael and Kitty Mrache, has a five-star rating — with 88 percent of guests giving it the highest review — and was vacant for just three nights in all of last year.
While the eco-friendly house feels isolated, it's just an hour drive from Levi's Stadium, where the Super Bowl will be played Sunday.
"A lot of people have fantasies about staying in a dome," said Kitty Mrache, standing in front of the tiny cabin. "A geodesic dome has this unique quality where you can whisper on one side of it and the sound can travel to the other side," said the 65-year-old art and meditation teacher.
She and her husband first listed the "mushroom dome cabin" on Airbnb in July of 2009, and the nightly cost is much less than what many visitors to the Bay Area will pay this weekend at $110 per night, plus tax and a cleaning fee.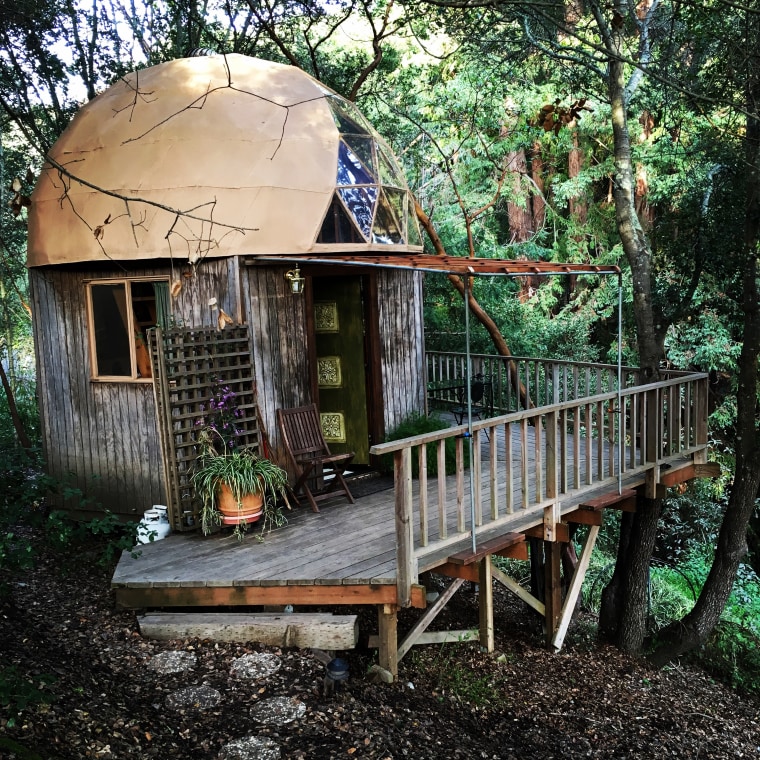 The lucky folks who booked it for Super Bowl weekend did so months in advance. But when the biggest game in football isn't in town, guests can enjoy hiking, barbecuing on the cabin's deck, watching movies from a collection that boasts ninety titles (though "no horror films," says Mrache) and watching as hummingbirds zoom through the property's colorful gardens.
"Many guests who come here come to get away from noise and crowds, and so it's a great contrast to the Super Bowl frenzy to come and just relax and kick back and enjoy a meal on the deck in the evening," said Mrache
Airbnb estimates that more than 15,000 total Airbnb guests will visit the Bay Area for the Super Bowl, and reports that reservations have spiked by more than three times, as compared with typical weekends.