One of YouTube's top influencers ranted against an internationally recognized French wine expert, leading to targeted hateful comments online, but the expert and tour guide says she was simply doing her job. Now, one of the influencer's sponsors is cutting ties with the online star. 
Tana Mongeau is known for sharing dramatically exaggerated stories about her life as an influencer. This propelled her to fame on YouTube, where she has over 5 million subscribers and a podcast, "Cancelled," that draws more than half a million listeners every week. 
Mongeau's latest controversy raises questions around the larger consequences of influencers wielding the power of their platform against small businesses. The targets of these attacks often find few means of recourse besides turning back to the internet for help. 
In a podcast episode released on Aug. 6, Mongeau spent about 30 minutes explaining what happened during a wine tour she took on a recent trip to France. She revealed the first name of her tour guide, Cynthia, as well as the name of a champagne house in a French town with a population of under 3,000. Mongeau didn't reveal the guide's last name, but a Google search for "Cynthia" and "French wine tour" displays the guide's personal website. 
Cynthia Coutu runs her own business, called Delectabulles. She is a certified wine and spirits educator who has been voted "Best Wine Experience in Paris" by Travel and Hospitality Awards, "Wine Expert of the Year" by Luxury Travel Guide Global Awards, and Top 50 Wine Experiences in the World by The Wine Magazine.
During the episode, Mongeau said she was already upset before the tour began because she had stayed up drinking until 6 a.m. She said she had expected the tour to involve vehicles, but it turned out to be a lengthy walking tour. 
"Don't you think you should say 'Bring your Air Maxes?'" Mongeau said during the podcast,  referencing a popular sneaker and complaining that she was unaware of what the tour would entail.
Mongeau blamed Coutu for not informing their group, but Coutu shared screenshots with NBC News that appeared to show she sent a detailed itinerary ahead of time to Mongeau's friend, who paid for the tour. Coutu said Mongeau's friend signed off on the itinerary, which stated,  "You should bring a bottle of water and wear comfortable walking shoes, casual clothes, layers. It will be chilly in the cellars." 
Mongeau said she was angry that Coutu wouldn't leave her alone during the 12-hour tour, which Mongeau left after about five hours, and that Coutu explained things like the "history of Veuve Clicquot" on the train ride to Dormans, in the Champagne region of France. 
Mongeau added that she thought Coutu was condescending toward her and that she had expected to be drinking wine throughout the entire tour. 
Eventually, Mongeau said on the podcast, she put her headphones in to listen to music during the tour. Mongeau said Coutu said she was "being extremely disrespectful" and at one point asked her to call a car to take her back to Paris. 
Mongeau then started yelling on the podcast: "We paid you!" and "I don't want to learn about fertilization of grass in the middle of France in a town with a population of 300 at 8:40 a.m. after I've just walked a mile and a half and there's yet to be a glass of wine in my hand.
Mongeau also repeatedly expressed wanting to physically fight, "curb stomp" and even kill the tour guide.
"I literally, I absolutely want her dead. At the hands of me," Mongeau said during the episode. 
When Mongeau read an advertisement for one of the podcast's sponsors, the language-learning platform Babbel, she included the line, "And with Babbel I could have told Cynthia the wine tour lady to shut the f--- up in her native language." 
On Tuesday, Matt Horsburgh, Babbel's public relations lead, told NBC News that the company was no longer working with Mongeau and would more carefully vet podcast sponsorships in the future. Mongeau didn't respond to a request for comment.
"This absolutely does not align with Babbel's company values," Horsburgh wrote in an email. "Highlighted here, Tana is obviously not a person who understands or celebrates the differences in cultures and we regret to be in any way involved with her."
During her interview with NBC News, Coutu said there are cultural differences for wine and spirits professionals in France. 
"You have a responsibility and a legal obligation to encourage people to drink responsibly. If you read the small print on my website, it says, 'You're encouraged to drink responsibly,'" Coutu said. "So all day, if I wanted to be a responsible professional, I had to promote and encourage that."
"All of my decisions were, 'How can I remain as professional as possible?' and try to make everyone happy," Coutu added.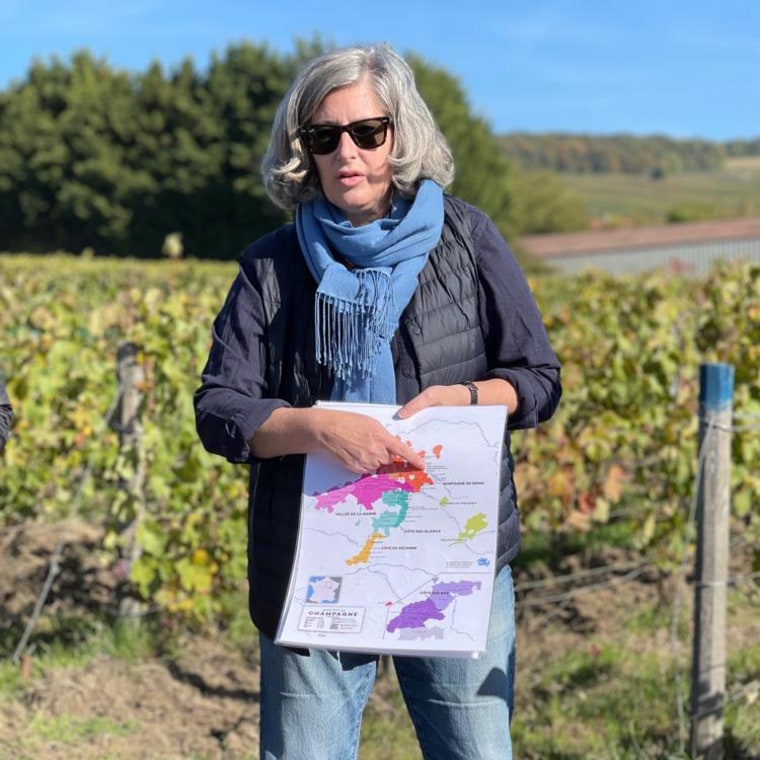 After the podcast episode was released, Coutu said she started to receive "strange messages" from people on Instagram. One person sent her a link to the podcast. After listening, Coutu said she reported Mongeau's death threats to the police in Paris, where she lives. She declined to share a copy of the report with NBC News, citing privacy concerns.
NBC News observed more than five negative reviews and comments newly posted on the tour guide's personal Instagram account, as well as on the Google reviews for the champagne house. Coutu said she read some of the comments, which included some of Mongeau's fans threatening to hurt her, hurt her business and even find her phone number. 
"If you decide to book a tour here, ask for anyone but Cynthia," one review on Google said. Another said, "Couldn't enjoy the tour due to how unprofessional the guide (Cynthia) is. Avoid her at all costs." 
A comment left on the guide's Instagram account said, "you should not talk about people that come in to tours, Cynthia!!"
The reviews and comments each referenced what Mongeau shared on the podcast.
"Of course it wasn't pleasant to listen to someone lie and say nasty things about me, but I'm a big girl," Coutu said. "I can handle people trashing me, but a death threat is a bridge too far."
To Coutu's surprise, she started receiving comments and messages from Mongeau's listeners who were "Team Cynthia." Some of them were upset with Mongeau and helped Coutu report the false reviews left for the champagne house.
"People were sending me Reddit threads. I never even used Reddit before in my life," Coutu said. "There's at least, I think I counted 10 different threads devoted to this."
"That reconciles me with humanity when I see that one of the consequences was this outpouring of kindness and a wake-up call for a lot of people," Coutu went on to say. "It's just wrong, cyberbullying — and death threats, well that's next level."