President Donald Trump promoted a critic of net neutrality on Monday to chairman of the Federal Communications Commission, the agency responsible for enforcing those regulations.
In a statement, Ajit Pai, a telecommunications lawyer whom President Barack Obama appointed to a Republican seat the FCC in 2012, said he was looking forward to working with his colleagues, thew Trump administration and Congress "to bring the benefits of the digital age to all Americans."
Pai worked at Verizon Communications Inc. as an associate general counsel for two years, but much of his career has been spent working in government, bouncing among the Justice Department, the Senate Judiciary Committee and the FCC.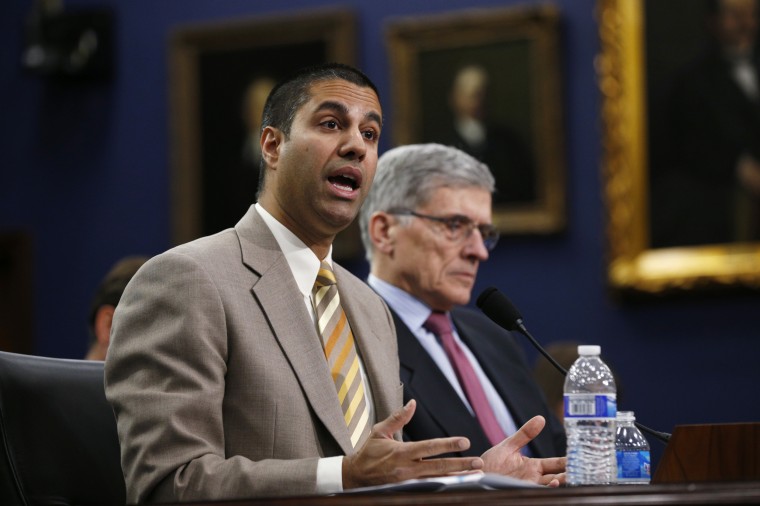 In 2015, he voted against the agency's net neutrality regulations, which mandated that cable, cellphone and other telecom companies should providing internet service like a public utility, without favoring particular providers over others.
(NBC News is a division of NBCUniversal, which is owned by Comcast Corp., the largest internet provider in the United States.)
Related: FCC Decision on Net Neutrality: What Does It Mean?
At one point, while the agency was still considering the rules, it received nearly 4 million comments, with 99 percent in support, according to the Sunlight Foundation, an open government advocacy organization.
The FCC approved the rules, but Pai accused the agency in a 67-page dissent of "turning its back on internet freedom" in favor of government regulation because Obama ordered it to.
"The courts will ultimately decide this order's fate," he said. "And I doubt they will countenance this unlawful power grab."
Pai added that the order's "days are numbered."
Related: Appeals Court Upholds FCC's Net Neutrality Rules
At a gala held last month held by the Free State Foundation, a free market think tank, Pai said he was more confident than ever in that prediction.
His appointment Monday was welcomed by conservatives, including fellow Republican Commissioner Michael O'Rielly, who said in a statement that it "makes sense that President Trump handpicked him to carry out the administration's broad vision." Republican Sen. Marco Rubio of Florida, wrote on Twitter that he looked forward to seeing the FCC's "proper role restored."
Open internet advocates, meanwhile, were preparing for a fight.
"We are concerned that Commissioner Pai may take steps to undermine net neutrality protections," Corynne McSherry, legal director of the Electronic Frontier Foundation, told NBC News in a statement. "If so, we — and millions of Internet users — will do what is necessary to defend a free and open Internet."
Related: How a Trump Administration Could Reshape the Internet
Pai succeeds Tom Wheeler, whom Obama appointed chairman in 2013. Open internet advocates also had reservations about Wheeler, a former chief lobbyist for both the cable and the cellphone industries — which are among the leading opponents of net neutrality.
But Wheeler surprised many observers, personally leading the FCC's sweeping charge to open the telecommunications sector to competition and emerging as an ally to his onetime critics.
On Friday, his last day in office, Wheeler tweeted: "Upon my @FCC departure, I would like to sign off with 3 words of wisdom that guided me well: competition, competition, competition"