Editor's note: This story contains racist epithets that could be offensive to some readers.
On June 13, Iris Mejia was trying to take a nap. She had called out of work because she felt sick and wanted to get some rest from the daily duties of running her salon, Beauty Bar Orlando in Florida. 
But rest wasn't in the cards. 
"My phone was just going off and wouldn't stop ringing," she said. "So I finally grabbed it and somebody was cursing me out, so I hung up, thinking it was the wrong number."
Immediately, the phone rang again. Mejia estimated that over the next week she got at least 700 phone calls from strangers. In the calls she picked up, people swore at her and called her racist. That would be the least severe harassment she would endure.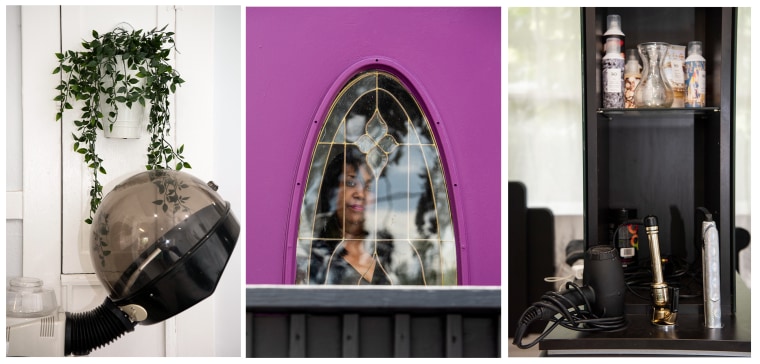 Mejia couldn't have known it at the time, but she and her business had fallen victim to a case of mistaken identity and internet vigilantism gone wrong. A wave of angry social media users had mistaken Mejia for the Black woman in a disturbing viral video who went on a racist anti-Asian rant at a nearby restaurant. 
"It was literally nonstop," she said.
It was just the start of a wave of harassment that would lead Mejia to temporarily shut down her salon and lose thousands of dollars in business.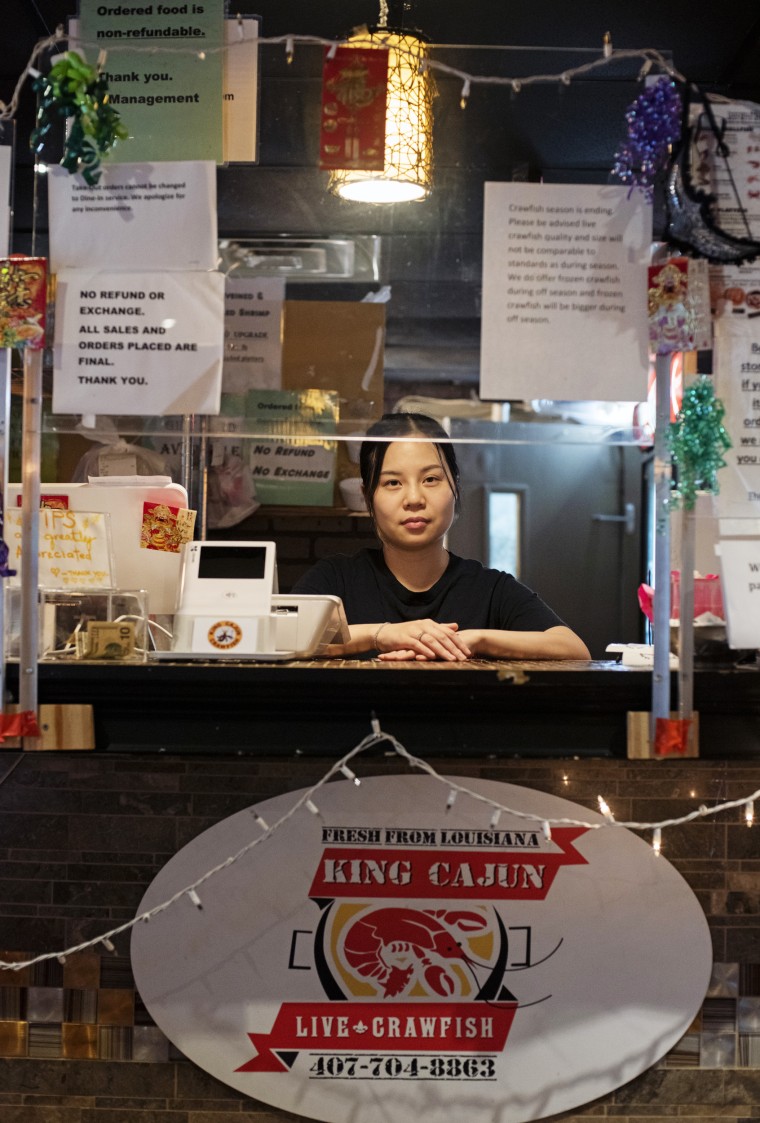 Earlier on June 13, Kristen Nguyen, a restaurant manager at King Cajun Crawfish, just a five-minute drive away from Mejia's salon, took video on her smartphone of a confrontation with a customer who called her "a Chinese b----" and told her to "take your ass back to your country, ching chong." Nguyen posted the video of the racist rant to Instagram, along with the name on the credit card the customer used to pay with and that of a local business she believed the customer owned. 
The woman in the video did not respond to requests for comment.
The video quickly went viral, and it was picked up by viral news accounts with millions of followers.
As often happens with viral videos of racist confrontations, outraged internet viewers sought out the woman in the video, Googling the business name posted by Nguyen and other creators. 
But a search of the business name on Google didn't bring up the woman from the video's business as the first result. Instead, Mejia's business popped up, also with "beauty bar" in its name and with a longer history with more positive reviews.
Hundreds of viewers of the video called Mejia to attack and condemn her without realizing she wasn't actually the woman in the video. 
"I feel that it's Google's fault that this happened to me personally and to our salon," Mejia said. A Google spokesperson said that the salons' similar names and locations most likely contributed to the search results and that it had worked to remove reviews that violated its terms of use from Beauty Bar Orlando's page.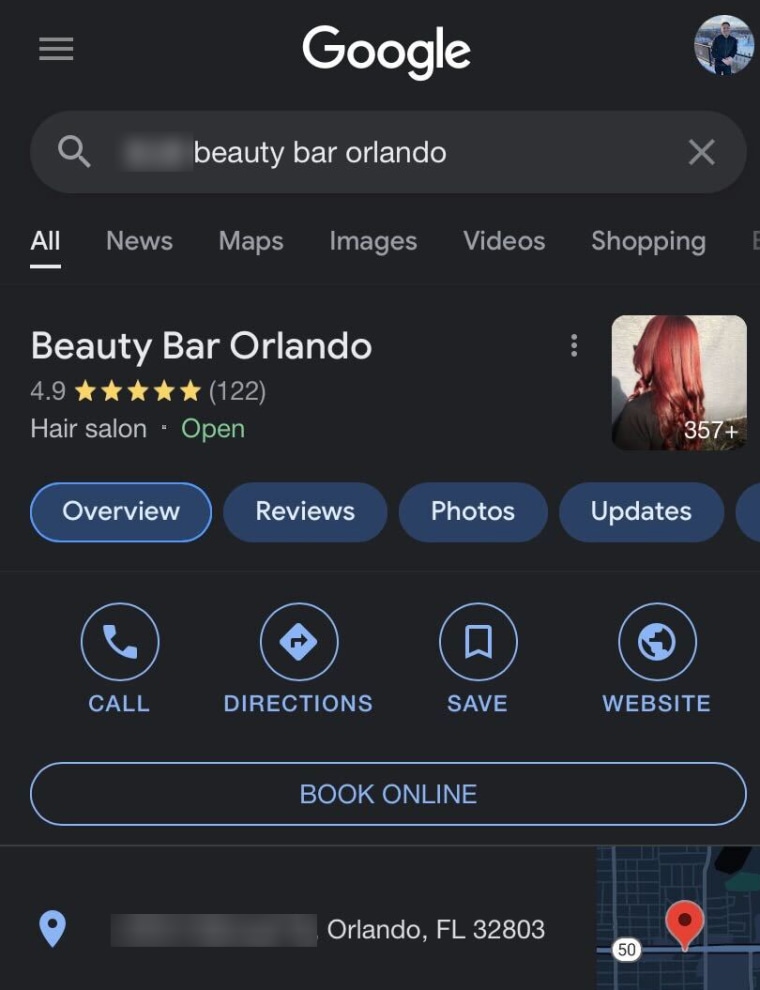 Online vigilantism is a well-recognized phenomenon, one that is the subject of academic study. Examples of people looking to take justice into their own hands to right perceived wrongs go back to the early days of the consumer internet, not long after the advent of the World Wide Web. The phenomenon has only gained momentum alongside the rise of search engines, social media, smartphones and digital video, which have provided the content, tools and motivation for just about anyone to play crusader. 
But in some instances of online mob justice, people hit the wrong target. And while some social media platforms have sought to limit the fallout of such situations, Mejia's experience highlights just how difficult it can be to get help as the costs of being a target pile up.
Once Mejia realized what was going on, she, her family and her co-workers all tried to push back against the mistaken blowback. 
Michelle Niesluchowski, a hairstylist who works in Mejia's salon, was able to find Nguyen through a mutual friend. Niesluchowski said Nguyen was helpful in trying to clear up the case of mistaken identity, updating her original post with a disclaimer and making a separate post warning people that Mejia's salon didn't belong to the person in the viral video.
"I felt really bad," Nguyen said.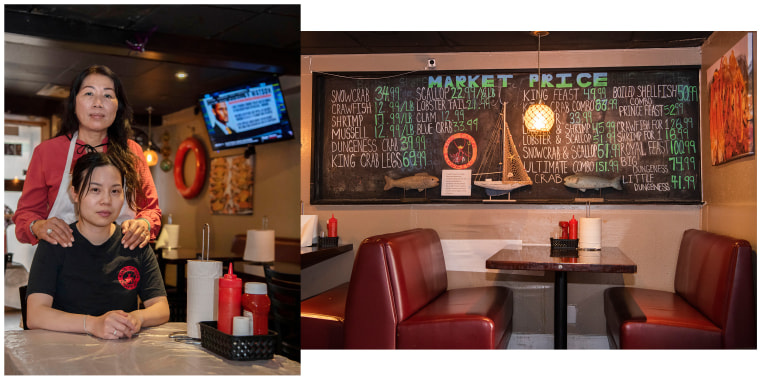 "I'm doing everything I can to make things clear, but people are just not getting it," she remembered thinking when people continued their attacks on Mejia despite her clarifications.
Mejia's son, Nigel Mejia, a manager of the salon, tried to correct the record online — getting his mother's phone number removed from parts of the internet and flagging the incident to Google through a help portal on their Google Business page.
"I still haven't gotten an email back to this day," he said. 
Nigel Mejia was eventually able to get Google to remove the flood of negative reviews from the salon's Google Business Profile. It currently has a rating of 4.9/5 stars.
Despite their public pleas and attempts to reach Google, they couldn't push back against the force of the internet. 
Even though some social media platforms have rules against doxxing — publishing someone's personal information, like a phone number or an address — many creators and users have found ways to circumvent them and have the same effect, such as simply saying someone's name or business name, which other people can look up themselves.
"We couldn't handle all that pressure," Nigel Mejia said. "Me, her and the people that were trying to back her up, like, you know, it was like Instagram wars, Facebook wars, people trying to explain to every single comment that this is the wrong person."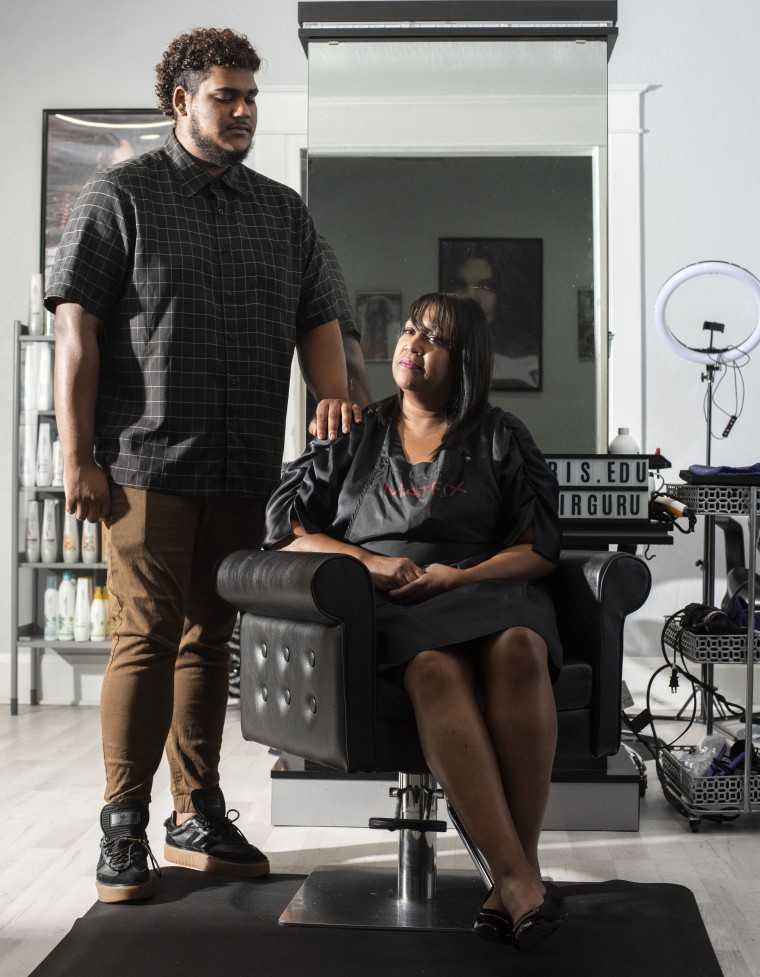 As the days went on, things just got worse. 
Over the phone, several people threatened to burn down Iris Mejia's salon and home, which she said provoked anxiety because her husband died in a fire. "I went into, like, a big anxiety thing about that, because it was traumatizing, honestly," she said. 
Her fears weren't unfounded. Mejia turned off her cellphone and unplugged the store phone, but soon the salon employees started to face physical intimidation and harassment. Mejia said that in one instance, a man stormed into the salon and cursed her out before he ran out.
At that point, Mejia, salon employees and customers began to fear for their safety. Niesluchowski said she began to carry a gun for protection. Mejia was scared more people would come in to harass them — or worse.
"My appointment book was completely full, like, you know, fake appointments," she said. Mejia feared that more people seeking to harass or harm them would come into the salon. 
Two days after the video went viral, Mejia decided to shut down the salon. "What are we gonna do at this point?" she remembered thinking. "We're in danger. Our clients are in danger."
Even with the salon closed, however, people who had seen the video were able to damage Mejia and her business. Two days after the salon closed, it was vandalized with racist graffiti, some of which said "GO BACK TO YOUR CAGE," "Monkey" and other slurs.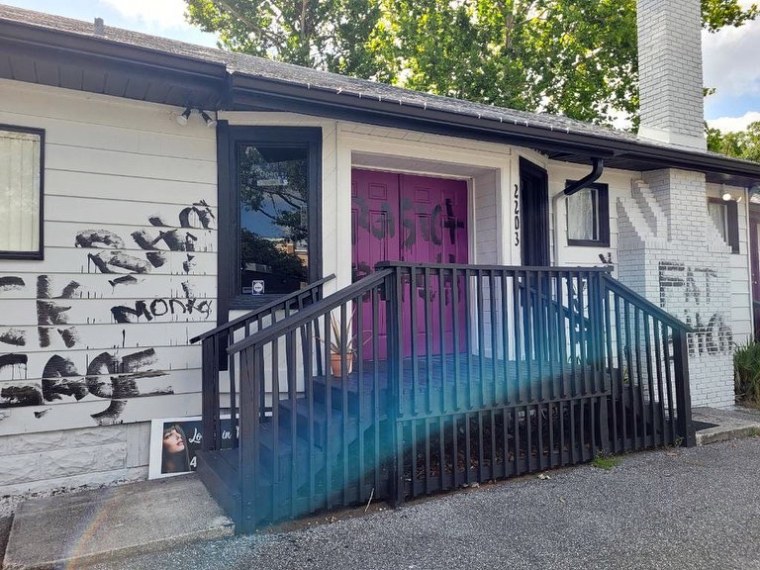 Iris Mejia said the stress of it all took a toll on her  health, landing her in the hospital for three days. She said she suffers from arthritis, which flared up as pressure from the viral video mounted.
"It really did emotionally affect me in such a horrible way," she said.
On top of hospital bills, the cost of repainting the salon and lost wages while it was closed, the business took a substantial hit, she said. She said its profits were down $9,000 in July from where they normally are, even as the hate slowed. 
"A lot of people have stopped calling, because they don't know what's happening," she said. "They think, you know, it's not safe to come back."
A GoFundMe page for the salon started by Niesluchowski and Iris raised a little over $7,500, but Mejia said that barely covered rent for a month and the costs of repainting the business. 
"It's a good $6,000 that I've had to cough up on my own," she said
Nigel and Iris blame Google for the mistaken identity and for their slowed business.
"Ninety percent of the new clients, they all said they came from Google," Nigel Mejia said of their business before the viral video was posted. "So when all the reviews were going, we went from 4.9 to 3 stars overnight."
Iris said: "If they would have immediately fixed it or put a stop to it or put a caution or something, this wouldn't have happened. They wouldn't have been calling me. I think if anything at all, it's their fault that this happened to me personally."