NAMYANGJU, South Korea — Jumping on a national frenzy over cryptocurrencies, 24-year-old Juwon Park scraped together some of her savings and in December gambled $2,500 on the investment trend sweeping South Korea.
Park, a former Google intern who is now a business writer, had been riveted by a man on television who bragged that he transformed $80 into $23 million — all by trading in the virtual currency. It sounded too good to be true. And for Park, and other South Koreans like her pining for financial independence, it has been.
"I didn't want a fortune," she said last month on the first day of the Lunar New Year, a family-centric holiday celebrated across Asia.
"I just wanted enough to give me that glimmer of hope," she said. "Now it's gone."
As cryptocurrencies move from the fringes of the internet to mainstream investing, South Korea — a country known for being an early adopter of technology — stands as the most crypto-friendly country in the world, with at least 2 million digital-currency investors.
The rapidly rising prices of many cryptocurrencies, particularly bitcoin, led to a digital gold rush that young South Koreans were well-placed to join. The country has embraced cryptocurrency so quickly that the government was forced to enact legislation to safeguard consumers and prevent illegal activity.
But as prices began to plunge, Koreans like Park were taken for a ride.
Park, who had been looking forward to one day moving out of her parents' home outside eastern Seoul and paying for graduate school, watched her initial investment grow to as much as $3,200 in a matter of weeks before plunging suddenly in mid-January.
Her cryptocurrency accounts' most recent worth: about $750.
A swift downturn hammered crypto markets around the world in the beginning of 2018, spooking investors who have favored the digital cash as an alternative to — and potentially a replacement for — government-issued money. In recent months, countries have sought to regulate the hundreds of cryptocurrencies that have been created, which include the popular bitcoin as well as so-called alt-coins like Ethereum Classic and Ripple.
Cryptocurrencies can be used like debit cards to buy goods and services electronically, but their values can fluctuate based on supply, demand and even hype — a seductive proposition for some investors. But the South Korean government has been so worried about the use of cryptocurrencies in illicit activities, such as money laundering, that it threatened to ban its trading outright.
A broader regulatory policy is still being devised, the government said last month. Some early initiatives have already been implemented to root out nefarious activity: Foreigners have been prohibited from taking part in South Korea's domestic exchanges, and anonymous accounts have been outlawed.
South Korea is not the only country to embrace cryptocurrencies. Recent studies show that American millennials have become more open to investing in cryptocurrencies over traditional government stocks or bonds. The obsession in South Korea, however, has become a next-level phenomenon with the proliferation of brick-and-mortar crypto investment offices, meetup groups and mobile apps.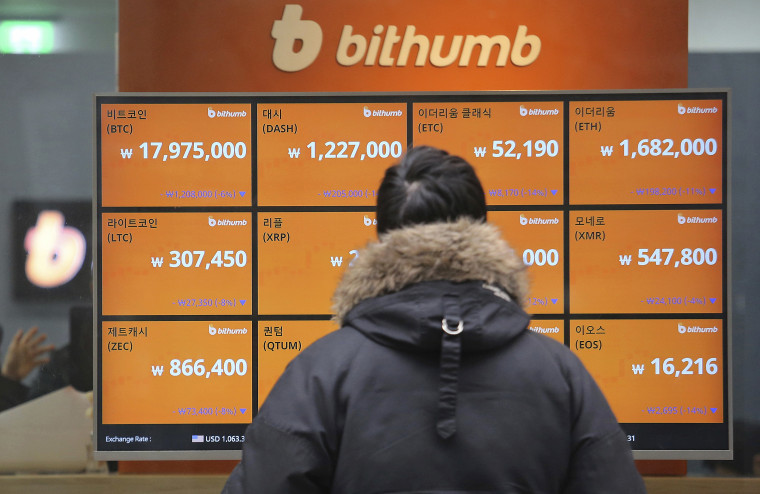 When the South Korean government said it would move to regulate the market, more than 200,000 people signed an online petition in January asking lawmakers not to take away their "happy dream" of investing.
South Korea's currency, the won, falls just behind the Japanese yen and the U.S. dollar in terms of market share for all bitcoin transactions worldwide, according to currency tracker CryptoCompare. Bitcoin, known as a "peer-to-peer electronic cash system," was created in 2009 and available for less than a penny. It experienced a record surge to $19,000 per bitcoin in December before the market tumbled in January.
"It's a global trend," said Elaine Ramirez, a Seoul-based tech journalist who writes about the crypto market, and South Koreans are "indulging in being at the forefront of it."
"On a macroeconomic level, it's a way to gain greater opportunities when economic growth has been sluggish," she added, "and young adults see it as an escape from chronically high youth unemployment rates."
Park studied for several years in the United States, where she broadened her English. Her dreams are not all that different from those of her middle-class American counterparts who hope to acquire their own homes and secure their financial futures. In South Korea, cryptocurrency mania has taken hold of students, housewives and grandparents.
Park had convinced her mother, Agnes Kang, a retired schoolteacher, to invest in cryptocurrency. Kang invested the equivalent of $25,000 — and lost nearly half of it before deciding to pull out completely in early January.
Park, having seen a significant portion of her investment wither away, said she has so little left in her Ripple and Ethereum Classic accounts that she doesn't even bother checking on them regularly. She deleted one of her apps "for my sanity."
"I am hoping that [after] this whole government regulation, once it gets sorted out, the price will normalize," she said.
During a Lunar New Year lunch, she shared her frustrations with her parents and her younger brother, who has also tried his hand at crypto investing.
"The only money that's truly yours is the money you sweat to earn," Kang told her children in Korean over plates of fried egg and vegetables and spicy kimchi.
"I wasn't expecting 100 million won to fall from the sky," Park told her family.
"For me, because prices were rising so quickly, I thought they'd keep rising once I bought in," she continued. "Then I realized I'd been too greedy."
In this rural part of Gyeonggi Province, where the skyscrapers of Seoul are tucked away in the distance like a glittering mirage, Park's financial hopes are closely tied to the volatile whims of an internet market — a stark contrast from the cow farms and sweet-potato sellers that surround her. She longs for the opportunities and escapism of the city, to which she commutes three hours a day for her job.
Her parents can still rely on a national pension fund for their retirement. But what about her future?
"I want to move out someday and get my own place in Seoul," she said.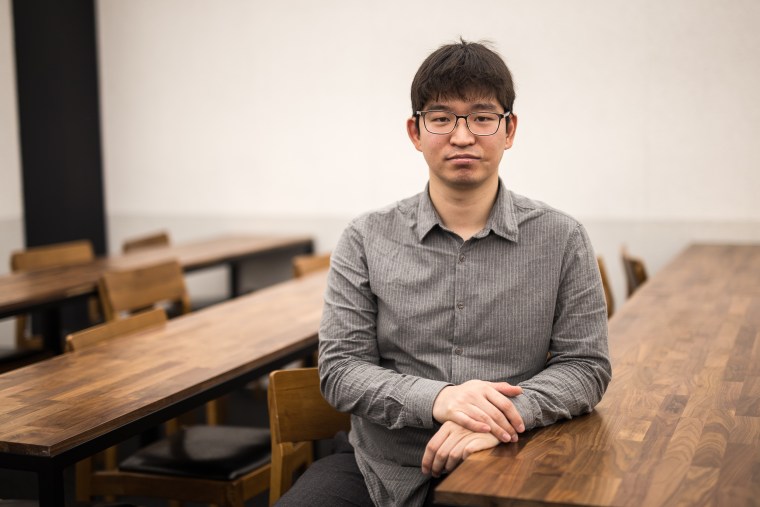 South Korea, which consistently ranks as having the fastest internet speed in the world, offers a perfect launching pad for investing, said cryptocurrency adviser Jeong SoonHyeong, who started a Seoul meetup group three years ago that has grown from 14 members to more than 1,500.
South Koreans' tendency to seek new, dynamic things, "and the IT infrastructure, and the state of the economy have resulted in a craze for investing in cryptocurrencies," Jeong said.
That same explosive level of interest has yet to cross into the mainstream in America, said Christian Catalini, an assistant professor at the MIT Sloan School of Management who focuses on cryptocurrencies.
He estimates that a few thousand people in the United States are investing in the nascent crypto market, relegated to mainly tech-savvy early adopters and others in the Silicon Valley-minded crowd. While U.S. lawmakers and federal agencies have started looking into illicit digital currency activities and so-called initial coin offerings, any tangible move toward regulatory oversight remains unclear.
The head of England's central bank said Friday that he will call for more regulation in the United Kingdom to bring the era of cryptocurrency "anarchy" to an end.
Back in South Korea, Park remains tepid on digital currencies. She once described it as a "life jacket" for young adults, but now she thinks she's "swimming hopelessly."
On Lunar New Year, amid a day of relaxing with her family, she was tempted to check one of her cryptocurrency accounts. The worth had gone up, she told her family with a laugh — to just over $1.