The community fact-checking feature that Elon Musk has touted as a way to fight false and misleading information on X is struggling to keep up with a flood of content related to the Israel-Hamas war.
The system, Community Notes, relies on approved volunteers to suggest notes to be appended to posts. Those posts are then voted on by other volunteers and eventually published after they reach a certain threshold of "helpful" votes from "people with different points of view," according to X. The notes, which appear below X posts, can be as varied as fact-checks and debunkings to additions of context.
An approved Community Notes member gave NBC News access to the feature's volunteer interface, which showed that many false posts with hundreds of thousands of views had no notes, while other notes sat unapproved for hours and sometimes days on posts that accrued tens of thousands of views.
NBC News focused on two prominent pieces of Israel-Hamas misinformation that have already been debunked: a fake White House news release that was posted to X claiming the Biden administration had granted Israel $8 billion in emergency aid and false reports that St. Porphyrius Orthodox Church in Gaza was destroyed.
Only 8% of 120 posts related to those stories had published community notes, while 26% had unpublished notes from volunteers that had yet to be approved. About two-thirds of the top posts NBC News reviewed had no proposed or published Community Notes on them.
The findings echo what a Community Notes volunteer said was X's lack of response to efforts to debunk misleading posts.
"All weekend we were furiously vetting, writing, and approving Community Notes on hundreds of posts which were demonstrably fake news," Kim Picazio, a Community Notes volunteer, wrote on Instagram's Threads. "It took 2+ days for the backroom to press whatever button to finally make all our warnings publicly viewable. By that time... You know the rest of that sentence."
Picazio told NBC News that she ended up just tweeting out proposed Community Notes herself in response to misinformation "out of total frustration." 
X has faced a surge of false and misleading news around the Israel-Hamas war, with many debunked claims notably being spread by verified accounts, which can make money based on ads shown against their posts.
Some high-profile users have said the problem with false information, which the platform has struggled with for years, seems worse than ever.
"Twitter is a cesspool of misinformation on Israel/Gaza," Mark Cuban wrote on Threads. "Is there anyway to follow the news from reliable sources on threads."
X representatives did not immediately respond to a request for comment.
The situation became so dire that Musk, who has been vocally outspoken about his distaste for content moderation, urged users to "please try stay as close to the truth as possible."
The site also said it was working to accelerate its Community Notes program. On Monday, X's @Safety account wrote: "Community Notes are now live on posts and new accounts are being enrolled in real time to propose and rate notes. Community Notes typically appear within minutes of content posting. Notes on photos and videos also appear whenever the media is reposted by other users. This is a critical tool for helping to combat potential misinformation."
CEO Linda Yaccarino added: "Community Notes now appear more quickly on X. They're a vital tool for adding context and combating potential misinformation. Become part of this important community."
According to a post from @CommunityNotes on Oct. 3, "Starting today, notes will appear an average of 1.5 hours faster, and as much as 3.5 hours faster in some cases."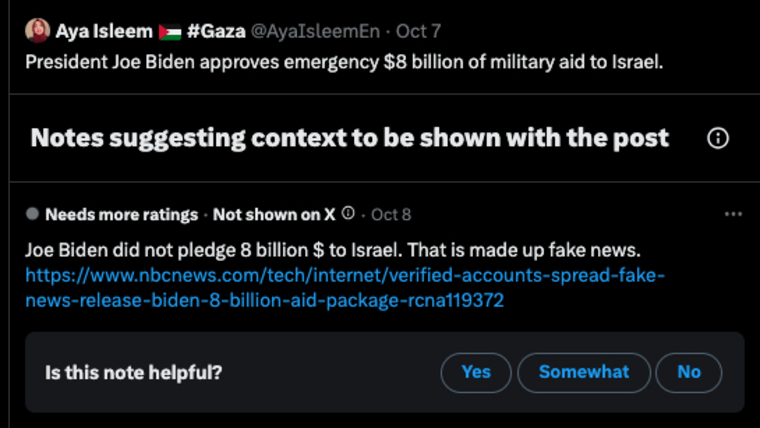 But even after those changes, users with access to the Community Notes program and a review of content within the system by NBC News found that the system was failing to catch misinformation posted more than 24 hours previously.
X has said notes would be appended to reposted media, but many posts including the same images or videos that had already been fact-checked remained on the platform for days without notes.
On X's webpage about Community Notes, the company says that even if a note is applied to a post, a "post with a Community Note will not be labeled, removed, or addressed by X unless it is found to be violating the X Rules, Terms of Service, or our Privacy Policy."
X's Community Notes interface showed how some already-debunked stories flourished, particularly when they were published by verified accounts.
A post about the debunked White House news release published by a verified account had nearly 500,000 views and no proposed or appended note Tuesday afternoon. The Community Notes system also showed that a user tried to submit a fact-check Sunday on another post including the same known misinformation but that it had yet to be approved, saying, "Needs more ratings." The post had accrued 80,000 views since Sunday.
In a search for St. Porphyrius Orthodox Church in Gaza, only five Community Notes had been applied to the top 42 posts echoing the debunked misinformation. Several posts from verified users with no notes repeated the claim and got over 100,000 views, while 13 Community Notes had been proposed on posts of the debunked claims but had not yet been approved for publishing.
Musk took control of X, then called Twitter, almost exactly a year ago, calling himself a "free speech absolutist." Since then, the company has cut many of its moderation resources, including much of its disinformation and election integrity team. He has touted Community Notes as a solution to more traditional methods of platform moderation that are often more punitive for users, resulting in bans, suspensions and content's being deleted.
On March 16, he wrote, "Best way to fight misinformation is to respond with accurate information, not censorship." And on April 12, he wrote that "'misinformation' is indeed the Trojan horse for censorship."
But over the weekend, some users became exasperated with the amount of fake news on the platform.
Political scientist Ian Bremmer, the president of Eurasia Group, a political risk consultancy, wrote: "the level of disinformation on israel-hamas war being algorithmically promoted on twitter is unlike anything i've ever been exposed to in my career as a political scientist."