Beats Music, the new music streaming service from the company behind the popular Beats by Dre headphones, launched on Tuesday for iOS, Android and Windows Phone.
That is right, music fans, you can finally stream music straight to your smartphone — just like you can with Spotify, Pandora, Rdio, Rhapsody, Google Play All Access, iTunes Radio and others. One service that won't be available: MOG, which was acquired by Beats Music in 2012 and will be shut down on April 15.
Beats Music is now available on iTunes, Android and Windows Phone.
"The Next Episode": Why Beats Music could succeed
Star PowerBeats Music boasts plenty of celebrity cred. The company was co-founded by Dr. Dre and music producer Jimmy Iovine, who convinced Trent Reznor from Nine Inche Nails to sign on as the streaming service's chief creative officer.
Plus, Beats Music can't help but get a boost from Beats by Dre headphones, featured in a very timely ad centered around athlete du jour Richard Sherman, the Seattle Seahawks cornerback who became the subject of ever more media fascination after his outburst following Sunday's game against the San Francsico 49ers.
CurationBeats Music wants to take the power away from algorithms and give it back to music nerds. That is why it hired Scott Plagenhoef, the former editor-in-chief of Pitchfork, to head a team of "programmers" to work with "music experts" to create human-curated playlists.
Okay, so Beats Music hasn't completely given up on the algorithm. You can even get situation-specific recommendations. Take this hypothetical situation, as dreamed up by Beats Music: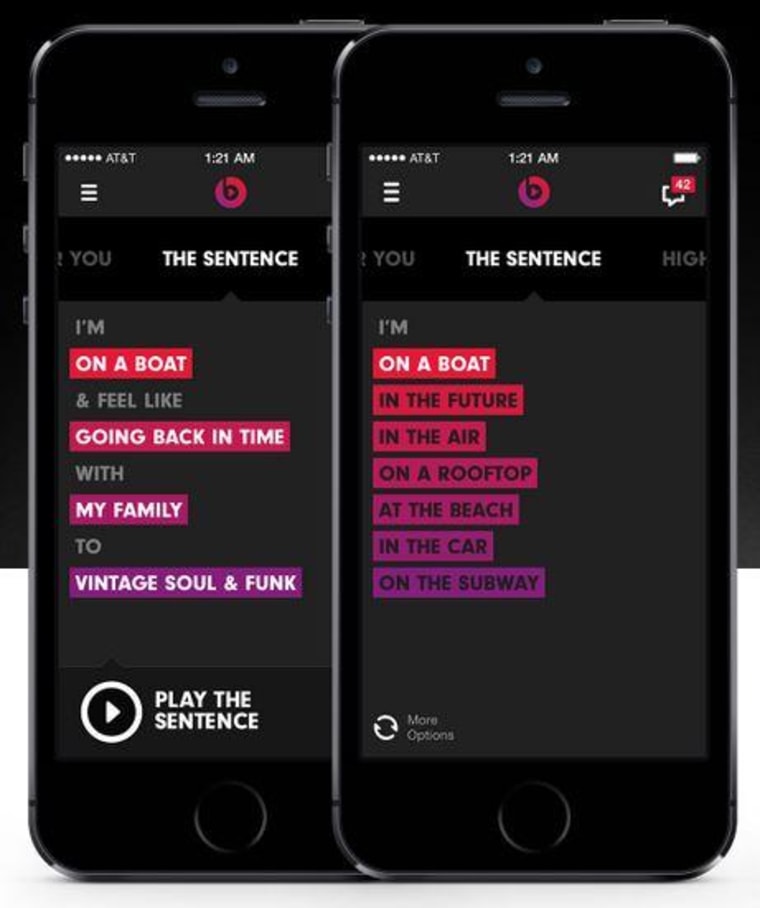 That is right: Your boat-related music emergencies are over. Thanks Beats Music!
Street CredThe streaming service is trying to sell itself as the music service built by artists for artists, paying the same rate per stream regardless whether the song is from a major or indie label. (Spotify's rates vary by how many total streams a label's artists have accumulated). That, along with the number of musicians "involved" in the company, could create a more artist-friendly reputation for the service.
"Forgot About Dre": Why it could fail
Trent Who? There are plenty of young people streaming music today who weren't even alive in the 1990s. How many millennials would confuse Trent Reznor with Prof. Severus Snape? Maybe Beats should have gone with the Biebs.
No Free StreamsThe recent trend is for streaming services to offer more for free. Spotify recently offered a version of its mobile app for non-paying users, while Rdio just announced unlimited, ad-supported streaming on the web.
Beats Music, on the other hand, is only available with a $9.99 per month subscription, or a $15 family subscription for up to five people on AT&T. Yes, it has 20 million songs available on-demand, but so does Spotify, which can be accessed for free.
CompetitionThe music streaming wars are already in full tilt, with every service constantly adding new features to draw away. Spotify just tried to shore up its reputation among artists by letting them sell merchandise on its platform. And new services are popping up all of the time, like Baboom, from none other than Megaupload founder Kim Dotcom.
Will Beats Music succeed where others have failed? Well, if its founders can unload mountains of candy-colored headphones for $200 a pop, it would be unwise to underestimate them.