Update: Later on Thursday, BlackBerry CEO John Chen denied the company is exiting the handset business, saying his comments were "taken out of context." Read more.
At long last, BlackBerry is willing to stop making phones if it continues to lose money.
"If I cannot make money on handsets, I will not be in the handset business," BlackBerry CEO John Chen told Reuters in an article posted Thursday. Chen will make his decision in an unspecified but "short" time frame.
It's Chen's strongest statement yet on a potential future in which BlackBerry doesn't make devices -- and it's a major departure from the previous BlackBerry CEOs who refused to give up on that business.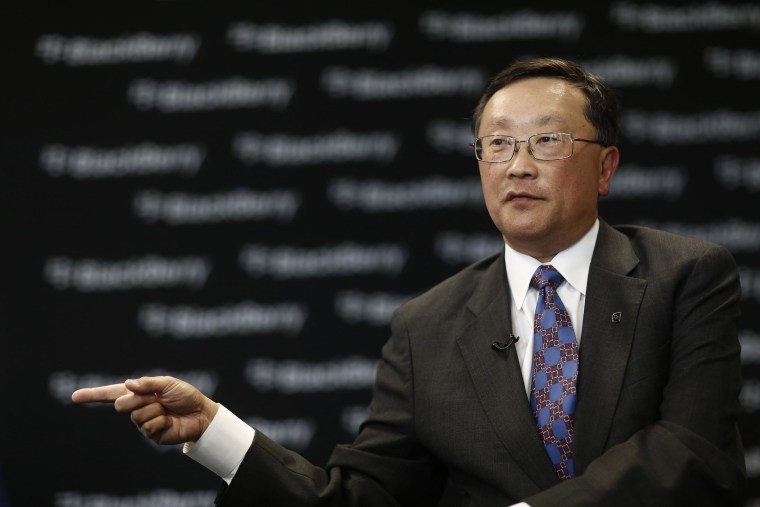 When Chen took over as BlackBerry CEO last November, the company had long been struggling against rivals Apple, Google and Samsung. Chen replaced Thorsten Heins, who lasted less than two years at the gig.
Heins' tenure was filled with mass layoffs, huge quarterly losses and disappointing phone sales. But he stayed committed to BlackBerry as a phone-maker.
By contrast, Chen has been quick to reduce BlackBerry's focus on making hardware.
In December Chen inked a deal with Foxconn, the world's largest market of electronic parts (and the Apple supplier that has made headlines over the past few years for labor violations in China), to develop and manufacture certain BlackBerry devices.
Chen did announce new BlackBerry smartphones in February, but he also stressed that BlackBerry will focus on shoring up its software offerings in an effort to cut more deals and partnerships in several industries.
For example, BlackBerry has introduced new security features for its BlackBerry Messenger (BBM) service, and Chen has discussed plans to license the company's software in a range of industries including automakers and health care providers.