Thanks to modern technology, you can now enjoy happy hour by having a few drinks and then hailing a taxi from your smartphone.
Lyft, Uber's main rival, is celebrating that sacred tradition with its "Happy Hour" pricing, which offers 10 percent to 50 percent off normal rates whenever demand for rides is low.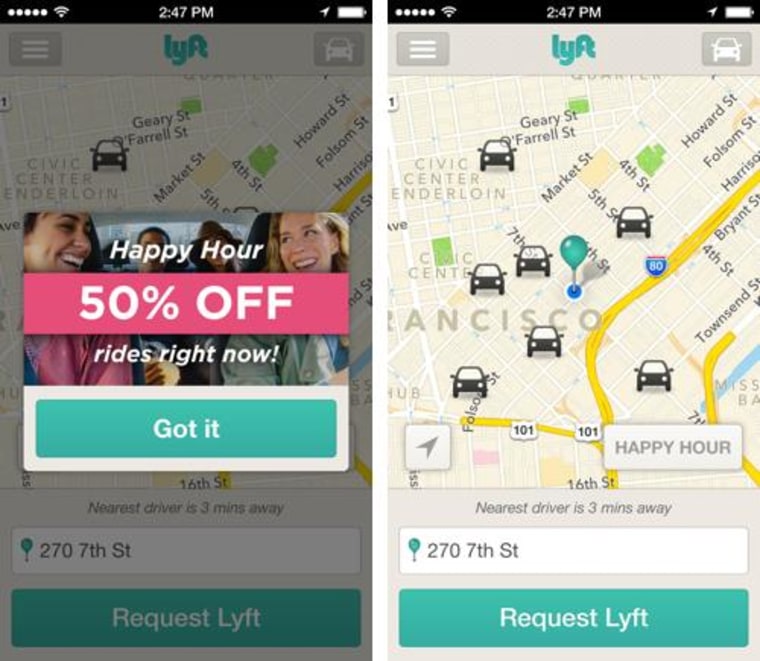 Not that Lyft's cheap rides would coincide with traditional happy hour. Still, it provides a nice discount for Lyft users at odd hours of the day and night — especially those who might be tired of Uber's surge pricing.
To be fair, Lyft also raises prices during what it calls "Prime Time." But Uber hasn't done much to counteract criticism over skyrocketing rates during busy times like New Year's Eve and snowstorms.
Lyft caps its rates at 200 percent higher than normal. That might seem still seem high, but Uber doesn't even have a cap. And now Lyft is easing the sting of occasionally higher prices by offering lower prices when the streets are empty.
"We created Happy Hour as a straightforward way to keep Lyft busier for drivers and more affordable for passengers," the company wrote on its blog. "For instance, a driver who would normally have one ride per hour at $12 may now see two or more rides per hour at $9."
For the consumer, the appeal is obvious: $3 more for drinks and no need to get behind the wheel.