"Cash or credit?" may be a relic of the past as more tech companies and retailers push a mobile payments solution.
Nearly half of adults in the United States — 46 percent — have reported making a mobile payment, according to a Pew study released in May. That translates to about 114 million adults.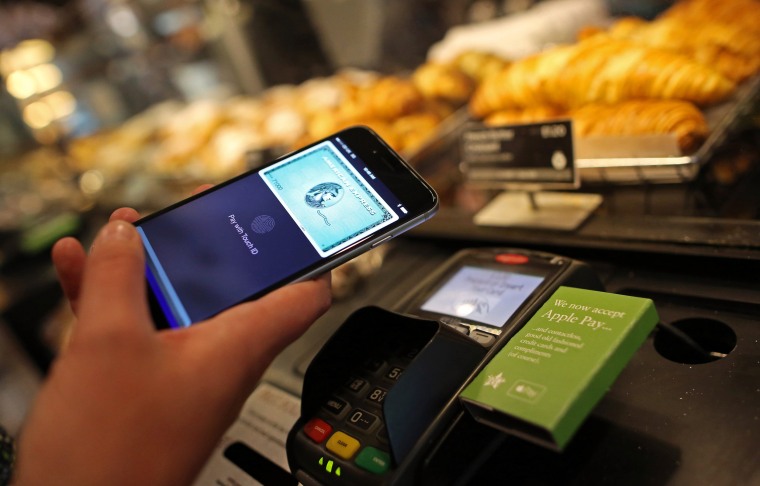 Setting them up typically requires downloading an app and entering some financial information. After that, there's no need to take out your wallet — simply validate your ID and scan your phone at supported checkouts.
Many card providers offer "zero liability" protection for mobile wallets, so you won't be on the hook for any fraudulent purchases if you leave your phone in a cab one night.
Not all mobile wallets are alike, though. With the holiday shopping season upon us, which one is right for you? Here's a rundown of some of the different ways to pay and the benefits they'll bring you as you tick items off your shopping list.
Related: Unlike Apple Pay, New Samsung Mobile Payment System Won't Charge Banks
Samsung Pay
Samsung Pay claims to be accepted at more locations than any other mobile payment service, since it relies on magnetic secure transmission, which is the same way you swipe a credit card.
Open the app, validate your identity with a fingerprint and hover your phone over the card reader to make a payment. You can also load your reward cards to ensure you don't miss those valuable points.
There's a big incentive to start using Samsung Pay this holiday season since the company just announced its own rewards program. Users enrolled in Samsung Rewards earn points that can be redeemed for products and gift cards, and are automatically entered to win prizes.
The downside: It's limited to Samsung phones. Samsung Pay is available on the Galaxy Note 5 or Galaxy S6 and newer devices. It's not available for online or in-app purchases yet, but will be next year for Mastercard users.
Apple Pay
It is the season for giving, and Apple Pay will help you do that.
Apple's mobile wallet, which is available on newer iPhones with Touch ID, the Apple Watch and newer iPads, is making it easier to give to your favorite charities. There's no need to enter any billing information. All it takes is a touch.
Apple Pay isn't available at as many places as Samsung Pay, since the technology requires merchants to have a contactless payment terminal.
However, it's also available online and in some apps, making shopping as easy as validating your Touch ID to complete a purchase. It will also keep track of your rewards cards, ensuring you never miss out on any loyalty programs.
Android Pay
Google's mobile payments solution works on Android phones with KitKat or newer and a Near Field Communication chip.
Like Apple Pay, it requires merchants to have special contactless terminals, so it's not available at every possible place you could use your credit card. However, it is accepted at a growing number of places online and in some apps and also integrates all your loyalty cards — making them one less thing for you to worry about during the shopping rush.
PayPal
The online payments pioneer nails the mobile shopping experience, but might be a better secondary app if you're also looking for something to use in stores.
PayPal isn't as widely accepted in-store as some of the other mobile wallets. You can check out a directory of stores where it's accepted here.
PayPal stands out from other mobile wallets because it lets you send payments to a friend. You can also keep track of your bank account balance, ensuring you stay on budget with your holiday shopping.
Walmart Pay
Walmart Pay doesn't offer rewards, doesn't have a way to digitally use coupons, and only works at the big box retailer. Even though it's limited, it has one majorly redeeming quality that frequent shoppers will love — it will digitally save your receipts.
It's also available on Android and iOS devices, making it accessible to pretty much everyone with a smartphone.
Gyft
Nearly $1 billion worth of giftcards weren't redeemed last year, according to a report from CEB. That's a lot of lost money.
Gyft is a mobile wallet app that aims to solve the problem of unused giftcards by storing them in one app.
The best part: It's available for iOS, Android and the Apple Watch, making it an accessible solution for almost everyone.