Samsung unveiled its new Galaxy S5, one of the most anticipated smartphones of 2014, on Monday at the Mobile World Congress in Barcelona.
It's built, as Samsung hinted earlier, to be more rugged than its predecessor, the Galaxy S4, with an emphasis on health features. A look at some of the Galaxy S5's key selling points.
An integrated fingerprint scanner, which requires a vertical swipe over the home button and can store three fingerprints.
A 5.1-inch 1080p, Super AMOLED screen. That is a slight increase over the 5-inch screen of the Galaxy S4, and bigger than the 4-inch display on the iPhone 5s.
A built-in sensor below the camera that reads your heart rate through your fingertip.
Yes, it comes in gold. Also blue, black and white. The back features a perforated design meant to make it easier to grip.
It's water- and dust-resistant, rated IP67, meaning it can be submerged in 3 feet of water for up to 30 minutes without damage.
A 16-megapixel camera that Samsung says features the "fastest-ever autofocus for a smartphone."
A faster 2.5 GHz quad-core processor, which runs Android 4.4.2 (KitKat).
Despite the presence of the Barcelona Opera House Orchestra, the presentation was significantly more low-key than the launch of the Samsung Galaxy S4 last year at Radio City Music Hall.
The Samsung Galaxy S5 is slated for an April 11 release, setting it up to be main competitor for the next iPhone, which is expected to be released later this year. Samsung did not reveal how much the Galaxy S5 will cost.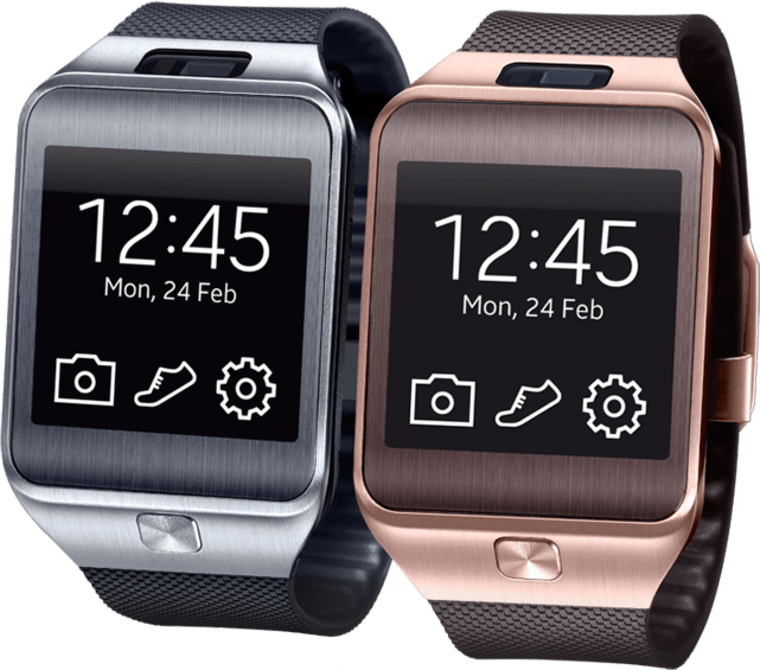 The Korean company held a similarly unassuming press conference Monday for the release of its new smart watches, the Samsung Gear 2 and Gear 2 Neo. The new devices will run Samsung's Tizen operating system instead of Google's Android and will supposedly last three days on a single charge.