Fire up the Ginuwine, pop the cork on that champagne, and get ready to download some apps. Like it or not, Valentine's Day is here, and your smartphone might the key to making it bearable.
So what apps should you ch-ch-choose for the big day? (If you aren't stuck in a snowstorm, that is).
Already in Love
Partof a happy couple? Congratulations, more than half of America hates you. Still, you should probably put some extra effort into your relationship on Valentine's Day.
Try downloading Couple (iOS, Android, free), an app that lets partners share private messages, create date schedules and — singles please look away — "thumb kiss" by matching your thumb prints to make their phones vibrate and turn red.
Now that you can schedule dates, you might want to come up with something more creative than take-out and "Game of Thrones." HowAboutWe for Couples (iOS, Android, free) will help you find and sign up for fun date ideas in your zip code. And for couples looking to spice things up, there is Kindu (iOS, Android, $1.99), which comes up with kinky activities that the couple might be too shy to suggest themselves.
Last-Minute Plans
Good news: You got a new high score on Flappy Bird. Bad News: You forgot to make plans for Valentine's Day.
First, you're going to want to download the new ProFlowers app (iOS, free) or 1-800-Flowers (iOS, Android, free) which lets you send a dozen roses in a few second and stores addresses so you can make up for your next mistake. Next, you'll want to bring some nice wine. (No, a box of Franzia doesn't count.) Delectable (iOS, free) lets you scan bottle labels and shows you reviews, perfect for faking it as a wine expert.
Finally, either get a last-minute restaurant reservation with NoWait (iOS, Android, free) or cook a romantic (and much less expensive) meal with one of the Valentine's Day recipes on Yummly (iOS, free).
Livin' Single
Yes, you could stream "Love Actually" and order pad thai with GrubHub. Or you could do like U.S. Olympic athletes do and download Tinder (iOS, Android, Windows Phone, free), the dating app that lets swipe your way through potential mates based on their Facebook photos. Rather judge people according to their Instagram profiles? The brand-new Glimpse (iOS, free) lets you do that.
If you're overwhelmed by online dating, you might want to try Coffee Meets Bagel (iOS, free). It pairs you with only one person every day — if you both like each other, it will connect you via SMS, where, after a temporary chat period, you can decide whether or not you want to give out your actual phone number.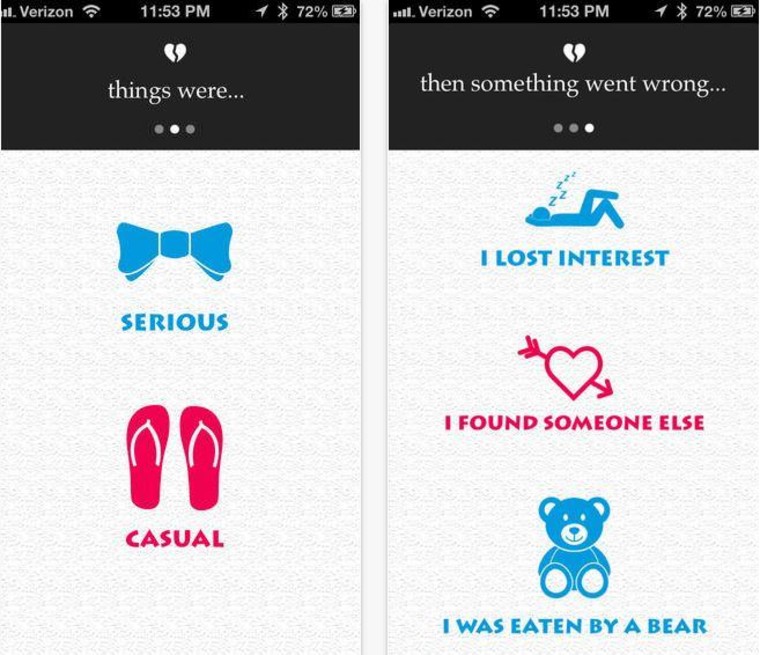 For When Things Have Gone Terribly Wrong
Killswitch (iOS, Android, $0.99) will remove all traces of your ex from your Facebook profile, not to mention donate a portion of each download to the American Heart Association. On the other side of the coin, there is Should I Break Up With My Boyfriend (iOS, free), which will ask you how you feel about your significant other every day for two weeks and provide you a chart to help you make the big decision. (Although downloading the app in the first place probably isn't the best sign). And if you are truly a terrible human being? Then BreakupText (iOS, $0.99) will generate and send a long, complicated break-up text for you. Happy Valentine's Day!