In the years following the 2013 debut of Adult Swim's cartoon phenomenon "Rick and Morty," its star and co-creator Justin Roiland became a titan of the animation and video game industry and a rock star of youth counterculture. His artistic style and caricatures became ubiquitous in cannabis culture, and his career expanded into producing other animated series, creating NFTs and leading a virtual reality gaming studio. In 2017, a "Rick and Morty" collaboration with McDonald's led to such a viral frenzy that police had to be called to at least two locations.
But as he partied with Los Angeles' superstars and traveled the country for conventions, he also found he could use his fame to strike up conversations and develop relationships with young fans, including some who were underage. This is according to interviews with 11 women and nonbinary people who shared thousands of messages with Roiland from 2013 to 2022 — with nine of the people saying he turned the exchanges sexual. Of those nine people, three said they were 16 when they started talking to Roiland. To corroborate their stories, the 11 women and nonbinary people also shared pictures, videos, social media posts, emails, and plane ticket and Uber receipts with NBC News.
Roiland frequently followed and interacted with the starstruck "Rick and Morty" fans on social media and dating apps. He'd offer compliments, calling them "super cute" or "hot." And he'd ask their ages and where they were from. 
Roiland would soon start asking questions like, "Are you into girls?" or "Where are you on the Kinsey scale?" — a reference to research that suggests many people's sexual orientation falls somewhere between heterosexuality and homosexuality.
Then, he'd ask them to meet, sometimes even offering to foot the bill.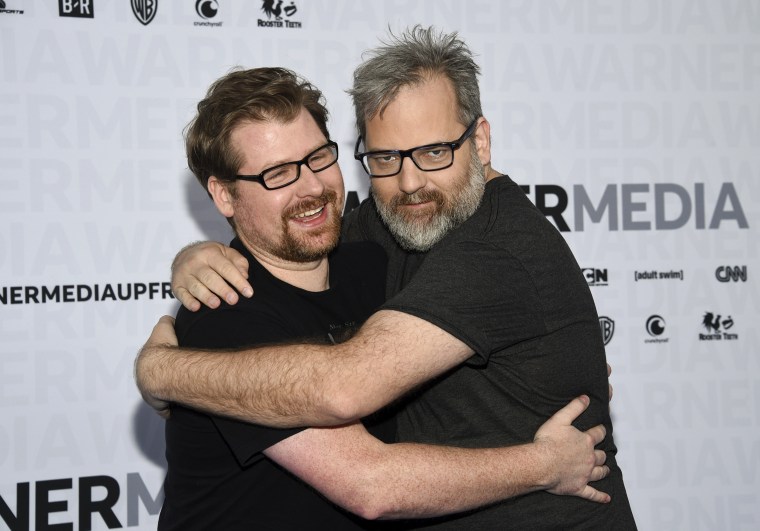 One woman who took Roiland up on the offer said that on a Tinder date he sexually assaulted her, forcing her to perform oral sex on him after she said "no." Another woman accepted Roiland's offer to be flown to Los Angeles to stay with him, where she said she drank heavily before Roiland and another woman had sex with her. Looking back on the alcohol involved and the financial and power dynamics between her and Roiland, she said she feels that Roiland took advantage of her. She said the experience left her mentally traumatized.
Both women were 20 at the time and said Roiland, then in his late 30s, bought them alcohol. These women spoke on the condition of anonymity, fearing potential professional repercussions from speaking out. They provided documentation of their experiences, including text messages in which Roiland apologized to them. In one message, Roiland apologized after being confronted for not getting verbal consent for oral sex. In another message, he apologized after the woman expressed that she was uncomfortable with the sexual activity they'd taken part in hours before.
In a letter to NBC News, Andrew Brettler, a lawyer representing Roiland, said the allegations are "false and defamatory." He noted that some of them had been previously published online.
Most of the people interviewed for this article, seven of whom posted about their allegations on social media, came forward after NBC News reported in January that Roiland, now 42, had been charged with felony domestic battery and false imprisonment in Orange County, California, over an alleged incident in 2020. The charges involve a woman who has not been named publicly and did not respond to requests for an interview. In March, the charges were dismissed, with the district attorney's office citing insufficient evidence.
At that time, Roiland released a statement titled "justice." 
"I have always known that these claims were false — and I never had any doubt that this day would come," he wrote, adding that "horrible lies" were reported about him during the case.
"However, now that the legal case has ended, I'm determined to move forward and focus both on my creative projects and restoring my good name," Roiland wrote. 
While the charges were dismissed, they had a major impact on Roiland's career. Adult Swim and Disney's 20th Television Animation cut ties with him and are recasting his roles in "Rick and Morty" and two other productions. Roiland also resigned from his video-game studio, Squanch Games. The reaction online underscored Roiland's central role in "Rick and Morty," with tech titan Elon Musk — who appeared on the show voicing a character based on himself — writing that Roiland was "the heart of the show" in a post responding to the recasting.
Amid the professional fallout, screenshots of purported conversations with Roiland that appeared to show him using sexually explicit language with fans went viral online. Two people tweeted screenshots of messages they said Roiland sent them when they were 16. NBC News has spoken to both of those people, who provided evidence of the authenticity of those messages. Roiland did not respond online, and the discussion eventually died down.
Janna Waters, who is nonbinary, was one of the people who posted screenshots of their online conversations with Roiland. Waters said they started talking to Roiland in 2016 when he was 35. Waters said they were 16 and in high school at the time. Screenshots show the two chatted intermittently on Twitter direct messages over the years, and later exchanged numbers and texted back and forth.
"At first I really thought this guy wanted to be my friend, and I really needed friends at the time," Waters said in a phone interview. "He was a grown man, I was a teenage girl."
A Tinder date gone wrong
In March 2019, Roiland messaged a 20-year-old woman from Boston on Tinder.
"Yes it's actually me. Yes, I co-created Rick and Morty," his profile read. That year, the show was a cultural phenomenon and the no. 1 comedy across U.S. cable. He was in Boston that March for a gaming convention.
Roiland messaged her first: "Hey what's up biiiiitch (jk!)," an apparent nod to the voice of Rick Sanchez, one of the "Rick and Morty" characters. 
The woman told NBC News she didn't watch "Rick and Morty," but she knew about the show's success and knew Roiland was famous and likely rich.
"Hello!" she wrote. "Can we go shopping and have fun and ill give you a fashion show and we can get coffee and talk!?"
"I think I'm down yeah," Roiland wrote back. "I'd be cool with just hanging, maybe a drink- just talk and meet you." 
The woman told Roiland she was 20 and couldn't buy drinks herself but would be interested in meeting up.
"You don't drink ever? Haha," Roiland wrote. "I'm actually not sure if I'm gonna drink either."
That night, the woman said Roiland took her to a restaurant near the site of the gaming convention and bought her mixed drinks. She took a video on Snapchat that showed the two of them together and the woman drinking a cocktail. 
The woman said she had two drinks and was feeling drunk, and later left the restaurant to go shopping nearby, where Roiland bought her some clothes. After that, Roiland suggested they go back to his hotel room, which she agreed to do.
In the hotel room, she said Roiland asked her to perform oral sex on him. She said she told him no, but Roiland persisted and pushed her head toward his crotch, at which point she said she stopped resisting.
"From the moment it happened, I knew that it was not OK," she said in an interview. "But I felt a lot of different feelings, like that it was my fault. I felt guilty for asking him to buy me stuff. I felt maybe I owed it to him. And I was embarrassed."
The woman said that she called a friend on the way home from Roiland's hotel room and told her that Roiland had forced her to perform oral sex on him. The woman's friend corroborated that phone call to NBC News.
After that night, the woman continued to speak to Roiland intermittently over text message, eventually confronting him several months later, in June 2019. 
"The sexual stuff that happened with us was not handled by you in the best way and i just want you to take that into account in future dates," the woman wrote to Roiland. "I know it was not black or white but verbal consent is important."
"S--- yeah, I didn't??" Roiland replied. "I'm really sorry! F--- [...] That's not cool at all — jeeeesus That is not me whatsoever… I literally didn't get consent??"
"I mean you said after that you thought it turned me on to be forced," the woman wrote. "I told you that i wouldve preferred it didnt happen."
"Oh Jesus Christ," Roiland texted back. "I'm really sorry."
"I was like not consenting i was like saying no and other things," the woman added in another text.
Roiland's texts with a Massachusetts woman in 2019:
The woman said in an interview that she remembered feeling scared when she texted Roiland to confront him, choosing to use phrases like "I know it was not black or white" to soften the blow. 
"I just didn't want him to get angry," she said. "I was scared to accuse him of what he did."
Brettler, Roiland's attorney, did not specifically address the allegation of forced oral sex. He wrote that the woman asked Roiland to buy her clothes and offered to sell him her pornographic videos a few months after that night, leaving Roiland feeling "duped and taken advantage of." 
The woman said that after asking if Roiland could buy her clothes, Roiland expressed interest in her pornographic videos. The woman said she offered to sell them to him for double the price of what she typically charged, but ultimately never sold or sent him the content. 
Pursuing young fans, some underage
Roiland's messages with fans show he followed a distinct pattern when pursuing them. 
NBC News spoke with seven people who posted screenshots of their conversations with Roiland online. Each of them shared additional message history and screen recordings of their messages, or otherwise showed that Roiland had followed them on social media or shared pictures with him to back up the authenticity of the messages.
Another four people who did not post their messages online also spoke with NBC News and shared their messages with Roiland. 
A review of the messages showed Roiland would have similar conversations with various women at the same time, even using near-identical phrases. 
Roiland would sometimes initiate a conversation that would start with him responding to questions or praise about "Rick and Morty" or making small talk. He would sometimes apologize for being drunk or too forward as he moved the conversations toward asking for sexual photos or to meet up. He said multiple times that he didn't mean to come off as creepy and didn't have bad intentions before asking for photos and meetups again. 
Roiland usually asked people how old they were, if they were single, and if they were "into girls." In three cases, when the person said they were under 18, Roiland would message them again months or years later. Those three conversations started with people who said they were 16 at the time, and continued for years, until they were 18 and older.
Two started talking to Roiland when they were 16 and shared messages that showed Roiland calling each of them "jailbait," a derogatory term used to describe underage girls who men find attractive. Those two, both women, spoke to NBC News on the condition of anonymity because one is now a sex worker and the other previously did sex work.
In response to one girl, who described her aspirations to stream herself playing video games, Roiland wrote, "I bet you'd do good," followed by, "Then once you turn 18 you just start cam whoring," a reference to women who do online sex work.
"He did kind of get into my head about that," the woman, now 23, said during a phone interview. "When I was 19, I actually signed up to a camming website and tried it. I even messaged him, thinking he'd be proud of me."
Roiland met two of the people on Tinder. One woman, Hailey Long, matched with Roiland in 2019 when she was 18. He asked her about her plans that night, but she couldn't meet up because she had to babysit the next morning. 
"I was still kind of young, I was naive and still in high school. I was showing my friends like, 'Oh my God, look at this, this is so crazy,'" Long said in a phone interview. "Then when I got older I got embarrassed by it. I kind of realized it wasn't my embarrassment to hold. It should be his as the adult in the situation."
Some of the people were older, in their early to mid 20s, when Roiland started talking to them. Veronika Sweeney tweeted screenshots of direct messages Roiland sent her in 2014 when she was 22. Roiland asked if she had a boyfriend, and Sweeney responded that she wasn't interested in men. 
"Ohhh!! You're not into guys! That's kind of cool," Roiland wrote back. "Yeah I have an amazing girlfriend," he added, continuing: "You'd like her if you're into girls. Unless that's not what you meant haha (sorry)."
At the time Sweeney wrote that she hoped to see Roiland and his girlfriend at Comic-Con in San Diego, near where she lived, but as the years went by Sweeney said the conversation lingered in the back of her mind.
"I was thinking, 'I bet he's done this to other people,'" Sweeney said in a phone interview. "I was over 18 and it wasn't anything too controversial so I didn't come out about it because I didn't think on its own it was a big deal." 
Like most people who spoke to NBC News, Sweeney said she spoke out when she realized his conversation with her was part of a larger picture that included more serious allegations.
"Seeing all of them compounded with the sheer number of girls who have come out, and some were underage, that's why I posted my DMs," Sweeney said. "What's concerning is the pattern of behavior."
When Waters, who posted their interactions with Roiland online, was 17, Roiland offered to pay for a round-trip flight to Los Angeles to stay with him. Waters said they would "love to," but reminded Roiland that they weren't 18. 
"Haha holy s---!" Roiland replied. "I assumed you were!"
Roiland didn't bring up the trip to Los Angeles again. But in 2019, he invited them to a party he was throwing for the employees of his video game company in Raleigh, North Carolina. Waters, who was then 20, lived a few hours away and drove out. Roiland offered Waters a parking spot at his rental and paid for an Uber to the party. 
Despite Waters' age and reluctance to drink alcohol, they said Roiland encouraged them to drink at the party. Afterward, Waters said Roiland invited two women back to the rental with them, and asked Waters to kiss one of them. Waters said they declined and drove home.
The last time Waters and Roiland talked was in May 2020. Waters said they used to view Roiland as a friend and mentor, but now they believe Roiland "groomed" them, having only reached out to begin a relationship that could one day turn sexual. 
Waters first posted their allegations on Facebook in November 2022 and wrote that it took about a year to "realize the depth of what all had happened." 
"It took someone else pointing out that his behavior was creepy and inappropriate before I truly realized what I had been through," Waters wrote. "Since before day one I was just another conquest to him. I think what hurts me most is the fact that he wasn't actually my friend."
A weekend at Roiland's house
Roiland first appeared in one Pennsylvania teen's inbox after she tweeted about "Rick and Morty" in May 2016. She was 19 and Roiland was 36 at the time.
Roiland first followed her and began a conversation by asking about her artwork, which she had posted online. A few messages later, he flattered her by saying she was "better than" he was at her age and asking her to keep in touch.
The woman was shocked and thrilled. "I AM NOT OKAY RIGHT NOW THE CO CREATOR OF RICK AND MORTY SAID MY ART IS GOOD," she said in a Facebook post with screenshots of the messages.
The conversation between the two continued, first over Twitter direct messages and later through text messages. 
"Justin targeting me made me feel like I was special and chosen," she said in an interview. "Even just being [followed by him on] Twitter made me feel special because I'd see my name next to accomplished artists and people."
In March 2017, Roiland invited the woman to visit him in Los Angeles, offering to pay for her plane ticket. She agreed and Roiland bought the tickets, forwarding her a confirmation email. The woman had never traveled across the country by herself, she told Roiland. Before she was allowed to go, the woman's father spoke to Roiland over a FaceTime call. The woman said that her father asked what Roiland's plans and intentions were, and that Roiland told him she would be safe in his house.
"Ahhhh I didn't know your whole family was so concerned about this trip!" Roiland texted her after the call. 
"They just didn't believe me lmao," she replied. 
"But like, are they concerned that it wasn't actually me or are they concerned no matter what- (by the way, I totally understand it)," Roiland wrote. 
"I mean they just love me a lot and don't want anything bad to happen to me!!" the woman replied. 
"I will make absolute 100% sure nothing bad happens to you," Roiland wrote, adding in another message that the woman needed to keep her ringer on during the trip in case any family members called.
Text exchanges show Roiland had already brought up sex with her before the FaceTime call and she expressed interest back, sending him a flirtatious picture. Roiland also asked if she was "into girls," and she said she didn't think so. Still, Roiland told her that one of his female friends would be with them and might be interested in her. 
On March 31, Roiland picked the woman up from the airport. She said he threw a party at his house that night to preview season three of "Rick and Morty," with the first episode released the next day, April 1. She felt out of place while Roiland partied with his friends, she said, including famous YouTube personalities whose videos she had watched. 
People began to leave the party, the woman said, and she was eventually alone with Roiland and his female friend. She remembers changing in the living room into a bathing suit and getting into the hot tub with Roiland and his friend. The woman said she remembered drinking liquor and only remembers bits and pieces of the night, but that she fully remembers the sexual acts that happened in the hot tub. 
In the hot tub, Roiland began asking his female friend and her to perform sexual acts on each other, which she says they did, even though the acts were painful. Then, she said Roiland had sex with her while the other woman was still there. She said she has always felt uncomfortable with the idea of having group sex. 
After leaving the hot tub, the woman said she remembers being back in the guest bedroom of Roiland's house and calling a friend. She recalls sobbing and saying she was "not a lesbian," which later struck her as out of character for herself, leading her to believe she was far more incapacitated than usual. 
At 10 p.m. that night, Roiland texted her to ask if she was OK. He texted her again at 3:30 a.m., writing "You okay? Talk to me!" She responded: "Idk i'm weird i'm not comfortable with like yeah."
"The girl stuff," Roiland responded, "Or just all of it?"
"I'm selfish and jealous and insecure so anything involving more than two people trips me the f--- out and i feel terrible about it," the woman texted back. 
"Awe!! Ok, I understand that," Roiland wrote. "We don't have to do that again." 
"But I felt like you weren't okay," Roiland wrote in another text message. "Can I come talk to you?"
After the woman fell back asleep, Roiland sent her a string of text messages including "I want you to sleep with me tonight," "I wish you were here" and "I'm sorry." 
Roiland also used the iPhone's sticker function to attach a pornographic image of a man with several penises in his mouth to several of the messages. He sent the image 14 times in total.
"Sorry for spamming the guy with the dicks in his mouth," he wrote. "I just want you to be happy and have a fun time here, I'll do whatever you need for that to be the case."
Roiland's texts with a Pennsylvania woman in 2017 (NBC News has omitted the pornographic stickers):
She said she woke up the next day worried that Roiland and his female friend were mad at her. She hoped to act as if nothing happened the night before.
"He could be cold during casual conversation and I was too scared to find out how he was when not being a pushover 'yes man' toward him," she said.
Later that day, Roiland propositioned her for sex, and she said she consented. She said she felt pressured to let him film it, because she said Roiland already had his phone out and ready when he asked, so she agreed. She didn't ask Roiland to delete the video and said she's afraid he still has it.
In a letter, Roiland's attorney wrote that the woman from Pennsylvania also had consensual sex with Roiland "hours prior to the alleged hot tub incident." The woman said she doesn't remember this. The attorney also said that Roiland was not responsible for the sex acts that took place between the woman and his female friend.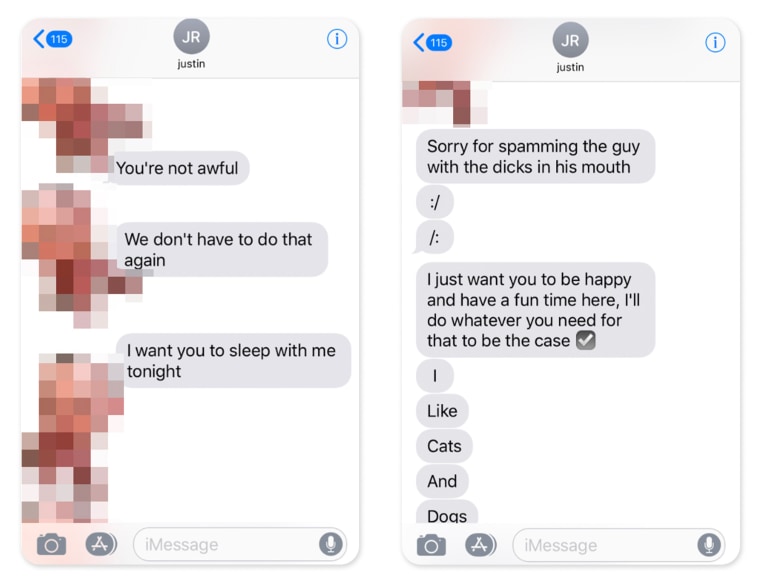 The woman said it took time for her to come to believe that Roiland took advantage of her. After returning home to Pennsylvania, she continued to talk to him, but he told her he was dating someone new. From 2020 to 2022, she only spoke to Roiland in brief conversations. She said she was terrified of his wealth and industry connections and only spoke out after seeing the domestic violence allegations against him that were later dismissed.
The woman shared screenshots of private Instagram posts she made during the trip to Roiland's house and in the years afterward. In 2019, two years after the trip, the woman posted a caption about Roiland that said in part "he's lucky i'm not the type of person who wants to be famous or well known or anything like that bc he would've been ~exposed~ by now probably. idk!!!! it fucks with my head a lot!! like literal trauma!!"
The woman's current boyfriend told NBC News about what she shared with him over the years about the allegations, starting with conversations he said they had in 2018, around a year after the trip. He said that she shared what happened that night at the party and afterward, in the hot tub, and said that it "definitely was traumatic." 
"It makes her really upset to talk about," said the woman's boyfriend, who spoke on the condition of anonymity. "I would say it's one of the worst experiences of her life."