On July 12, a few hours before dawn, a man in Chandler, Arizona, was jolted awake by an alert on his phone. It was coming from his Ring security camera, which had detected movement outside his home.
The live feed showed a group of young men breaking into cars. The man hollered at them through his front door, then called the police.
As an officer arrived, the men sped off in a car, leaving behind cellphones, tools and other things they'd taken during their interrupted burglary spree. They abandoned the getaway vehicle in a housing complex and turned themselves in later that morning.
By then, the homeowner had showed police his camera footage and posted it to Neighbors, an app run by Ring, which is owned by Amazon. Ring doesn't just make the wireless security cameras — it also accesses police data to alert residents of potential crimes, encourages users to share their recordings of suspicious behavior, and connects them with law enforcement.
"Thank goodness for the Ring!!!" the man wrote on Neighbors.
"Thanks for posting," a Chandler police officer responded.
The exchange was typical of the way police are using Ring, helping it spread its business while using it to detect and investigate crime. The arrangement in Chandler is among dozens of such partnerships around the country, and part of a much broader effort by Amazon to deepen its reach into law enforcement — which critics say is expanding the government's surveillance of Americans.
Amazon, known mainly for its online consumer marketplace, is becoming a potent resource for federal, state and local authorities, peddling an array of tools that harness the power of cloud-based computing, artificial intelligence and video analysis.
Some of the products seem mundane, offering agencies a relatively cheap method of storing, sharing and crunching data through networks of remote web servers known as the cloud. Others are contentious, making it easier for police to identify and monitor people. Together, they show how one company has broadened its influence by supplying law enforcement with technology that has modernized crime fighting but is evolving too fast for government oversight to keep up.
Amazon's government work has become a significant component of the company's move beyond e-commerce and into tools that run the internet. Its government contracts, through the company's cloud-computing subsidiary, Amazon Web Services, have ballooned from $200 million in 2014 to $2 billion today, Daniel Ives, who researches Amazon at the financial advisory firm Wedbush Securities, said. That has allowed the company to build "a fortress of cloud deals" that include police departments, federal law enforcement, national intelligence agencies and immigration authorities.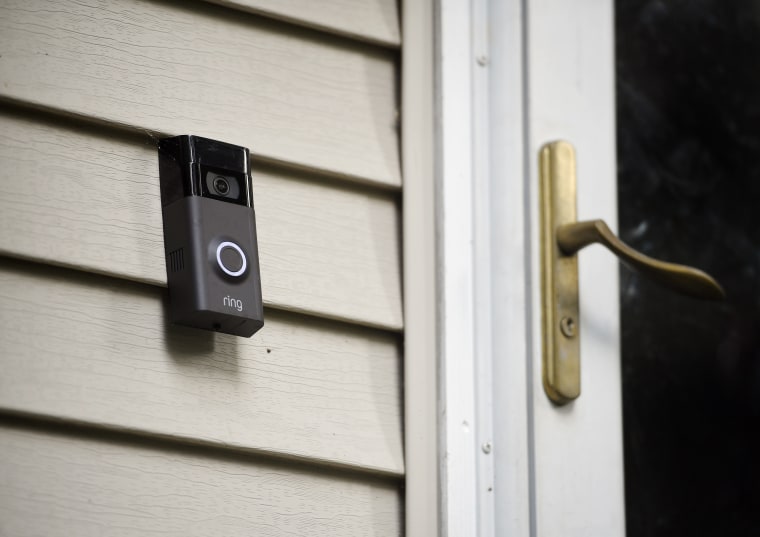 "In so many investigations, time is of the essence, and this enables many police departments to access data so much more quickly and in forms that are much more helpful," Ives said.
But critics say Amazon's products and services also show how a corporation can position itself within government in ways that could lead to overreach and abuse.
Privacy and civil liberties advocates have warned that the Ring partnerships are creating a new layer of government surveillance. Amazon employees, artificial intelligence researchers and activist investors have asked the company to stop selling its facial recognition service to law enforcement, to stop providing web-hosting services that help federal immigration authorities, and to create a committee that would review the potential societal consequences of its products.
"While providing secure cloud storage does not appear to pose privacy threats, providing a package of technologies that includes powerful surveillance tools like facial recognition and doorbell cameras, plus the capability to pool data into a massive database and run data analytics, does create very real privacy threats," said Sharon Bradford Franklin, policy director of New America's Open Technology Institute, a nonprofit that advocates for digital rights.
For example, Franklin said, a homeowner might voluntarily share the footage from their doorbell camera with police seeking clues to a crime that occurred nearby. The police might then run the video through facial recognition software, which is imperfect and might incorrectly identify innocent people as potential suspects. Those wrong matches could then be shared with other agencies, such as immigration enforcement, with far-reaching consequences.
"I am not sure Amazon has quite grappled with how their innovative technologies intersect with issues of privacy, liberty and government police power," said Andrew Ferguson, a law professor at the University of the District of Columbia who studies how police use technology.
"The pushback they are getting comes from a failure to recognize that there is a fundamental difference between empowering the consumer with information and empowering the government with information. The former enhances an individual's freedom and choice, the latter limits an individual's freedom and choice," he said.
When law enforcement agencies are the customers, a company has an obligation to slow down, Ferguson said.
But Amazon is not slowing down. It says it has a duty to help police, defense and intelligence agencies.
"We believe our customers — including law enforcement agencies and other groups working to keep our communities safe — should have access to the best technology and believe that cloud services can materially benefit society," Amazon said in a statement.
'A game changer for law enforcement'
Police often say that they're not interested in which company sells a piece of technology, as long as the product is affordable and easy to use and helps keep people safe.
That is the philosophy in Chandler, a rapidly growing city outside Phoenix, where authorities noticed an increase in the number of residents who'd outfitted their homes with a new generation of internet-connected video cameras that monitor activity outside their front doors. The Chandler Police Department began looking for ways to make use of that growing network, and came across the Neighbors app.
The app is run by Ring — bought by Amazon for an estimated $1 billion in early 2018 — which uses Neighbors to promote its popular line of doorbell cameras by encouraging members to share videos of suspicious activity. The platform includes a law enforcement portal that allows police departments to post alerts and request video from members who live near where a crime occurred. The portal can tell police agencies if anyone in a particular area recorded a Ring video at the time of a crime.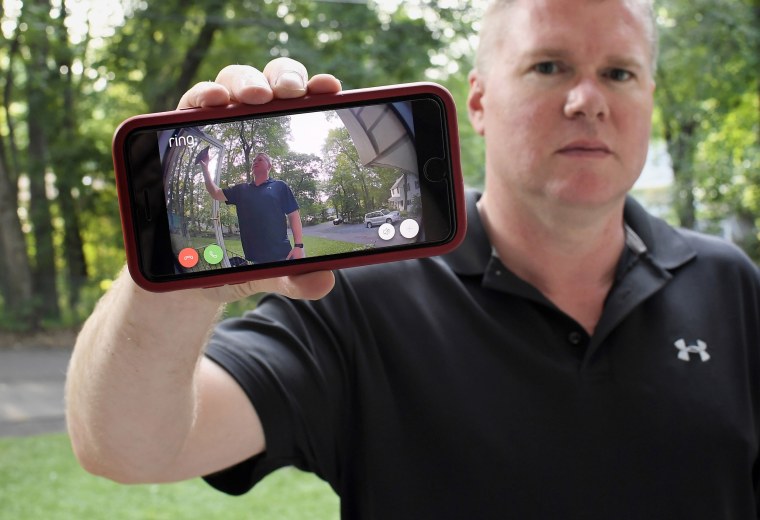 Chandler police got access to the portal by entering into an agreement with Ring in which the company agreed to "seed" the partnership with a donation of 25 cameras to the department. The department gets another free camera for every 20 people who sign up using a particular text code, Assistant Chief Jason Zdilla said. The city has given the free cameras away as door prizes to boost attendance at community meetings, he said.
The agreement — which appears to be a boilerplate document used in partnerships with police agencies around the country — also allows Ring to access the Chandler Police Department's "incidents/call logs." Ring obtains that information through the city's publicly available data portal and uses it to post alerts on Neighbors.
More than 20,000 Chandler residents are now on the Neighbors app, according to Zdilla. Police typically use the videos posted there to investigate property crimes, such as car break-ins and package thefts, but have also used the app to seek evidence of more serious crimes, including a fatal shooting. The department has an officer in each of its precincts assigned to search Neighbors for residents' posts about potential crimes. But the department has also had to address false perceptions, stoked by the app and the publicity around it, that crime is on the rise.
Most videos obtained by police through Ring are voluntarily provided by homeowners, according to police and Amazon; the company declined to say how many subpoenas or court orders it has received for access to videos.
"This is a game changer for law enforcement because it basically is a virtual block-watch giving us the ability to communicate with a large number of people and the ability to ingest video from cameras in any case," said Chandler police Cmdr. Edward Upshaw, who manages the department's partnership with Ring. "It's more information, more intelligence. We have a better sense of what's going on in every single neighborhood."
By embracing law enforcement in this way, Amazon has expanded Ring's national network, from Fresno, California, to Cedar Rapids, Iowa, from Houston to Norfolk, Virginia. Amazon declined to say how many police agencies have arrangements with Ring, but the nonprofit group Fight for the Future, which advocates against government surveillance, has assembled a map that identifies more than 50 of them.
The strategy fits into Amazon's aim to improve its home-delivery operations; the use of Ring cameras to catch people stealing packages from the front of homes has become a television news staple. Amazon has also provided materials to police to conduct sting campaigns aimed at luring thieves to snatch Amazon-labeled bait boxes from doorsteps under surveillance by Ring cameras. And the company has filed a patent application for outfitting Ring cameras with facial recognition.
Amazon's investment in this technology has prompted warnings that it is contributing to the creation of a runaway surveillance state fed by an overblown fear of crime.
"Violent crime is down across the board in America, but the cameras and the links to the Neighbors app have the ability to ramp up fear of invaders or people who don't belong in particular neighborhoods ─ and that fear could bring harm to people," said Chris Gilliard, a professor at Macomb Community College near Detroit who studies how the mass collection of data and the use of artificial intelligence to analyze it can lead to discrimination against minorities and the poor. "That equals less safety."
Zdilla stressed that police agencies have to go through the app and ask Ring for videos. "We are not creating a surveillance state where we have unfettered access to these cameras," he said. "This is a tool to help us identify the people who are causing harm in a community."
A constellation of products
Of all Amazon's forays into law enforcement technology, none has received more attention or notoriety than the face-matching software called Rekognition.
Amazon did not initially market the software as a policing tool when it launched in late 2016. But after the Washington County Sheriff's Office in Oregon discovered it and began using it to match suspects caught on surveillance footage with mugshot databases, Amazon saw an opportunity.
The company has since pitched Rekognition to other police departments, including a more aggressive use of the technology — identifying people captured on video in real time — in Orlando, Florida, according to the documents obtained by the American Civil Liberties Union of Northern California. A different cache of documents uncovered by the nonprofit Project on Government Oversight showed that Amazon had also tried to sell Rekognition to U.S. Immigration and Customs Enforcement.
These experiments and proposals have been met with a broad public backlash and have fueled calls for bans against police use of facial recognition. The Orlando experiment has been abandoned. But Amazon still offers police free training on Rekognition, according to Amazon Web Services CEO Andy Jassy. In November, Amazon had an FBI counterterrorism official speak at a company conference in Las Vegas. The official, Christine Halvorsen, who has since become an AWS account executive, said the FBI was exploring the use of Rekognition to investigate terror attacks and mass shootings.
Rekognition has come to symbolize Amazon's transformation into a law enforcement contractor. But it is among a constellation of products Amazon Web Services offers government agencies ─ part of a broader vision to corner the immensely lucrative market on bringing the government into the cloud.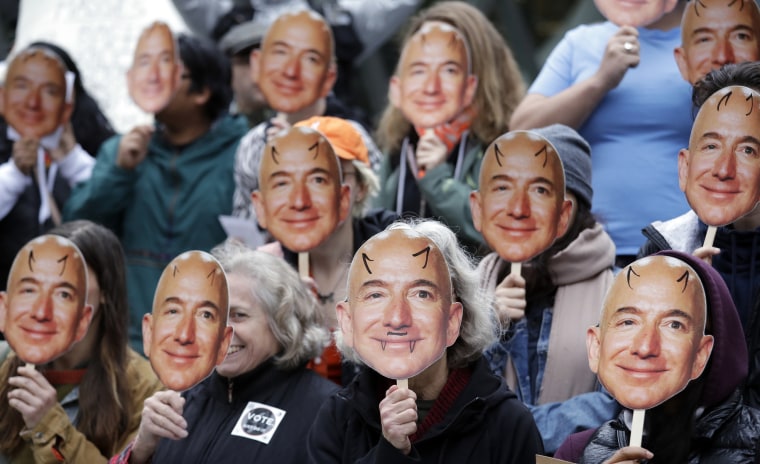 Cloud computing is one of the most revolutionary technological innovations of the past few decades, allowing companies to stop maintaining their own web servers and instead subscribe to a shared network. Amazon Web Services foresaw this transformation better than most, and now runs one of the world's largest cloud networks, providing storage space and support services for thousands of companies, including Netflix, Spotify, Expedia, Airbnb, Pinterest and Comcast, the parent company of NBC News.
Amazon Web Services has a cloud-computing platform specifically for government agencies, which has to meet stringent security standards in order to handle sensitive information. Government agencies are expected to spend $100 billion over the next few years moving to the cloud, according to Ives, the Wedbush Securities analyst. Amazon already hosts sensitive data for the FBI, CIA, Immigration and Customs Enforcement and several states. And Amazon is in the running for a $10 billion "war cloud" contract with the Department of Defense.
The effort includes deals with companies that run on Amazon's cloud and provide services to government authorities. Among them is Palantir, which sells data analytics to the military, immigration authorities and local police.
Amazon Web Services also provides cloud space, funding, marketing and technical support to smaller companies that sell police tools. One such tool allows officers to instantly share and update crime reports and dispatch records. Another alerts officers to the sound of gunshots. Another tool helps police predict where crime is most likely to occur. Another links footage from body cameras and patrol car cameras, and provides live feeds for commanders at headquarters. Another relays footage from surveillance planes to authorities on the ground.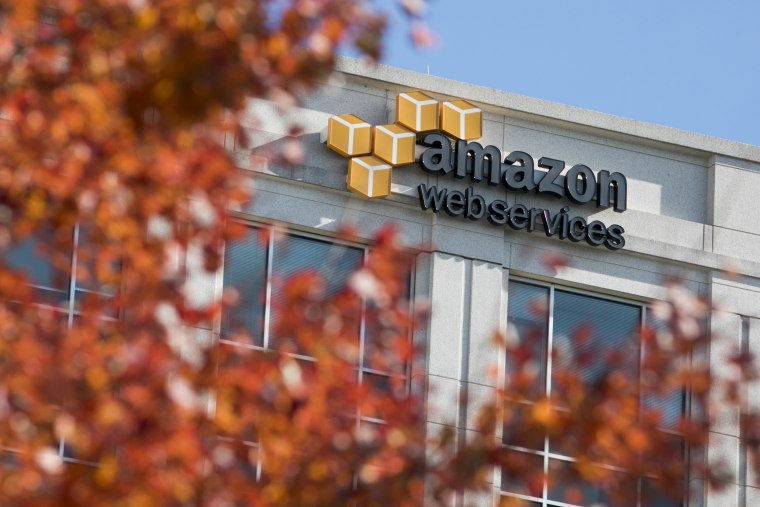 Amazon Web Services sponsors and is a frequent presence at law enforcement conferences, touting its police services in exhibition halls and on panels; it once sent representatives to an International Association of Chiefs of Police conference dressed as "cloud ninjas." Ring has run a booth at the group's conferences, as have many of the smaller companies Amazon Web Services supports, some featuring its logo on their marketing materials.
Animashree Anandkumar, an AI researcher who spent two years developing new products for Amazon Web Services, including Rekognition, said the company isn't doing enough to consider how law enforcement's use of its products will affect people's lives. The company should also do more to allow outside scrutiny from the scientific community, she said.
"Law enforcement, and any other agency, are still getting used to this technology," Anandkumar, now a professor at the California Institute of Technology, said. "They don't understand how AI works, and that's why it's more important than with traditional technology to think about it and study it carefully. Everybody, including me, who develops these algorithms has a responsibility here to think of the implications, and we cannot shirk that responsibility."
As a model, she pointed to Axon, the nation's largest maker of police body cameras. The company created an advisory ethics panel to guide its use of artificial intelligence, and followed the panel's recommendation to not pair the company's products with facial recognition software.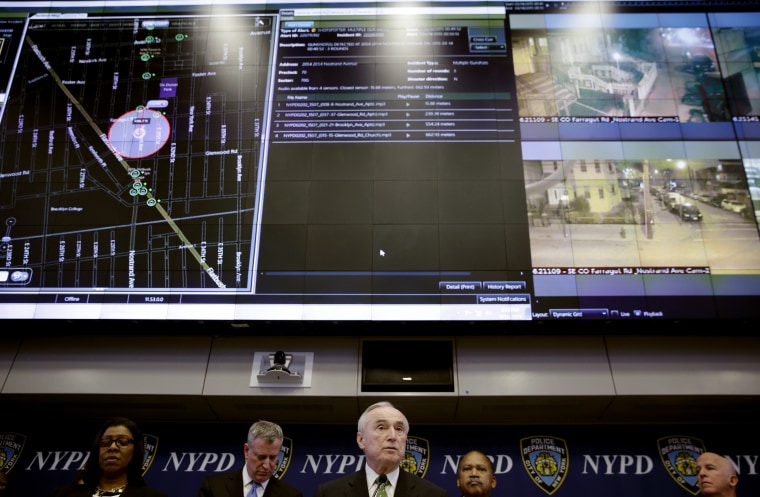 Amazon says it favors increased government regulation of law enforcement and other public agencies' use of AI, including facial recognition. While some cities have enacted bans against local governments' use of the technology, no comprehensive federal bills have come close to passing.
"We remain eager for the government to provide this additional clarity and legislation, and will continue to offer our ideas and specific suggestions," the company said in a statement.
Hearing crimes as they happen
On the evening of April 13, 2018, at the Jefferson County Jail in Birmingham, Alabama, a local gang leader called members of the gang for an update on the group's activities. Some of them, who apparently lived together, told him their home had been burglarized and that the man who did it was coming back to the scene. One of the subordinates told the leader he was going to kill the man.
The leader stayed on the line, questioning them. About 90 seconds later, several shots rang out. The leader and his associates spoke for a couple more minutes. Then he hung up.
Moments after the call ended, a recording of it was automatically routed through Amazon Web Services software that, using artificial intelligence, interpreted what had been said and spit out a raw transcription. That file was then automatically sent through another piece of software, developed by a Los Angeles-based firm called Leo Technologies, that examined the words ─ including frequent mention of the word "gun"─ and flagged it for follow-up. Within an hour, a Leo Technologies analyst read the file and figured out that the call had captured a murder.
The recording become a key clue for law enforcement, who within days arrested the alleged shooter and an alleged accomplice and seized more than two dozen guns, a stash of drugs and cash. The two suspects are awaiting trial.
"Without that information on the phone call, there's no guarantee we would have solved the case," Jefferson County Sheriff's Office Capt. David Thompson said. "The people who committed this crime may still be at large."
The tool, built off Amazon Web Services' speech-to-transcription service, allows Jefferson County authorities to sift through millions of jail calls a year ─ all legally recorded ─ flagging conversations with keywords that may provide indications of trouble. Officials there say it has helped generate evidence in dozens of cases, including drug investigations, homicides, jail corruption and witness intimidation.
Amazon Web Services promoted the tool to an audience of law enforcement officials at an International Association of Chiefs of Police conference in May. Thompson spoke, as did Leo Technologies executives.
The jail call transcription technology could portend further breakthroughs at Amazon Web Services, including "voice biometrics" ─ software that could identify callers by the sound of their voice. Amazon did not respond to a request for comment on any such plans.
Whether authorities are ready for those abilities is another question.
Thompson said he isn't interested in using technology to automatically identify people the inmates are calling — and the privacy issues it might raise.
"Just like private citizens, I'm concerned about Big Brother," he said. "And big-time technology."