Amazon did not alert its New York City customers that they were being monitored by technology that tracks their bodies' shapes and sizes as well as their palm prints, a lawsuit filed Thursday alleges.
In a class-action suit, lawyers for Alfredo Perez said that the company failed to tell visitors to Amazon Go convenience stores that the technology was in use. Thanks to a 2021 law, New York is the only major American city to require businesses to post signs if they're tracking customers' biometric information, such as facial scans or fingerprints.
Amazon introduced its Go stores in 2018, promising that customers could walk in, take whatever products they wanted off the shelves and leave without checking out. The company monitors visitors' actions and charges their accounts when they leave the store. It opened its first New York location the following year, and has 10 stores, all in Manhattan, according to its website.
The lawsuit says that Amazon only recently put up signs informing New York customers of its use of biometric recognition technology, more than a year after the disclosure law went into effect.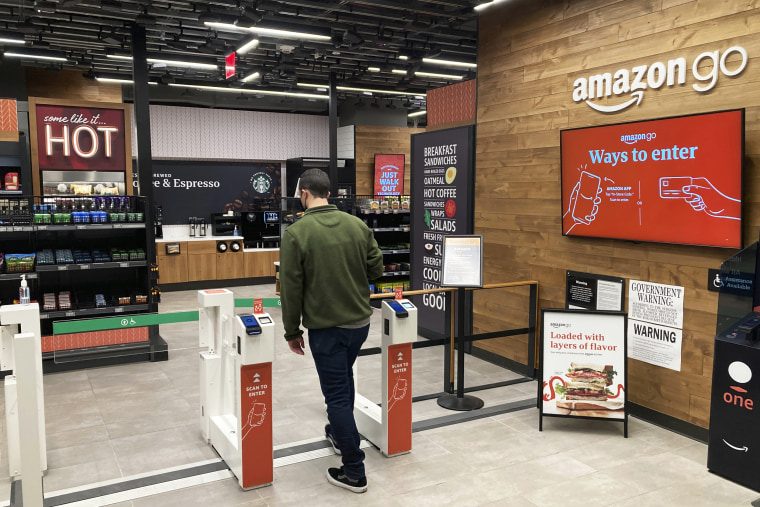 For Amazon Go to successfully track its customers and the items they take, it has to continuously monitor their bodies, the lawsuit says. 
"To make this 'Just Walk Out' technology possible, the Amazon Go stores constantly collect and use customers' biometric identifier information, including by scanning the palms of some customers to identify them and by applying computer vision, deep learning algorithms, and sensor fusion that measure the shape and size of each customer's body to identify customers, track where they move in the stores, and determine what they have purchased," it says.
An Amazon spokesperson said that its stores did not use facial recognition technology, and claimed that the technology used to distinguish shoppers did not constitute biometric technology. They declined to comment on the signs.
"We do not use facial recognition technology in any of our stores, and claims made otherwise are false," the spokesperson said over emai. "Amazon One, our contactless, palm-based identity and payment service, is one of the entry options offered at select Amazon Go stores along with credit card and the Amazon app. Only shoppers who choose to enroll in Amazon One and choose to be identified by hovering their palm over the Amazon One device have their palm-biometric data securely collected, and these individuals are provided the appropriate privacy disclosures during the enrollment process. The customer is always in control of when they choose to be identified using their palm." 
Perez is represented by the Surveillance Technology Oversight Project, a legal advocacy group devoted to New York privacy protections.
"It means that even a global tech giant can't ignore local privacy laws," Albert Cahn, STOP's project director, said in a text message. "As we wait for long overdue federal privacy laws, it shows there is so much local governments can do to protect their residents."
CORRECTION (March 17, 2023, 4:53 p.m. ET): A previous version of this article and a headline misstated a claim in the lawsuit against Amazon. It alleges the company was collecting biometric information such as palm prints at its stores in New York. It does not accuse Amazon of using facial recognition.