The Internet was positively giddy with schadenfreude Wednesday as rumor spread that Anonymous, that loosely connected cabal of cyber-vigilantes, had seized control, or otherwise "hacked," the Facebook page belonging to Westboro Baptist Church. Only the church — infamous for picketing funerals of soldiers with its 'God Hates [fill-in-the-blank]' signs — didn't have a Facebook page. So whose page was Anonymous unleashing its anarchic mirth upon? Its own.
Sure enough, a quick click to Facebook.com/pages/Westboro-Baptist-Church revealed a page splattered with the Guy Fawkes signage and other logos synonymous with Anonymous. "Hacked," however, turned out to be an overstatement of Anonymous' nefarious skills, as well as an underestimate of its creativity. "This is a hoax page and not a hack," Fred Wolens, Facebook's public policy manager, confirmed in an email to NBC News.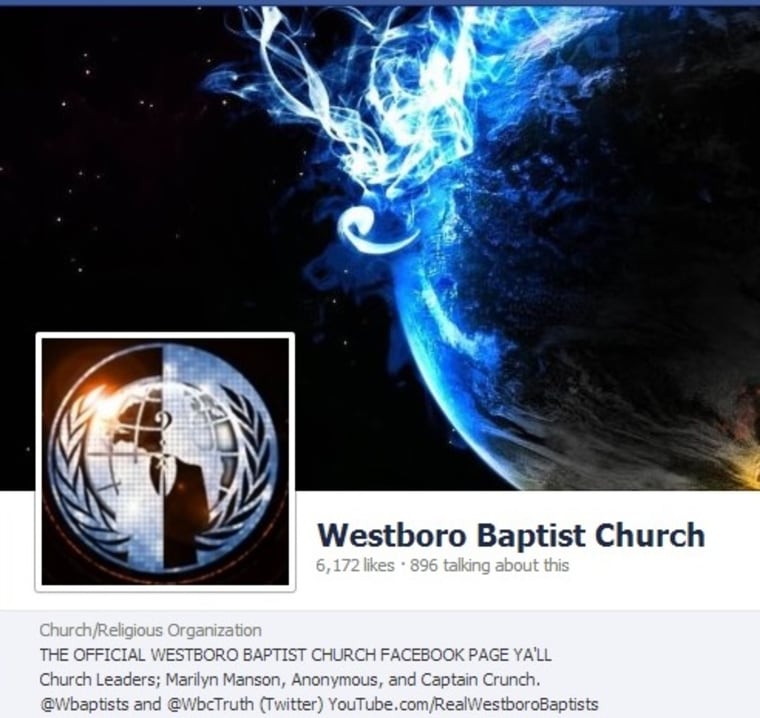 Everyone's favorite Facebook photo-sharer, George "Sulu" Takei, helped spread the malicious glee by sharing one of the page's images, the "Star Trek: The Next Generation" Season Two cast. (Note Dr. Katherine Pulaski, instead of Dr. Beverly Crusher, who spent that season off-screen at Starfleet Medical.) "JESUS LOVES EVERYBODY. YOU SHOULD HAVE EXPECTED US," reads the photo's bold caption. The post has been shared more than 32,000 times, and has 132,000 "likes."
Inspirational quotes from Martin Luther King Jr., the Dalai Lama and Jesus, messages of peace and love for all humankind, plus cute pics of kitties and doggies with grammatically creative captions — the page's posts share messages that differ greatly from Westboro's. The page itself dates back to December 2012, when it seems Anonymous members created it (as well as a two Twitter accounts, @WBaptists and @WBtruth, and a YouTube channel). It's yet another weapon in a publicly declared war on the Westboro Baptist Church — currently designated as a "hate group" by the Southern Poverty Law Center.
As fans of this "Troll v. Troll" cyberwar may recall, Anonymous threatened to "destroy" Westboro after the church threatened to picket funerals for the children killed at Sandy Hook Elementary School. Westboro's websites have crashed more than a few times under DDoS attacks launched by Anonymous, which also posted personal contact information for most of Westboro's members.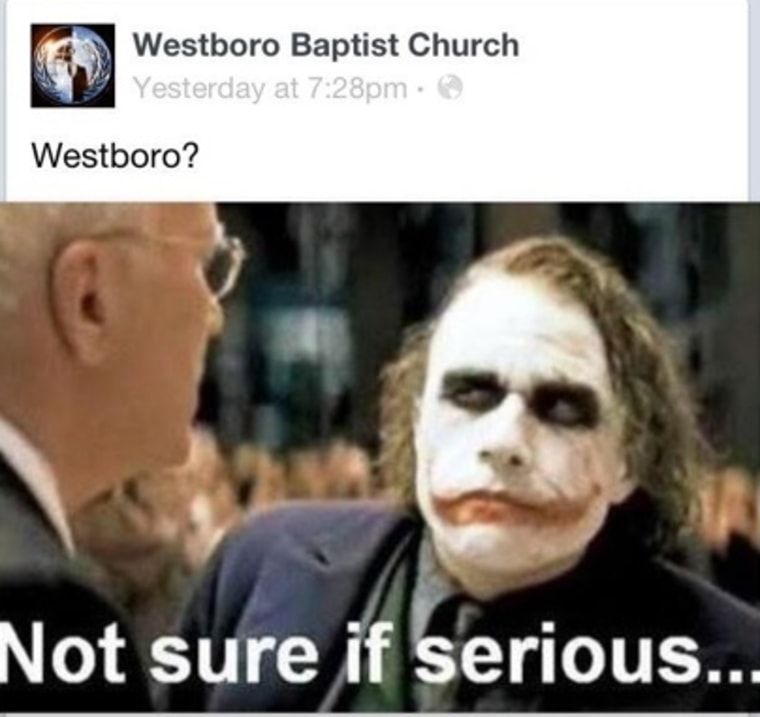 On Tuesday, Westboro used its Twitter account to announce its plans to picket any services for the Boston bombing victims. So when the Anonymous faux Facebook page went viral the following day, well, to paraphrase the group, we were expecting it.
Thing is, hacking is hard, and hacking Facebook is even harder. If you've ever seen Facebook "hacked," it's likely to be because someone jacked an account holder's password — and that's on the account holder, not on Facebook.
"Brandjacking," an activity "whereby someone acquires or otherwise assumes the online identity of another entity for the purposes of acquiring that person's or business's brand equity," as defined by Wikipedia, is easier, and far more elegant.
What's more, "satire" falls under fair use, which is why that faux Westboro Baptist Facebook page is still there for all to enjoy — and enjoying it many are. This morning, the page had less than 6,000 votes. Now it's closing in on 12,000.
Will it come down anytime soon? "It will depend on the content, admins, and the reports we receive, there's no simple answer for the time being and the decision will be based on multiple factors," Facebook's Wolens told NBC News.
Attempts to contact (the real) Westboro Baptist Church for comment were unsuccessful.
Hat tip to Shawn Henderson and Mark Preston
Helen A.S. Popkin goes blah blah blah about the Internet. Tell her she doesn't know what she's talking about onTwitter and/or Facebook.