FBI Director James Comey told senators on Wednesday that an attacker who opened fire in May at an anti-Prophet Muhammad event in Texas exchanged more than 100 electronic messages with "an overseas terrorist" beforehand. But, he said, investigators couldn't find out what the shooter was talking about because the messages were encrypted.
Comey referred to the Garland, Texas, shooting during testimony at a Senate Judiciary Committee hearing in which he pleaded for tech companies to change the design of smartphones and other electronic devices to allow for de-encryption of data under a court order.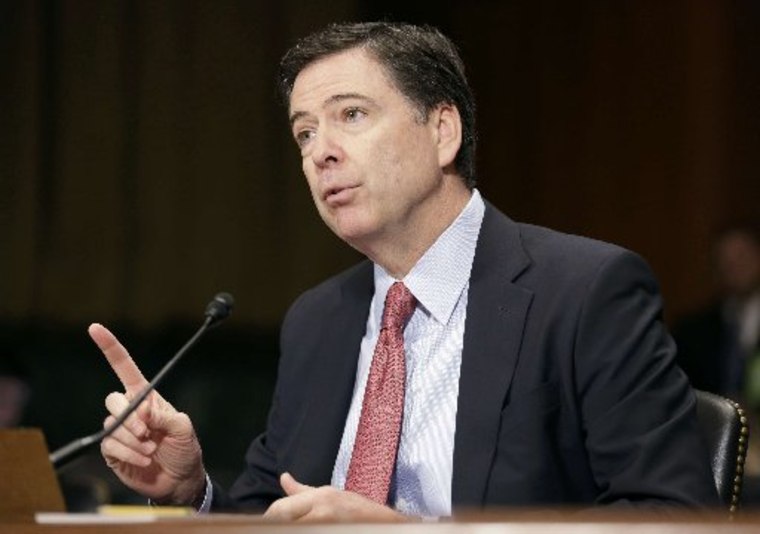 On May 3, two men wearing body armor and toting rifles began shooting outside the Curtis Culwell Center in Garland, which was featuring an exhibit of cartoon images of Muhammad. A security officer was shot in the ankle before both attackers were killed by a police officer. ISIS claimed responsibility for the attack.
Related: Tech Industry Coalition Defies Calls for Weakened Encryption
"That morning, before one of those terrorists left and tried to commit mass murder, he exchanged 109 messages with an overseas terrorist," Comey told the Senate committee. "We have no idea what he said, because those messages were encrypted."
Comey didn't offer more specifics, but he said the Garland incident was a prime example of the need for tech companies to alter the design of apps and devices so that the data is made accessible when public safety is at stake.
"Lots of good people have designed their systems and their devices so that judges' orders cannot be complied with, for reasons that I understand," Comey said in an apparent swipe at iPhone-maker Apple. "I'm not questioning their motivations. The question we have to ask is, 'Should they change their business model?'"
Apple declined to comment on Comey's testimony.
Related: Are ISIS Geeks Using Phone Apps, Encryption to Spread Terror?
Recent terror attacks, such as last month's coordinated bombings and mass-shooting in and around Paris, have renewed the debate around encryption. Apple and other tech giants have resisted calls from politicians and others to either provide a "backdoor" or loosen encryption standards.
"To protect people who use any products, you have to encrypt," Apple CEO Tim Cook said in an interview last month with The Telegraph.
"We believe very strongly in end-to-end encryption and no backdoors," Cook said. "We don't think people want us to read their messages. We don't feel we have the right to read their emails."