Scam artists are up to their old tricks, but with a new twist: exploiting confusion around the government's stimulus check program to defraud people to give up banking and personal information.
Fraudsters are phoning consumers and sending email and text-message phishing attempts impersonating government agencies, charities and businesses, demanding banking and personal information in order to deposit stimulus checks, according to warnings from the FBI, several states' attorneys general and the Better Business Bureau.
The checks are yet to go out, but the Federal Trade Commission has already received 55 complaints about fraud and violation of do-not-call lists about the shady attempts.
"Scammers are absolute opportunists and when they see something like a natural disaster or health care crisis, they pounce," said Robyn Householder, president of the Better Business Bureau of Middle Tennessee. "Organizations like the IRS don't call you, they don't text you, they don't send you email."
Consumers should watch out for requests for payment, personal or financial information, any offer to help apply for the program, or any grant offers related to the stimulus program, Michigan Attorney General Dana Nessel said in a statement.
"If you receive a text, email or phone call from someone claiming to be from the government with a check for you — do not fall for it," Nessel said. "Do not, under any circumstances, give away your personal information via text, email or phone."
Scammers are leveraging the high demand for the program and some of the confusion surrounding who qualifies and how the money will be received.
"Does anyone know if they will send emails out about this," a Newark, New Jersey, woman tweeted, posting a screenshot of a suspicious email she received about the program asking her to verify her email address and to click a link to "accept stimulus check."
"Not too sure might be a scam kinda of scared to click on this to verify my email," she wrote.
Shady actors have also leveraged the program as a marketing gimmick.
A Florida man received what looked like an official looking check for over $3,000 with a letter inviting him to get his "economic automotive stimulus program" funds by visiting a "stimulus relief site," inside a used car parking lot across from a Walmart. The entire message appeared to be a come-on to drive foot traffic to the dealership.
"This is absolutely sickening," Thomas Andrews, who reported receiving the mailer, wrote on Facebook. "Many people, especially the elderly, won't read/understand this and will be driving there thinking they will be getting relief money only to be harassed by a car salesman."
Consumers have also complained about a rash of text messages, sometimes personalized with the receiver's name, containing suspicious links.
Dan Drake posted that his wife had received a personalized text message telling her that "$1000 to help you past the outbreak has been pre-accepted." A link to a website called "cashasap13" followed.
"Pretty sad at a time like this people are trying to run scams and prey on vulnerability," Drake wrote.
Other text messages have pushed a nonexistent Costco relief program, or a friend passing on a helpful link "that I gave my word to pass on."
Scammers repeat the same patterns, and consumers can protect themselves and loved ones by knowing what to watch for.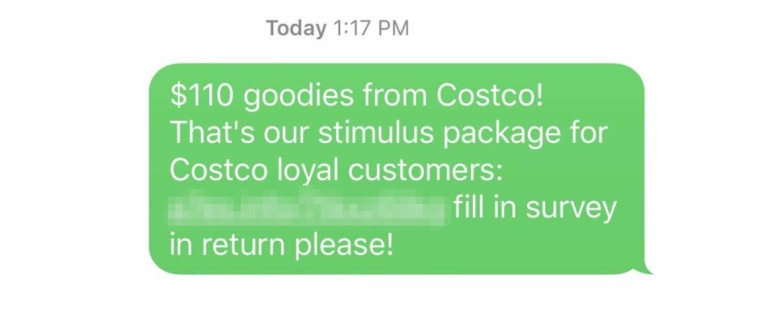 Consumers should be aware of unsolicited messages, and scrutinize links and email addresses. In email, users should hover their mouse over a link and see if it goes to the site it says it does or if the address has extra letters or numbers. If possible, it's best to type in web addresses directly.
A dead giveaway, Householder said, is "scammer grammar," with grammatical mistakes or misspellings that show the sender is possibly a nonnative English speaker.
Consumer advocates also warn that scams are now easily personalized. Con artists can do quick research online to impersonate a friend or an employer in an effort to get people to let their guard down.