In the days after a rally of far-right groups in Charlottesville, Virginia, in August 2017, online searches for how to join the Ku Klux Klan rose by 800 percent.
Moonshoot CVE, a tech startup aimed at countering online extremism, saw the sudden increase in search traffic and began to buy ad space alongside those search terms.
Moonshot repeated this practice, called the Redirect Method, around a variety of tragic events, all of which saw similar spikes in internet searches connected to violence and extremism. On Tuesday, the company released the finding of its efforts.
Over a three-month period in 2017, Moonshot reached more than 15,000 people who had searched for ways to kill members of other religious or racial groups, the company announced. Those people were then served content meant to either provide alternative viewpoints or direct them to mental health services.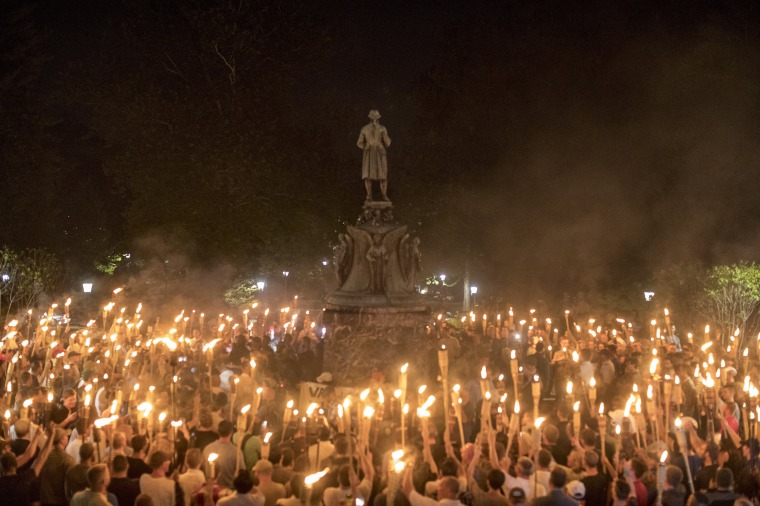 "When an individual clicks on [an] ad, they land on a playlist with a short trailer to get them enticed," said Vidya Ramalingam, co-founder of Moonshot CVE. "It looks and feels like the kind of content they were looking for. What follows is a playlist of content debunking these voices."
As part of its work, Moonshot observed a variety of spikes in interest around terror events. In the wake of the New York truck attack, which killed eight people, the company saw attempts to make online contact with ISIS rise 840 percent. Moonshot CVE also said that searches indicating a desire to kill "infidels" rose 414 percent.
To reach the people executing these searches, Moonshot uses the kind of ad strategies that are now common in online advertising but have come under scrutiny recently due to Facebook's lax data practices.
"There is lots of scaremongering about microtargeting," Ramalingam said. "We're keen to make it clear it can be used for social good."
Moonshot CVE, which is backed by Google, partnered on the project with nonprofit organization Gen Next Foundation.
In response to searches like "how to join ISIS," Moonshot CVE served up content such as a TED Talk by a former jihadi explaining why killing isn't the answer and another video called "The Truth about Jihad." For others, Moonshot showed mental health advertisements.
The company found that people who searched for topics related to the far right were 48 percent more likely to click on mental health advertisements than a comparison group.
Moonshot's report, however, also shows the challenges tech companies and countries face in trying to address and contain extremism on the internet. Only about three percent of people who saw Moonshot's ads related to jihadism clicked on them. That's a good rate for an online ad but still means the vast majority of people searching for hate groups online that encounter Moonshot ads are not clicking on them.
Heidi Beirich, director of the Southern Poverty Law Center's Intelligence Report, which tracks hate groups, expressed some skepticism about the project, noting that tech companies serve people what they're searching for and then often drive them deeper into extremist content through auto-generated recommendations.
"Redirects are a minimal solution," she said. "The way algorithms work is that they're set up to give you something similar... At least they're trying to reach people before they go down the rabbit hole."