On the first day of April, the Calvert County Sheriff's Office in southern Maryland flew three new drones fitted with loudspeakers and live cameras for their first mission: To monitor people in homeless encampments and broadcast public health announcements from the sky.
Calvert County is one of at least four law enforcement agencies across the country using drones during the coronavirus outbreak to communicate with homeless people, many of whom are surviving outdoors without sinks to wash their hands, and without reliable bathrooms, healthcare, internet access or electricity.
The idea, according to law enforcement officials interviewed by NBC News, is that homeless encampments are often tucked away in hard-to-access areas, and a drone can allow police to patrol with a live camera feed and blast information from the sky without having to venture in person at a time when the Centers for Disease Control and Prevention is urging social distancing.
Other police departments using drones to interact with homeless encampments include the Fort Worth Police Department in Texas, the Chula Vista Police Department in California, outside of San Diego, and the San Pablo Police Department in the Bay Area. And even more police departments, like those in Savannah, Georgia; Daytona Beach, Florida; and Maui, Hawaii, are using drones to broadcast messages over parks and beaches, where homeless people often live and congregate, alerting people of orders to maintain social distance.
Drones have been in the hands of local law enforcement agencies for years, using them to help conduct search-and-rescue missions and map crime and vehicle crash scenes. But since states across the country issued shelter-in-place orders in response to the pandemic, police departments have seized on the crisis as a moment to acquire more drones to do remote patrolling.
The technology has come with warnings from anti-surveillance advocates and civil liberties watchdogs who point to the privacy risks of flying robots equipped with cameras surreptitiously filming people from afar.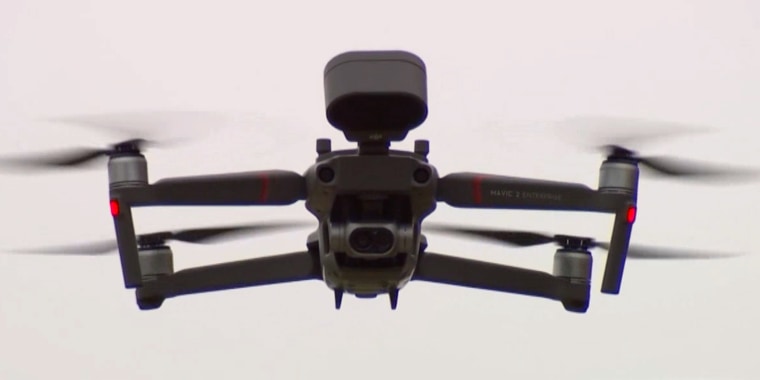 Homeless people, along with researchers and advocates for those who are unsheltered, said that police flying drones over encampments is likely to cause more harm than good – and can make it even harder to provide public health information and services to homeless people in need.
"People that are living out in encampments are already distrustful of the government," said Carolyn Johnson, a managing attorney for the Maryland-based Homeless Persons Representation Project. "So yelling at people through a flying police robot doesn't strike me as the best way to communicate and build trust to help folks."
Vlad Bortchevsky,a corporal with the Calvert County Sheriff's Office, said that the drones, which fly at least once a shift, are useful for communicating with people at a time when they might not have access to other information sources.
"Now that businesses are closing their doors, people who have government-sponsored phones might not be able to charge those phones anymore," he said.
Getting drones to the police
Police departments are racing to acquire new drones as the highly contagious coronavirus continues to spread.
"Since the pandemic we've seen brand new law enforcement customers email us asking for drones to be delivered in days or hours," said Spencer Gore, the CEO of Impossible Aerospace, a drone company that specializes in unmanned aircraft for law enforcement.
The new drones used by the Calvert County Sheriff's Office were donated by a China-based drone company, DJI, the largest consumer drone maker in the world, as part of the company's latest "Disaster Relief Program." At the end of March, DJI announced it would be giving away drones to first responders and law enforcement agencies across the United States to help them "mitigate the Covid-19 pandemic."
The company suggests on its website that the drones be used for "homeless camp evaluations."
DJI also suggests that thermal cameras could be attached to drones to measure body temperature or spray public areas with disinfectant, although none of the police departments NBC News spoke to said they are using their drones for temperature checks or for spraying anything.
"When we talk about the uses the public safety agencies have found in the coronavirus era for drones, it's ideas that have come from the departments themselves," Adam Lisberg, a spokesman for DJI, said.
As of April 1, DJI said it has provided 100 drones to 45 different public safety agencies in 22 states. Of those 45 agencies, 22 are police departments. According to a map on DJI's blog, the majority of the drones the company has handed out for pandemic disaster relief are in California.
The Chula Vista Police Department outside of San Diego also received three drones from the Chinese company as part of its response to the pandemic, according to Vern Salle, a captain for the department, which already had ten drones prior to the health crisis.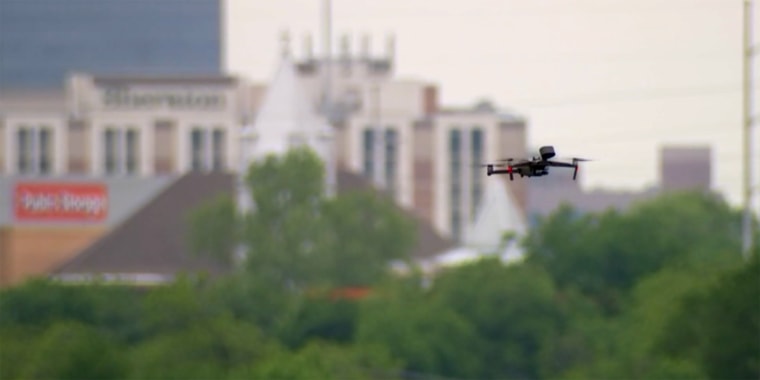 The agency first used its new drones to patrol and provide outreach for homeless encampments last week.
"Ninety-nine percent of all our outreach is face to face. Drones are not our first choice, they're our last choice in this type of outreach service," Salle said, emphasizing how hard-to-reach much of the terrain where the encampments they're trying to reach are based.
The Chula Vista Police Department said in a news release that the drones blasted out information to direct people residing in homeless encampments to walk to staging areas where food, personal hygiene kits, masks, and health screenings were made available. The department said its first use of drones for homeless outreach allowed the agency to reach 16 people who were seen and offered services from the police drone.
Three people went to the staging areas to get services.
Download the NBC News app for full coverage of the coronavirus outbreak
One of Impossible Aerospace's clients is the San Pablo Police Department in the Bay Area. There, similar to Chula Vista, homeless encampments span hillsides that can take up to a half day to visit by foot, said Capt. Brian Bubar of the San Pablo Police Department.
Officials from the Chula Vista and San Pablo Police Departments said that the drones were being used for sharing public health information and not for enforcement of shelter-in-place requirements.
'Keep a safe distance'
Homelessness researchers and advocates said that what homeless people really need is housing, like the hotels being repurposed to house homeless during the pandemic, healthcare, and help navigating social service systems to get the assistance they need.
They said that most homeless people are not going to want to interact with or accept help from the police, citing the criminalization of homelessness, raids on encampments, and histories of harassment and arrests.
The use of drones to conduct surveillance and communicate isn't going to improve that relationship, they said.
"The appropriate outreach to folks who are on the streets or unhoused if you're trying to get them resources is through some kind of social service program that has outreach workers that are specifically trained on how to respond to people going through trauma," said Megan Hustings, the managing director for the National Coalition for the Homeless.
Homeless service providers that are specifically trained to do outreach to encampments know where to go to find people who need help. That includes encampments that are off-the-beaten-path and are hard to get to, which is why trained professionals should be sent to help them, not drones, she said.
Officer Daniel Segura of the Fort Worth Police Department in Texas said they have worked hard to build trust with their homeless community and that police warned unhoused people that they would be patrolling with drones due to the pandemic.
"The officers told them about the drones and explained how every now and then you'll have drones flying over you and don't get scared," Segura said. "The reason why is some people have mental illness, so seeing something flying and speaking to you can scare them."
Even if police previously inform homeless encampments that drones will start flying overhead to provide public health information and monitor them, most people are not accustomed to being communicated with via drone, no matter their mental health condition.
When it comes to drone shouting directives, "anyone would be freaked out," Husting of the National Coalition on Homelessness said.
The Coalition on Homelessness in San Francisco has long advocated against police conducting homeless outreach, said Chris Herring, a doctoral researcher at the University of California, Berkeley and advisor with the Coalition on Homelessness in San Francisco.
"If unhoused people get important messaging first from the police and then they get it from public health workers after, there could be a dangerous sense of distrust," he said.