The New York and Massachusetts attorneys general on Tuesday announced a joint investigation into Cambridge Analytica, the data firm linked to Donald Trump that is accused of harvesting Facebook data of some 50 million unwitting Americans.
As part of the investigation, the two attorneys general are issuing a letter to Facebook demanding the social media company provide information concerning the potential misuse of user data, which Cambridge Analytica allegedly obtained via a personality quiz. The letter also asks for all contracts, agreements and communications between the social media giant and Cambridge Analytica; its parent company SCL group; its CEO Alexander Nix; University of Cambridge researcher Aleksandr Kogan; and a former Cambridge Analytica employee, Joseph Chancellor.
The attorneys general are also investigating why Facebook did not tell users or the public that the data was handed over to a third party. Facebook said in a statement on Friday that they learned about the violation of its terms of service in 2015.
The Federal Trade Commission is looking into Facebook's use of personal data as well, Bloomberg reported on Tuesday.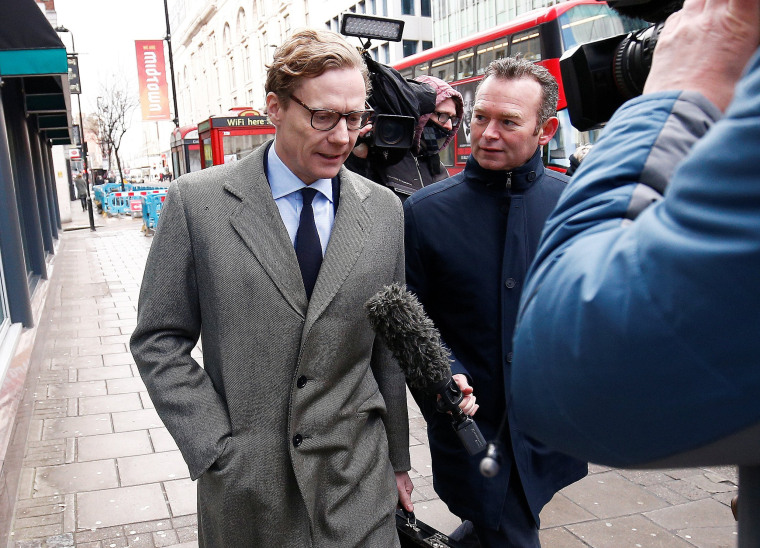 New York is the fourth state to announce a formal probe since Chris Wylie, who helped found Cambridge Analytica, alleged in The Guardian that the data analysis firm harvested Facebook data partly in the form of unrelated quizzes and then "weaponized" it in order to influence the 2016 U.S. election in favor of Donald Trump. Connecticut and Pennsylvania announced similar inquiries on Monday; so did Massachusetts, which then said Tuesday it would work with New York.
"Consumers have a right to know how their information is used – and companies like Facebook have a fundamental responsibility to protect their users' personal information," New York Attorney General Eric Schneiderman said in a statement. "Today's demand letter is the first step in our joint investigation to get to the bottom of what happened.
Massachusetts Attorney General Maura Healey said in a statement that Facebook will need to show that it acted responsibly with regard to the data transfer.
"Companies that control huge amounts of personal data have a legal obligation to guard against theft and misuse of that information," Healy said. "We are investigating to find out how and why this data was shared by Facebook and whether the appropriate steps were taken to protect it against misuse and manipulation."
Paul Grewal, vice president and deputy general counsel at Facebook, told Bloomberg on Monday that the company is "in the process of conducting a comprehensive internal and external review as we work to determine the accuracy of the claims that the Facebook data in question still exists."
Cambridge Analytica on Tuesday announced that the company's board of directors had suspended Nix, its CEO, pending an investigation.
Cambridge Analytica has a number of ties to the Trump campaign that lead through its offices in New York.
Cambridge Analytica has a New York address at 597 5th Avenue in New York, the same address as the 501(c)3 nonprofit Reclaim New York. Reclaim is an organization that hosts "information sessions" in hotel conference rooms encouraging New Yorkers to "reclaim ownership of their government."
Both Reclaim New York and Cambridge Analytica are primarily funded by Republican megadonor Robert Mercer and his daughter, Rebekah. Steve Bannon was listed as vice president of Cambridge Analytica in a financial disclosure form in 2016. Bannon was also listed as vice president of Reclaim New York in August 2016.
Both Bannon and Trump adviser Kellyanne Conway were founding directors of Reclaim New York. Conway was named Trump's campaign manager and Bannon was named campaign chief executive in August of 2016.
A spokesperson for Reclaim New York said Bannon was on the board of Reclaim New York but left in August 2016. He also added Conway was on the board of Reclaim New York and also left in 2016.
Cambridge Analytica was the Trump campaign's ninth-largest vendor, behind three private jet companies and the digital media firm Giles-Parscale.