The internet, once a bastion of free access, is now filled with pay walls: $10 for music, another $13 or more to stream movies and TV shows and maybe a few dollars more for a newspaper website.
But some major services, such as Google and Facebook, still don't charge users, which is something Pierre Valade, CEO of the privacy-focused startup Jumbo, sees as its own kind of toll.
"People have learned, unfortunately the hard way, that if you're free, they're the product," he said.
So when Valade set out to create an app that would be a privacy assistant for everyday users, he knew he'd have to charge a monthly fee to make it work.
Last month, Jumbo quietly began charging $3 or more per month for its privacy manager, a previously free smartphone app that lets people go to one place to manage their privacy settings for Facebook, Google, Amazon and more.
The idea of paying for privacy is a sign that the concept of privacy itself is evolving — and emerging as a big business.
Understanding and managing one's digital footprint is now so complicated that corporations and individuals can't do it very well by themselves. Some people are seeking a middleman between tech companies and themselves, and now there's a monthly price tag.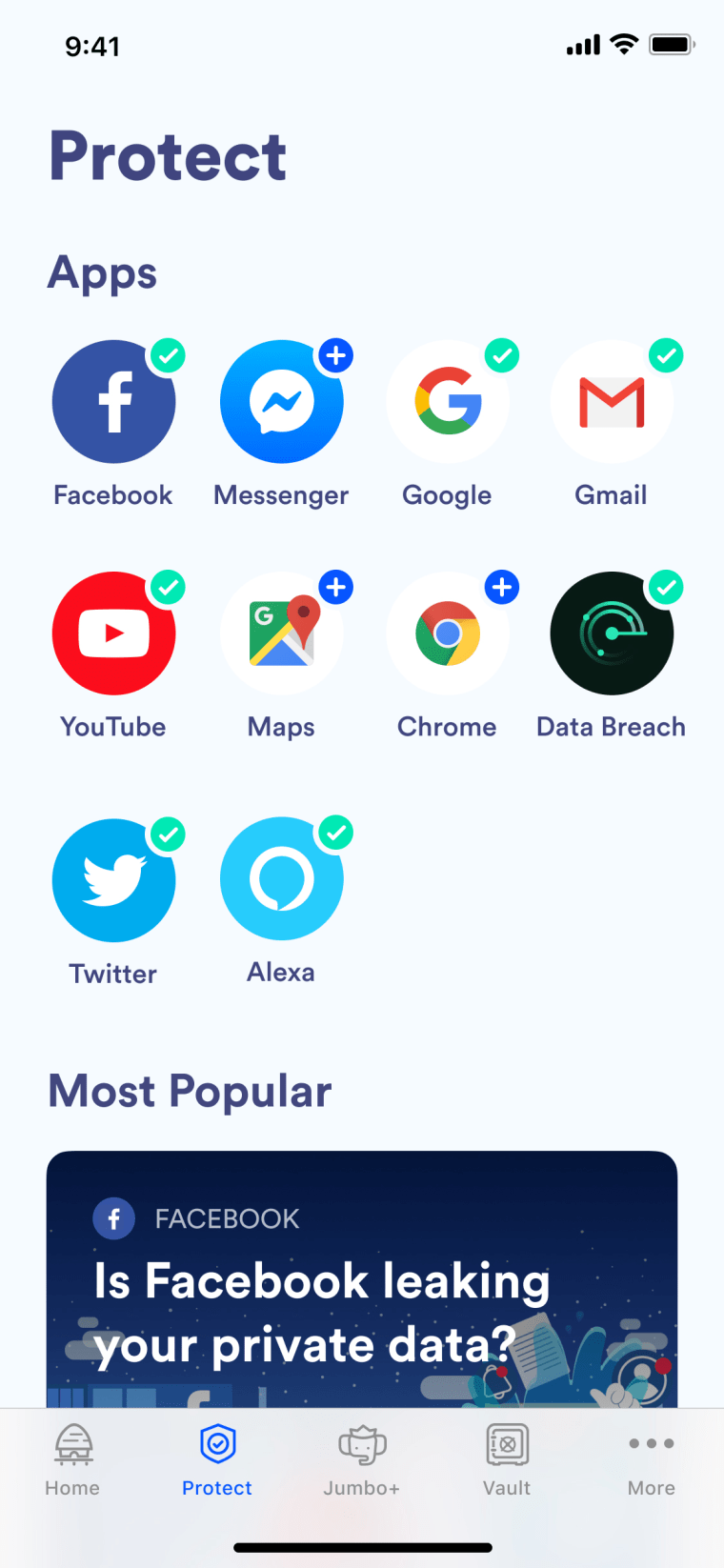 Privacy as a service, however, is something that doesn't sit well with privacy advocates and civil rights experts, who worry that freedom from corporate or government surveillance could soon become another sharp contrast between the haves and the have-nots.
The Jumbo app is a kind of dashboard for other accounts from common online services. Users log into those accounts through Jumbo, which scans the accounts to see what the current privacy settings are and makes recommendations.
Wondering what information Google is keeping? Jumbo walks through the data step by step, giving users the option to delete their histories or leave the data where it is on Google's servers. And Jumbo says it doesn't store any of the data itself.
The attraction is convenience, but it's also an education in how much data the tech companies collect and store.
"On Facebook, we look at more than 40 settings. That would take you an hour, and you're probably going to miss some," Valade said.
Putting a price tag on privacy — or just a more convenient form of it — may be unsettling to people who think the onus should be on prying tech companies, not on individual consumers, to protect privacy.
"If you think of privacy as a right, you shouldn't have to pay for it," said Justin Brookman, director of consumer privacy and technology policy for the nonprofit Consumer Reports. "The law should be protecting us, and people shouldn't have to worry about it."
Download the NBC News app for breaking news and politics
Privacy is a fundamental human right recognized by the United Nations since 1948, but most Americans don't have a strong legal right to privacy. There is no comprehensive federal privacy law in the U.S., and state laws vary widely. Brookman said paid privacy services may make sense in the short term while advocates push lawmakers to do more.
Americans have also grown pessimistic about their ability to control their privacy by themselves. Last year, a Pew Research survey found that 81 percent of adult U.S. respondents said they have very little or no control over the data companies collect, and 62 percent said it's not possible to go through daily life without companies collecting data on them.
Consumers have long been able to pay extra for certain kinds of security online. Software to create virtual private networks, or VPNs, may prevent hackers from accessing sensitive emails or systems. Password managers help people keep track of their login credentials.
But the next era of paid privacy services may be broader and more fundamental, supporting the idea that some people may want protection as a basic need in their everyday lives.
"Our privacy is being violated thousands of times a day. It's just that they're in these tiny paper-cut ways," said Josh Miller, a venture capitalist at Thrive Capital, a firm that has invested in Jumbo.
Miller said one of the things Jumbo does well is remove the steps in what can be tedious exercises like reviewing privacy settings. He said his favorite feature is one that's still in testing in which users see a tally of how many advertising trackers Jumbo has blocked from collecting information.
"Isn't privacy a right? Everyone involved with this company wishes it were and that you didn't have to pay someone to protect you," he said. "Five bucks a month, or whatever it is for this bundle of features, is extremely cheap."
The app has hints of whimsy, including a cartoon elephant wearing overalls, to try to make privacy less boring. (The original Jumbo was an African elephant famous in the 19th century.)
One difficult question the company faced was how much to charge. There's not much experience to go on for what consumers would pay for more convenient privacy settings, and Valade settled on a range: New users can choose to pay $3 to $7.
The lower number, he said, is to keep the price "approachable," and the higher one is for people who can afford it or want to show their support. A version for business accounts is $9 a month. (People who signed up before March aren't being charged yet.)
One reason for the sudden interest in paid privacy subscriptions is a change in the law in California. A tough state privacy law took effect in January that said consumers have a right to "authorize another person" to opt out of the sale of their personal information.
In effect, California lawmakers created a right to hire a privacy advocate, which Jumbo thinks may bolster its standing if it ever gets into a turf war with other tech companies. "We are your authorized agent," Valade said.
It's not clear how big tech companies like Google, Facebook or Amazon will respond to the growth of Jumbo and what will likely be other subscription services like it. Amazon declined to comment on Jumbo specifically but said in a statement that it is always looking for ways to improve transparency and customers' control over their experiences. Facebook and Twitter declined to comment. Google didn't respond to a request for comment.
Valade said that he thinks there could be a battle but that California's new privacy law and consumer demand are on Jumbo's side.
"They can't really go against the market," he said. "If the market demands privacy, they will need to give people either similar tools on their end or through a service like ours."