Seattle residents might not have to worry about being filmed by drones. That doesn't mean police won't be able to pick out their faces from the security cameras that already exist.
Thanks to a Seattle City Council vote on Monday, the Seattle Police Department will be now able to use facial recognition software to identify suspects caught on video. The program is funded by a $1.64 million grant from the federal Department of Homeland Security.
"We are already doing this work, but it's manual," police spokesman Mark Jamieson told NBC News. "This would just speed up the process."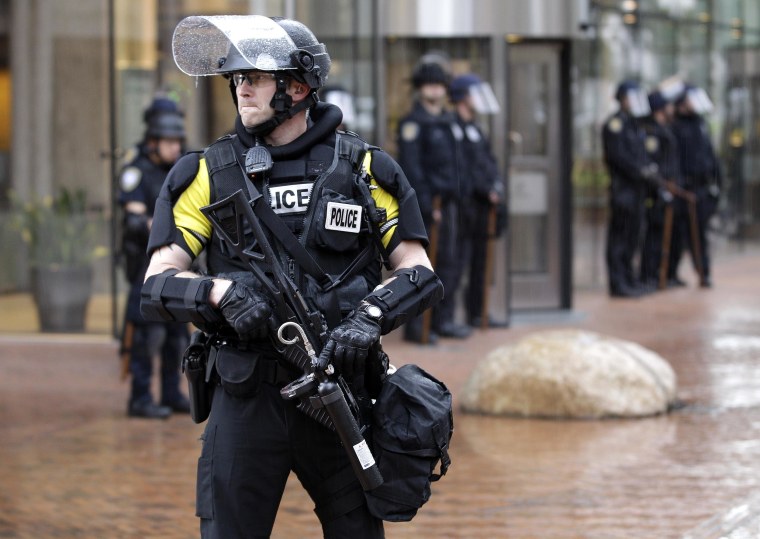 The plan's approval comes a month after the state House and Senate passed a bill regulating the use of unmanned drones by law enforcement, a response to privacy concerns raised when two of them were bought by the city of Seattle. (Then-Seattle Mayor Mike McGinn later shut down the drone program.) The bill limits law enforcement from using drones without a search warrant — except in cases that are deemed emergencies.
The drone regulations were applauded by the ACLU of Washington. As for the city bill approving the use of the facial recognition software, the organization initially opposed it until lawmakers agreed to:
Limit its use to identifying a specific person "whom an officer reasonably suspects may be involved in criminal activity," as opposed to scanning crowds to look for suspicious activity or individuals.
Not use the software with live video streams.
Only let specially trained police officers use the software.
The Seattle City Council agreed and passed the legislation on Monday, with only City Council member Kshama Sawant voting no.
The Seattle Police Department is required to keep a log of how the program is used, retain data gathered for three years and audit the program every year.
Doug Honig, spokesperson for the ACLU of Washington, stressed that the organization did not applaud or approve the program, only that it dropped its opposition to it.
"We are always concerned about the possibility of police using technology to violate people's rights," Honig told NBC News. "We will be watching very carefully to make sure it is implemented as intended."