Ruha Benjamin and her husband, Shawn, were reading books to children stuck at home using Zoom's videoconferencing tool last week when a racist troll hijacked the video stream.
Benjamin, an associate professor of African American studies at Princeton University, was a few pages from the end of the popular children's book "Walter the Farting Dog" when an image popped up on the presenter screen of what she described as a "chubby white man in a thong."
At first she froze, confused about what was happening.
"We weren't sure if everyone could see it," she said.
After a few seconds, she and the more than 40 children on the videoconference heard a male voice say the N-word multiple times.
"Then we knew it was a malicious, targeted thing. My husband and I are both African American," she said, adding that she quickly shut down the group call.
The Benjamins had been victims of what's become known as "Zoombombing," a form of online harassment in which someone hijacks a group video call to show something inappropriate or unexpected. The offensive intrusions have been happening more frequently now that millions of people are forced to use videoconferences to work, study and communicate from home.
Cornelius Minor, an educator and author, had a similar experience Thursday when he was invited to join a colleague's open office hours on Zoom to talk with other educators about methods for teaching literacy. But not long after they began talking, a comment notification popped up at the bottom of the screen that cursed at Minor and called him the N-word.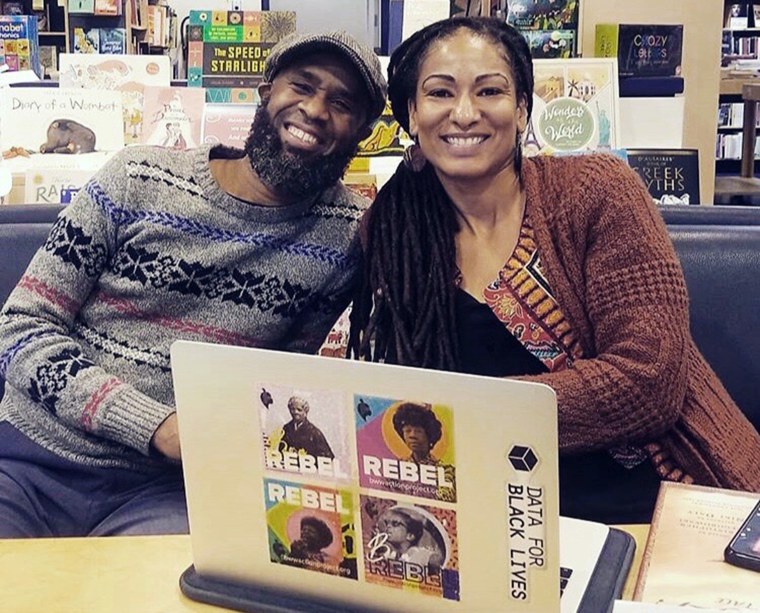 "Whenever I can, I'll mute the individuals and do whatever I can given what each platform allows," Minor said. "But once you get going and are answering questions from the public, it's really hard to moderate."
As classes, lectures and other educational activities move to videoconference tools during the coronavirus pandemic, Zoombombing has become another vector for organized harassment. Like other forms of online harassment, targets are disproportionately women, people of color and members of religious minorities and other marginalized groups.
In the Benjamins' case, the racist hijacker had taken advantage of two things: the fact that they had publicized the link to their storytime to anyone interested, instead of limiting access to a select or registered few, and the fact that the default setting on Zoom allows all participants to share what's on their screens with the group, replacing the host's own camera feed.
Full coverage of the coronavirus outbreak
Zoom has published a guide to locking down the app's settings to mitigate the risk of uninvited guests joining. Users can also report the incidents to the company, a spokeswoman said, so Zoom can take "appropriate action," including deactivating a user's account
"We have been deeply upset to hear about the incidents involving this type of attack," the spokeswoman said.
Reports about Zoombombing have grown in recent weeks. On Tuesday night, the University of Southern California sent an email to professors, obtained by NBC News, to share that multiple professors have had Zoom classes "disrupted by people who used racist and vile language that interrupted lectures and learning."
To help protect professors, the university set up a "Zoombombing Resources" page with links on how to remove a participant from the class and change the settings to require participants to ask permission to share their screens.
"When students and faculty gather, there is a trust that it is a safe environment," the email reads. "This trust has been breached by people intentionally trying to cause great harm at a time when our entire community is trying to cope with a global health crisis."
Religious figures have also been targeted. Ben Ratskoff, a doctoral student at the University of California, Los Angeles, opened up Zoom on Sunday to get a Torah lesson from Rabbi Asher Weiss, a well-known Judaism scholar.
About 30 minutes into the Zoom call, Ratskoff saw that a participant had written the N-word on the background of a Zoom window. Then, someone unmuted and shouted, "Hitler did nothing wrong." Soon after, someone made their background on Zoom a picture of a kid holding "Mein Kampf" and people on the call started shouting, "Heil Hitler."
"I was totally caught off-guard," Ratskoff said. "It was a very niche conversation about minutiae in Jewish law."
Still, Ratskoff said, once he realized what he was happening, something about the situation felt familiar.
"It felt very internet troll-y, kind of Reddit-y," he said. "I knew what was going on very quickly."
Anti-Semitism, Ratskoff said, is already adapting to our new socially distanced way of life.
"This whole situation and the way we are living now feels very new, but this was actually just a reminder that it's exactly the same," he said. "It's the same world, the same problems, but in different forms."
Beyond harassment, some conservatives have identified online video chats to uncover what they claim is bias in educational institutions.
On Monday, two right-wing provocateurs urged students to record and send them clips of their professors' online classes. The idea, according to a tweet by Charlie Kirk, the founder of the young conservative group Turning Point USA, is to "document and expose the radicalism that has been infecting our schools."
James O'Keefe, a conservative activist and founder of the media company Project Veritas, which has a history of undercover reporting to expose what he considers left-wing political bias, also tweeted an email address Monday for students to drop recordings of their professors.
Turning Point USA has targeted professors before. In 2016, the group launched the Professor Watchlist, which collected reports from students about teachers with liberal biases. When a report is accepted, the watchlist posts a photo of the professor and a short description of what was said that was purported to have revealed their political leanings.
Download the NBC News app for full coverage and alerts about the coronavirus outbreak
Professor Stephany Rose, chair of the women's and ethnic studies department at the University of Colorado in Colorado Springs, was put on the watchlist in 2017.
Rose said Kirk's recent call to action "is something that is coming up in our department, and our faculty is very much concerned about how to mitigate being attacked."
Safiya Noble, an associate professor of information and African American studies at UCLA, said the safety of educational spaces is important to fostering a learning environment.
"As campuses seek to fulfill the learning mission, they have to remember that faculty and instructors need academic freedom to develop learning spaces that support free and open exchange without a threat of these exchanges harming their employment status," Noble said.
Users of the fringe online message board 4chan have been sharing links to classes hosted with Zoom, urging others to share more links, as well.
"You can join this now online corona class about gender in 5 seconds and use mic and camera," a 4chan poster wrote in a thread last week. Another 4chan user followed up sharing that someone had posted anime pornography in the Zoom call. "Can you join back under a different name? that was hilarious," another poster responded.
Beyond threats of harassment and hate speech over Zoom, professors and other educators who use online conferencing tools are also vulnerable because of the potential for private information about them or their families to be exposed.
"A lot of the people are moving into online instruction right now who aren't particularly used to it," said Mary Anne Franks, a law professor at the University of Miami who specializes in technology and abuse online. "That means they're going to make mistakes in terms of possibly leaving tabs open or a family member might pass through the screen or there might be some information about their kids visible.
"What professors say will be put in another context, and maybe also it's going to include a lot of exposure of private information," she said.
"So with all of this together I think is the worst kind of perfect storm for harassment campaigns, doxing and this general uptick in the really vicious tactics these groups have been using for several years now."