Facebook, Instagram and TikTok have tried to keep a tight lid on sexualized content in recent years, banning nudity outright in almost all cases, kicking off sex workers and even cracking down on some artists and educators who speak frankly about sexual health and safety. 
But a new kind of sexualized content has lately been getting through their moderation systems: ads for scantily clad and dirty-talking chatbots, powered by what their creators say is artificial intelligence. 
Dozens of tech startups have been running explicit advertisements on TikTok, Instagram and Facebook in recent months for apps that promote not-safe-for-work experiences. The ads promise "NSFW pics," custom pinup girls and chats with "no censoring," and many of them feature digitally created potential "girlfriends" with large breasts and tight clothing. 
Some ads use memes that include popular children's TV characters, such as SpongeBob SquarePants, Bart Simpson or Cookie Monster, to promote apps with which people can create "NSFW pics." Others feature digitally created girls who appear to be teenagers or younger, sometimes in the style of anime.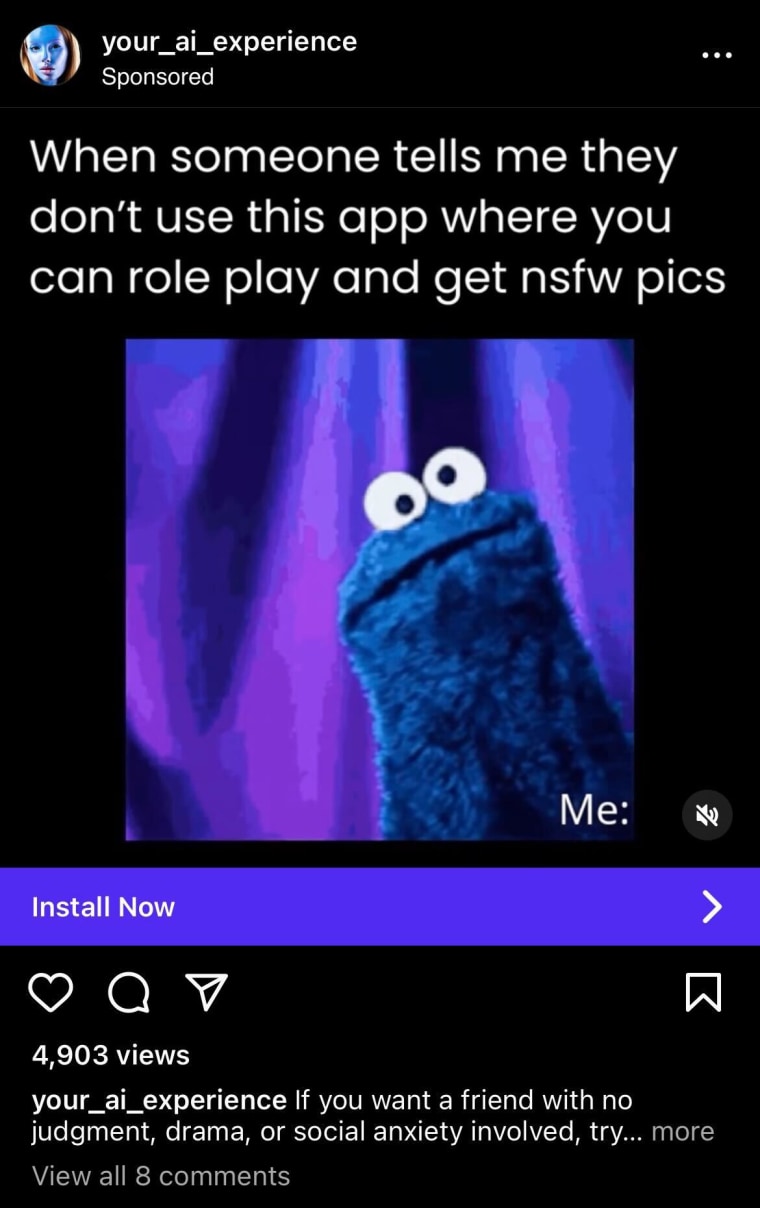 NBC News found 35 app developers running sexually explicit ads on apps owned by Meta, the parent company of Facebook and Instagram. The app developers were running more than 1,000 ads in all, many of them easily discoverable and viewable on Meta's online library of ads, which the public has access to. 
There were 14 app developers running hundreds more sexually provocative AI ads on TikTok, NBC News found. Some, but not all, were the same ads that appeared on Meta. It wasn't clear, though, how many of them were seen in the U.S., because TikTok's ads library provides transparency only for ads that appear in Europe. TikTok's ad policies prohibit ads that "display or promote the use of prohibited adult products or services."
Meta and TikTok post ad-related records in publicly accessible archives for transparency. There, they disclosed that they had removed some of the developers' ads before NBC News contacted them, but not all of them. On TikTok, some ads got thousands of views and stayed up for weeks before TikTok removed them, according to its library. 
The marketing push is part of an AI gold rush, in which app developers — most of them based abroad — are mining customers who are interested in sexual or romantic connections with custom digital characters. It's part of a larger movement to capitalize on a surge of interest in AI, following the popularity of tech startup OpenAI's ChatGPT product, which reset expectations for what AI chatbots were capable of. 
Some researchers said the erotic AI apps are benefiting from a double standard that hurts real human sex workers. 
"Sex workers are not allowed to make money off their image, but some tech bro who is creating a similar AI image is," said Carolina Are, a research fellow at Northumbria University and the Centre for Digital Citizens in the United Kingdom.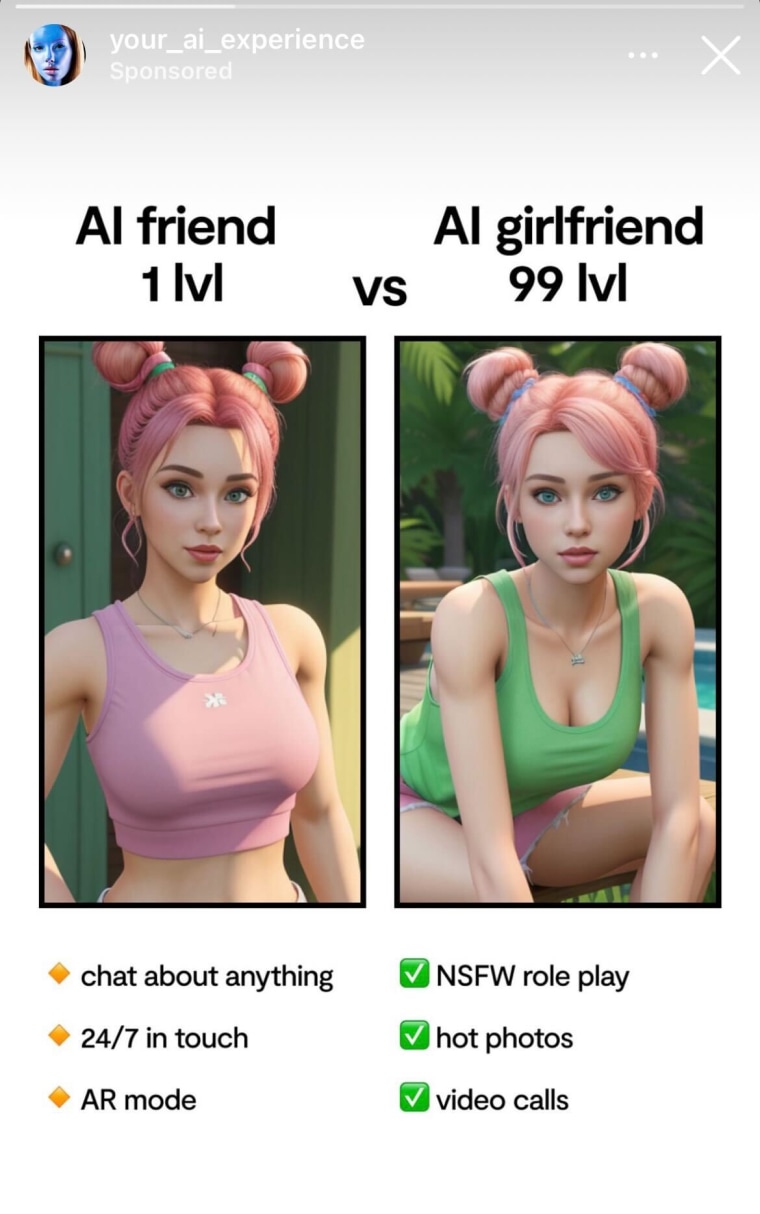 The ads usually promote sexualized female characters. Are said she believes that reflects a gender-based slant — social media platforms freely allow sex-related ads only if the intended audience is men. The ad libraries from Meta and TikTok don't always record the rejected or removed ads, so it's hard to tell what ads have been moderated by the platforms, but searches for terms relating to virtual girlfriends, in general, yield a higher number of results than searches for terms relating to virtual boyfriends. 
Meta and TikTok stepped up their removal of sexually explicit AI ads after NBC News contacted them Wednesday, but they didn't answer questions about how the ads got through their filters in the first place.
Meta said in a statement that its ban on adult content applies equally to human-made and AI-generated content.
"Our policies prohibit ads containing adult content that is overly suggestive or sexually provocative — whether it's AI-generated or not," the company said. "Our policies and enforcement are designed to adapt in this highly adversarial space, and we are actively monitoring any new trends in AI-generated content." 
Meta also said it is reviewing its public-facing policies to ensure that the standard is clear.
TikTok confirmed in a statement that its policies prohibit sexually provocative ads and said it had removed examples shared by NBC News.
Similar ads appear in the Apple and Google app stores, NBC News found, although the extent of advertising there isn't known because those companies don't disclose everyone who buys ads. App store ads and social media ads are among the most common ways tech startups find new customers. 
Apple and Google say they don't allow pornography apps in their app stores.
Google confirmed Thursday that its app store doesn't allow services "intended to be sexually gratifying." It said it had suspended several apps and ads that NBC News had asked about specifically.
Apple had no immediate comment and said it was working on a response. 
On Meta platforms, some app developers were running hundreds of ads apiece, according to searches of the Meta library. Magir AI-Art Generator, an app from Singapore, had 170 active ads running Monday; in one, the viewer sees the curvy rear end of a digital woman in workout clothes with the initialism "NSFW" written alongside. An app from China called AI Art Generator — Fantasy had 190 active ads; one used an image of Marvel's Wolverine character with the caption "No one should know about this. This app can generate NSFW." (The app appears to have no connection to Marvel.) Neither app company responded to requests for comment.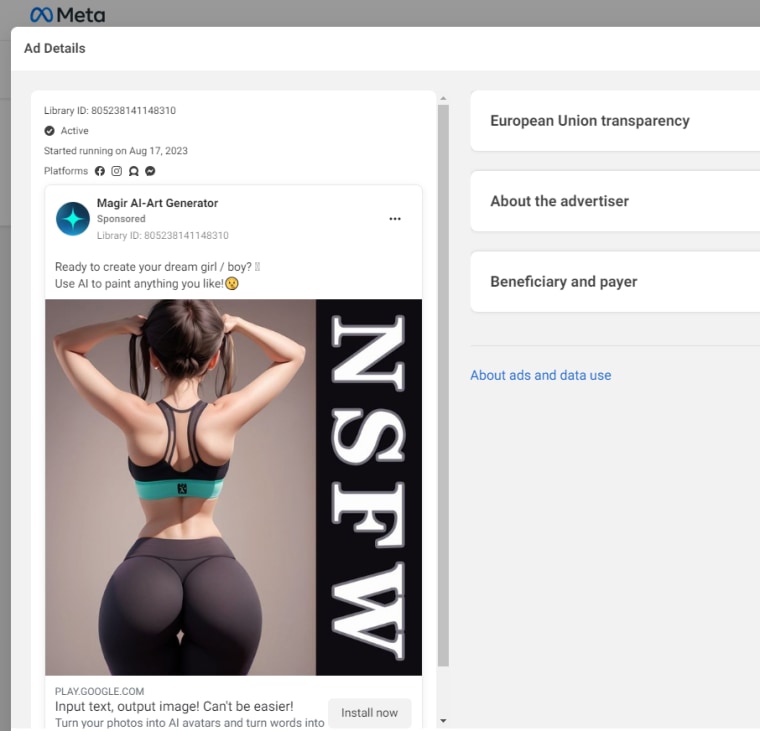 Hundreds of the ads appear to come close to or cross the line of what Meta and TikTok say they allow in advertising. Meta's advertising standards say ads "must not contain adult content," including depictions of people in explicit or suggestive positions or activities that are overly suggestive or sexually provocative. Ads also can't focus on "sexual pleasure." Meta doesn't have a rule specific to AI adult content. 
Under TikTok's policies, ads may not be sexually provocative, make sexual references or focus on individual body parts, such as buttocks. 
But TikTok and Meta aren't always applying those policies to sex chatbots. It's not clear why the AI startups were able to advertise while Meta and TikTok have historically aggressively enforced their rules against real humans.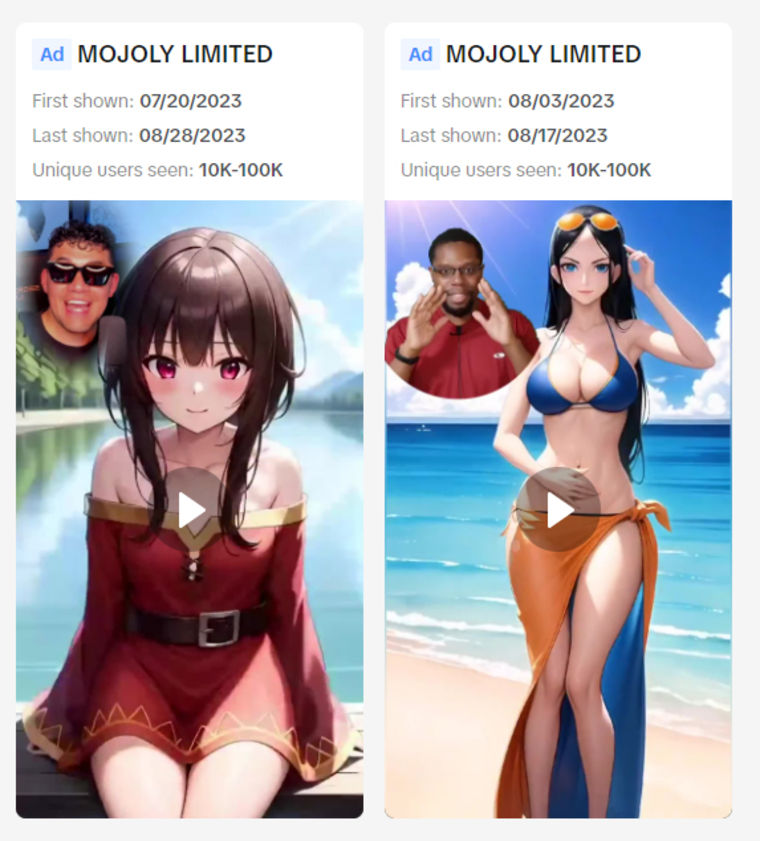 Instagram and Facebook have kicked off sex workers and sex educators in a series of sweeps over the years, and the apps banned photos of breastfeeding and breast cancer scars until people protested the policies with hashtags such as #freethenipple. Instagram still forbids nudity, but it has carved out exceptions to those rules for photos depicting "breastfeeding, birth giving and after-birth moments, health-related situations" and acts of protest.
Some sex workers say that even when they have tried to comply with Meta's rules about nudity, they still get punished by the platform while celebrities post sexualized content at will. 
Meta has applied its strict rules to advertising, including ads for adult toys, pornography websites and the website Ashley Madison, a service for people seeking to have affairs. Meta even permanently banned the Instagram account of one of the biggest porn platforms in the world, Pornhub.
In January, the Oversight Board for Meta's policies said its rules about nudity were confusing, leading to mistakes, and it advised Meta to revise them. At the time, Meta committed to "policy development," but has not announced any changes so far. Meta is the country's second-biggest seller of online ad space, after Google. 
The 35 risqué chatbot companies aren't large or well-known tech companies. Many say they are based abroad in countries like Belarus and China. Some disclose no location and little information other than an email address. 
The apps are generally free to download from either the Google or Apple app stores, with in-app purchases and subscriptions available. Some are marked as age-restricted, while others are rated as suitable for teenagers. 
The idea isn't especially new: combining computer chatbots with romance or sex appeal. Some of the apps advertise AI capabilities, but it's not clear how much each one uses the latest advances in AI, if at all. 
NBC News tried three, and each was slightly different. One allowed users to create images based on text inputs — including "NSFW" images, according to the ads. A second involved no typing — only clicking through prewritten storylines that quickly turn explicit. A third, Replika, centered on creating one customizable person who could be a friend or more. Replika got some media attention this year after some of its bots stopped engaging in erotic role-play, disappointing some customers. 
Many of the Instagram and Facebook ads use sexual imagery that isn't especially subtle. In one ad from the account "Producer Mobile," a female digital character in lingerie holds a dessert and asks the viewer, "Wanna taste my pie?" The ad includes a link to an app made by Amrita Studio, a gaming company. Amrita Studio, which has offices in Cyprus and Ukraine, didn't immediately respond to a request for comment.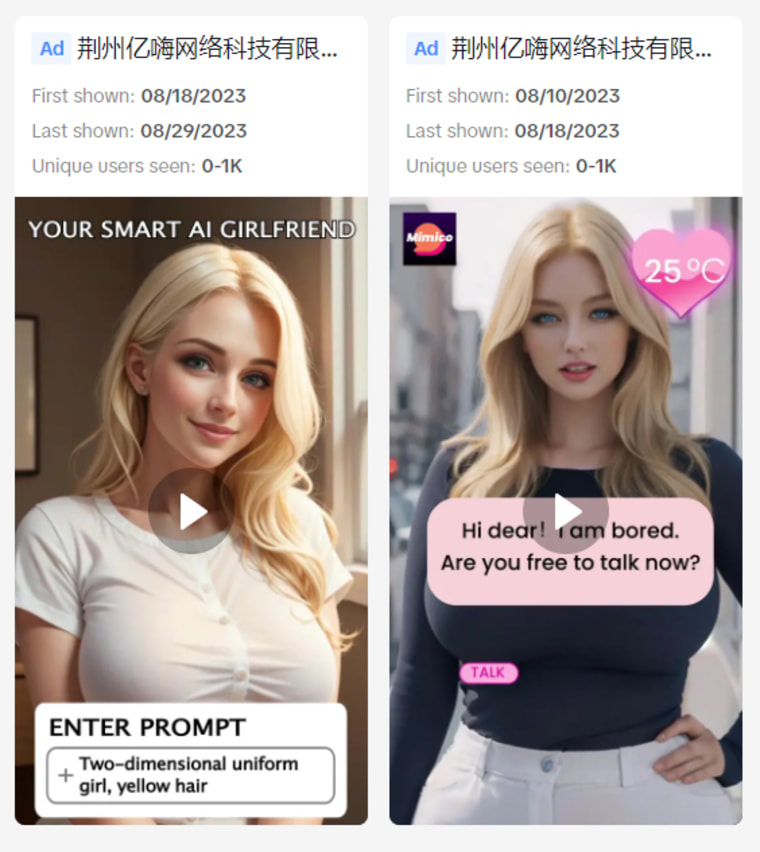 Innovative Connecting, a software company based in Singapore, had about 160 different ads running on Meta as of Monday for Mimico, an AI chatbot app. Some ads featured the phrase "Create NSFW Girl" above an image of a digitally created person with large breasts and a childlike face. 
Innovative Connecting, which also uses the name Matrix Mobile, didn't immediately respond to a request for comment. 
Online reactions to many of the ads are sometimes negative; some people on Instagram commented that the ads were "very dystopian" and "just sad." A few people wrote that some of the sexualized AI-generated people looked like children. 
Polly Rodriguez, the CEO of Unbound, a maker of adult toys, said her company had faced obstacles advertising with Meta because of the company's policies. She said she sees the presence of the AI chatbot ads as evidence of inconsistent enforcement and a double standard. 
"They're not addressing the root issue of: Why are these ads sailing through to begin with?" Rodriguez said. 
Rodriguez is an adviser to the Center for Intimacy Justice, a group that has been asking the Federal Trade Commission to investigate Meta's handling of adult ads. The FTC said it had received the complaint but declined to comment further. 
It's not clear when sexually explicit ads for AI chatbots began to proliferate on Instagram, Facebook and TikTok, but they appear to be a recent phenomenon. 
Many of the Facebook pages used to purchase the ads were created within the past 12 months, according to the transparency information that's published on the Facebook pages.