Artificial intelligence took center stage at a Google event in San Francisco Tuesday, where the search and advertising giant unveiled a new virtual assistant and a host of new hardware.
New Pixel smartphones, a speaker designed to compete with Amazon's Echo and a virtual reality headset made of fabric were among the items Google unveiled during the 90-minute event.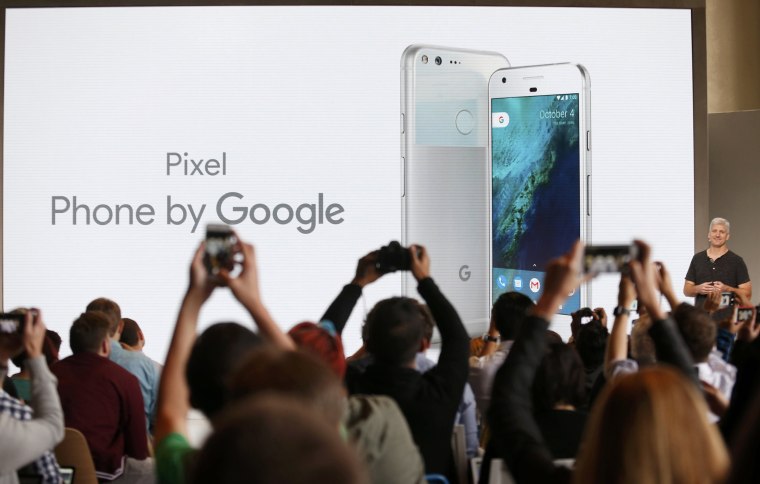 We are moving "from a mobile-first to an AI-first world," Google CEO Sundar Pichai said as he kicked off the event with Google Assistant, the chatty new companion to rival Siri, Cortana and Alexa.
Related: Google's Chatty New Assistant Will Make You Dinner Reservations
Google Assistant
Using artificial intelligence, Google Assistant gets smarter the more a person uses it. While it was included in Google's new Allo messaging app, released last month, it will also be integrated into the company's new smartphones and speaker.
Users can ask Google Assistant to do everything from remember their bicycle lock combination to booking a dinner reservation to playing "that one song by Shakira in the movie Zootopia."
Google Assistant understands natural language, so you can speak to it the same way you would chat with a friend.
Mario Queiroz, vice president of product management, told NBC News it's an ever-evolving process for Google.
Keeping user privacy in mind, Google is able to use machine learning to interpret the trove of voice queries it receives, he said.
"Improving natural language recognition is difficult and is something you do incrementally," he said.
Google Home
Google's intelligent speaker could give Amazon's Echo a run for its money. Available for $129 beginning November 4, Google Home lets users harness the power of Google assistant without ever having to pick up their phone.
The speaker can do everything from playing music to walking you through the steps for removing a red wine stain.
"It really is about making entertainment very easy in the home," Queiroz said.
Pixel Smartphones
Google's new Pixel smartphones come in two sizes — 5 and 5.5-inches. The Android phones have Google Assistant integrated and boast a speedy Qualcomm Snapdragon 821 processor.
Oh and it still has the traditional 3.5 mm headphone jack — a once-common feature Google played up since Apple removed it from the iPhone 7. The Pixel smartphone comes in two storage sizes: 32 GB or 128 GB.
The phone starts at $649 and is available for pre-order today in the United States, Australia, Canada, Germany and the United Kingdom,
Daydream View
Google's first virtual reality headset designed to work with its Daydream VR platform is coming in November. The headset, which is lightweight and made of soft fabric, will go on sale next month for $79.
Google Wifi
The modular, $129 WiFi router keeps your connected devices running smoothly. Want better coverage? Add another speaker to bolster your WiFi. A three-pack will cost $299.
This new router will also allow parents to easily limit WiFi with the click of a button.
Chromecast Ultra
Google showed off a new addition to its streaming devices, the Chromecast Ultra, which supports 4K video.
Even if you don't have a 4K television, Google said the new Chromecast Ultra works fast, loading videos nearly twice as fast as other Chromecasts.
Improvements come with a price, though. The $69 device costs nearly twice as much as an older Chromecast and will be available next month.