Once again, Facebook was the most popular app of the year with nearly 127 million users logging on each month.
The social network handily beat YouTube, which came in second on Nielsen's "Top Smartphone Apps of 2015" list with 97.6 million users.
Facebook saw an 8 percent increase from 2014, when it topped the list with more than 118 million users. Another one of the company's apps, Facebook Messenger, jumped to the third spot in 2015 with more than 96 million users, up from around 53 million last year.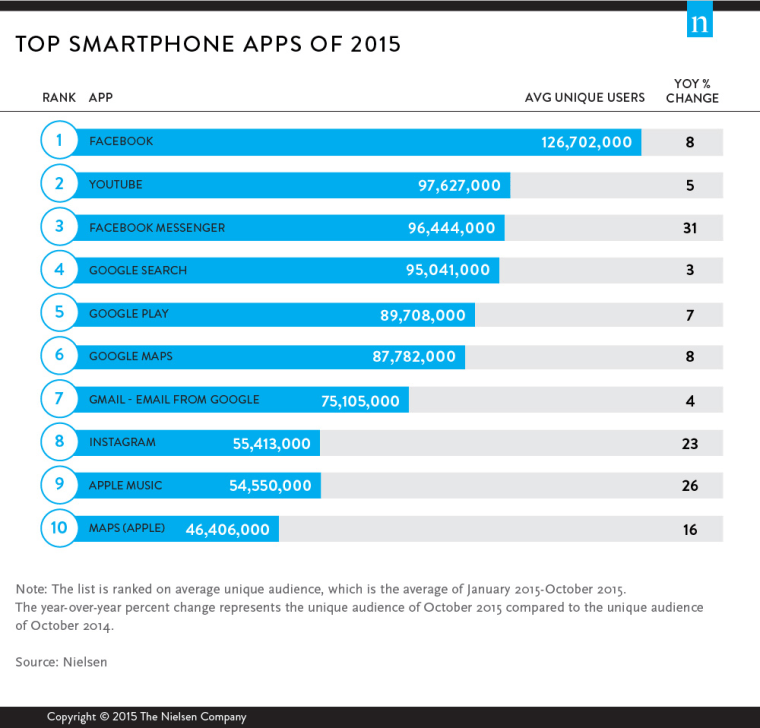 Google owned the middle of the list with Google Search, Google Play, Google Maps and Gmail each seeing modest gains in users from last year.
Related: Mark Zuckerberg: Facebook Working on 'Dislike' Button ... Kind Of
Gone is Google+, which was the eighth most popular app last year, and iTunes. Taking their place were Apple Music — the streaming audio service launched in June — and Apple Maps, which has bounced back from its embarrassing launch in 2012 to attract a total of more than 54 million users.