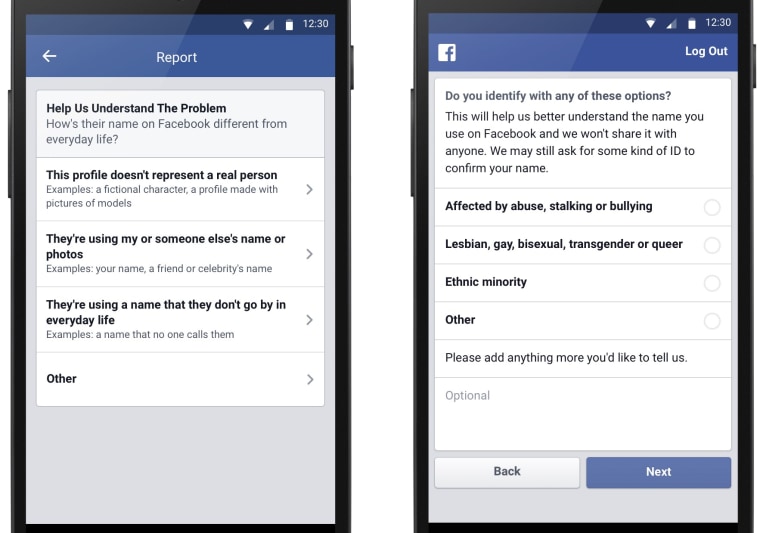 Facebook has taken some heat over the last year or so for its "real name" policy, under which your user name must be the name you're known as among family and friends. Mistakes in execution, groups inordinately affected and abuse of the system have prompted the company to make some changes in how the policy will be enforced.
In a blog post, Facebook wrote that "We're firmly committed to this policy," but that "it's also important that this policy works for everyone, especially for communities who are marginalized or face discrimination." The company in October apologized to the LGBT community and drag queens in particular over numerous issues with the real name policy, and suggested that changes were on the way.
Related: Facebook Apologizes to Drag Queens Over 'Real Name' Issue
The first improvement they're making to this end is a more context-sensitive reporting mechanism. Users flagging an account will be asked to provide extra info — whether it's someone using a made-up name, or whether they're imitating someone else, for instance.
This should cut down on the number of reports made hastily and resulting in the kind of erroneous account suspension faced by people like Isis Anchalee, who appears to have been targeted because of her first name's similarity to that of the Islamist terrorist group.
Related: Facebook Users Now Have New Gender Option: Fill in the Blank
Facebook is also making things easier for people who have had their account reported. They'll have a week to respond, making instant or arbitrary durations before suspension a thing of the past. And users will also be able to explain whether they think it's an honest mistake — or perhaps whether they are the victim of bullying or abuse.
More changes are on the way, the company said. In the meantime, the new name-reporting system is being tested in the U.S. only, with a global rollout planned for later.