Get ready to start watching live video of your friends and family doing something fun, boring or even dumb on Facebook. The world's largest social network is testing a new feature that will enable its 1.5 billion users to use their smartphones to shoot video so other people can see what they are doing as it happens.
Facebook had already launched a video-streaming feature for celebrities earlier this year; now, it's starting to let regular users in on the fun. The company began testing the live video option Thursday among a sliver of its U.S. audience with iPhones. It didn't specify when the feature would be rolled out to all users.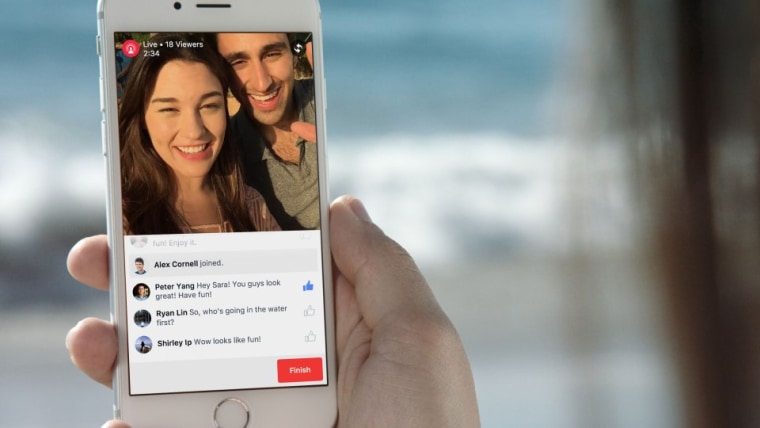 Live videos from friends and public figures you follow will pop up in your News Feed.
The feature represents Facebook's latest challenge to Twitter, which introduced a live video application called Periscope earlier this year. Another popular app called Meerkat also can be used to share live video in social circles.
Facebook also introduced another feature called "Collage" that will automatically bundle photos and video taken in the same place or at the same event into a slideshow. The concept mirrors a feature that Google introduced in its Plus social network years ago and imported into its Photo app six months ago.
The Collage option initially will be available on Facebook's iPhone app before expanding on to its version for Android phones early next year.
Related: Take That, Meerkat! Twitter Unveils Periscope Live-Streaming Video App
Facebook is touting live video and Collage as a leap forward in its attempt to bring its users closer together even though they may be located thousands of miles apart. The idea is to allow people to feel as if they are on the same beach on a Hawaiian vacation, in the same kitchen while testing out a new recipe, in the same living room unwrapping Christmas gifts, or in the same row singing together during the concert of a favorite band.