Mark Zuckerberg's firstborn turns 12 on Thursday — but it's his newborn daughter that's keeping him up at night.
Zuckerberg spoke about his first experiences as a father at a small gathering held with COO Sheryl Sandberg and a select group of Facebook users at the company's Menlo Park headquarters on Monday. They were gathered to mark the 12th anniversary of Facebook.
"It's tough to go to work in the morning," Zuckerberg said, since his daughter Max was born in December.
Maybe, but business has been good. The Harvard dropout and new dad vaulted into a new position as the world's fourth richest man this week, according to Bloomberg estimates, elbowing his way past Oracle billionaire Larry Ellison, Amazon chief Jeff Bezos and Mexican businessman Carlos Slim in rapid succession.
The gathering with loyal Facebook users on Monday was Zuckerberg's first media appearance since he's come back from a two-month paternity leave. Those present included a gay couple who met on the social media platform, the women who founded the "One Refugee Child" project after a Facebook post documenting the struggle of refugees on the island of Lesbos, and a group of girlfriends from Ireland who started "GirlCrew," a Facebook group to bring women together.
Read More: It's a Girl! Zuckerberg and Wife Name First Child
Also there were two other new parents who brought their own first child. Zuckerberg showed off his recently acquired daddy skills, swapping diaper-changing tricks and saying not to worry about it if the baby had an accident.
"I don't care," Zuckerberg told the couple. "That would not be the first time I have been spat up on, and I do have a nearly infinite number of grey shirts — it's basically all that I wear."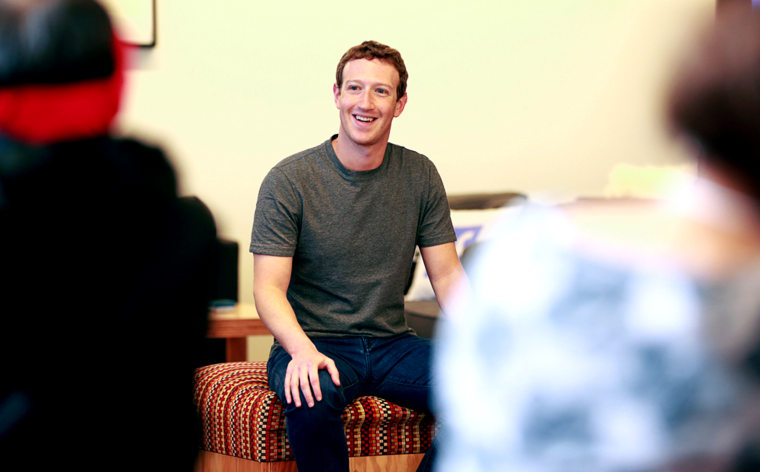 Zuckerberg, who is a major proponent of virtual reality, remarked he wants to use the Oculus Rift tech Facebook purchased in 2014 for $2 billion to capture Max's first steps.
"Hopefully within a year Max will be taking her first steps, and when I took my first step, my mom wrote down the date in a book," Zuckerberg said. "I want to take a 360 video of it, so that way even if my parents aren't there, my grandparents aren't there, they can experience it, they can actually be in the scene."
Related: Hoax Alert! No, Zuckerberg Isn't Giving Away Millions to Facebook Members
Facebook is also using its birthday as an opportunity to unveil a new feature to users: personalized "Friends Day" videos. Like "Year in Review" videos, "Friends Day" videos will be short, editable films showing memorable moments with Facebook friends. Users will see the new videos in the top of their News Feed on Thursday.