Social networks are where we post family photos, talk about vacations and share dessert recipes. Now for the first time, they're also where we, or some of us, shop.
With Cyber Monday less than a week away and the 2015 holiday shopping season kicking into gear, consumers will find plenty of buying opportunities on Facebook, Twitter, Pinterest and Instagram.
They're all in the early stages of adopting the "buy" button, letting brands take advantage of the mountains of data they've collected on their users to help sell clothing, jewelry, furniture and toys. Rather than just populating our feeds with ads, brands like J.Crew, Macy's and Nordstrom are guiding consumers to make that impulse purchase.
Read More: Is Pinterest inching closer to making real money?
"We all have shorter attention spans these days, so they really want to capture that opportunity," said Ed Terpening, an analyst at research firm Altimeter Group. "We spend so much time on these networks to communicate that it's only natural they become part of the buying process."
Mobile shopping represents the prize. According to eMarketer, U.S. mobile commerce will double by 2019 to $149.8 billion a year, from $74.9 billion in 2015. To date, the process has been clunky, with consumers having to switch from app to app and sign up with each merchant individually.
The leading social networks have taken two critical steps in the past year or so to become e-commerce services. They began storing user credit card information to enable one-step purchasing that resembles an Amazon.com-like experience. And they partnered with platforms like Shopify, Bigcommerce and Demandware, which provide the software, security and data analytics to turn retailers of all sizes into vibrant e-commerce sites.
Still, the 2015 holiday season is widely viewed as a testing ground for social commerce. EMarketer, which tracks the digital advertising and commerce landscape, isn't yet predicting how big the buy button will be as a percentage of overall mobile shopping.
"A lot of these buy buttons are a few weeks or a few months old in terms of where they're showing up," said Yory Wurmser, a retail analyst at eMarketer.
It's so nascent on Facebook that users may not even see the buy button yet.
Read More: Facebook joins $300 billion club
Facebook announced its test of the buy button in July 2014, but the service remains limited to a small group of merchants. Consumers are more likely to see a button that says "shop now" alongside ads.
The distinction is significant. With the buy button, a user is purchasing a promoted item and the transaction occurs inside the Facebook app, while the shop now feature sends traffic to the advertiser's app or mobile Web site.
Related: Facebook Wants to Make it Easier to Buy Through Its App
For example, an ad from Munchery to "Order now, eat later" has a shop now button on the lower right. Clicking it takes the user to an app install page, not to a Facebook transaction.
Facebook can afford to be patient. The company generates almost 80 percent of its $4.5 billion in quarterly revenue from mobile ads. With over 1.5 billion monthly active users, brands are paying top dollar for Facebook ads, like app installs and carousel ads that allow users to swipe within a promotion to see multiple links. Also popular are dynamic product ads, which let retailers upload their product catalog and use Facebook's targeting tools to show the right promotion at the right time.
"People are increasingly discovering products on mobile and Facebook, and businesses are seeing strong results using the carousel format and dynamic product ads to drive sales," Matt Idema, a Facebook vice president, said in an e-mail.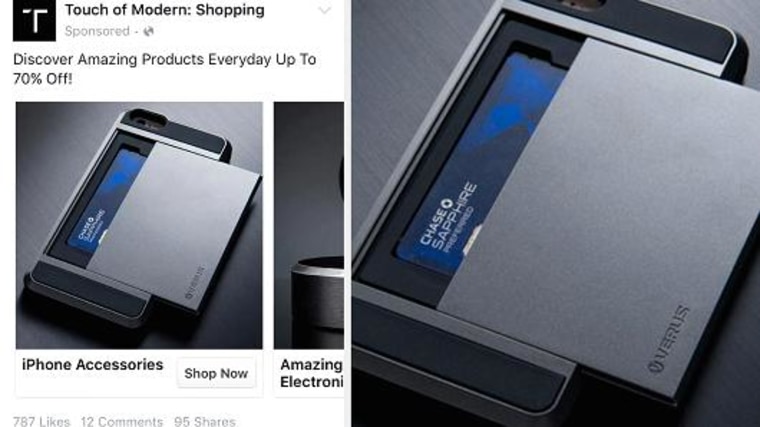 Similarly, Facebook's Instagram app recently launched a shop now button letting advertisers customize their promotions within photo streams. J.Crew is running a holiday campaign around its online gift guide.
For ad-based services, shopping is a tricky business. These sites make money by engaging consumers and getting brands to spend big bucks to reach those eyeballs. They're constantly weighing the benefit of showing more ads with the costs of annoying users.
Read More: What matters for Twitter
Then there's the matter of logistics and customer service. Retailers are saddled with expenses tied to inventory, shipping, returns and call centers. How much of the experience are they willing to outsource to social networks, and how much of that burden can Facebook, Twitter and Pinterest handle?
"If I were a retailer looking into this area I'd be very careful about that question of who owns the relationship with the consumer," Terpening said.
Pinterest waited years before enabling shopping, but now the online bulletin board is moving faster than any of its peers. Michael Yamartino, Pinterest's head of commerce, said the company carefully vets businesses before letting them onto the platform and is very clear with consumers that support and fulfillment are in the hands of the merchant.
Read More: In online ads, it's Google, Facebook and then who?
Since Pinterest introduced so-called buyable pins in June, more than 10,000 businesses have jumped on board making over 60 million products available for purchase inside the app. Top-selling items include vegan leather leggings, blanket scarves and women's anoraks.
From July to September, online marketplace Madesmith received 7 percent of its total orders from buyable pins, according to data supplied by Pinterest.
"The vast majority of sales our partners are getting are from customers that have never bought from them before," said Yamartino.
Jon Richardson is hoping buyable pins can bring new customers to his disc golf accessories business Upper Park Designs. Like most small retailers that count on e-commerce for the bulk of sales, Upper Park focuses its marketing on reaching relevant online audiences. To date, that's meant spending 95 percent of its marketing budget on Facebook.
Upper Park has had a presence on Pinterest since 2011, attracting women who pin its disc golf backpacks as "great gifts for hubbies," Richardson said. By turning its company's flagship bag called The Rebel into a buyable pin, an ad now shows up with a $199 price tag in blue. Clicking on the buy it button leads the user to a screen with five color options, followed by a checkout screen with address and credit card information.
"It makes it one step easier," said Richardson, whose company is based in Chico, California. "Once the buying season picks up for the holidays, we'll be able to see if leads to an increase in conversions."
Read More: Facebook most feared tech company
Upper Park is also using Facebook's shop now feature, and Richardson said he'll use the buy button as soon as it's made publicly available.
Commerce has been less of a focus for Twitter. The company has been noticeably distracted by a CEO change and is contending with troublesome user metrics and a plunging stock price. The buy button didn't even come up in the company's latest earnings call.
But in September, a year after launching the feature, Twitter made some headway. The company announced partnerships with Shopify, Bigcommerce and Demandware as well as Stripe's Relay service, which makes it easier for retailers to sell across social networks.
"We're excited to see how brands will integrate the buy button in their holiday campaigns this year," a Twitter spokesperson wrote in an e-mail. "In the past, we've seen a variety of brands — including retailers, movie theaters, and even sports teams — use the button to sell merchandise on Twitter in fun and creative ways."
Thus far, Pinterest hasn't monetized buyable pins, meaning advertisers pay nothing even when the ads lead directly to a purchase. Eventually, Pinterest plans to charge brands to promote their pins and get greater visibility on the app.
Facebook has similarly stayed away from the affiliate or revenue share model typical to e-commerce and has looked at the buy button as another form of advertising.Twitter has kept silent on the topic.
That's going to change. There's too much money to be made in delivering new customers — and revenue — to online retailers for the most popular mobile apps to not participate.
"It has to be more than advertising," Terpening said. "It has to be a deeper commerce relationship."
MORE FROM CNBC