Facebook has been accused of censorship after it deleted posts from the page of a world leader.
Norwegian Prime Minister Erna Solberg on Friday denounced Facebook for limiting freedom of speech after the social giant deleted a post on her personal Facebook page that showed an iconic Vietnam War photo of a naked girl running screaming from a napalm attack.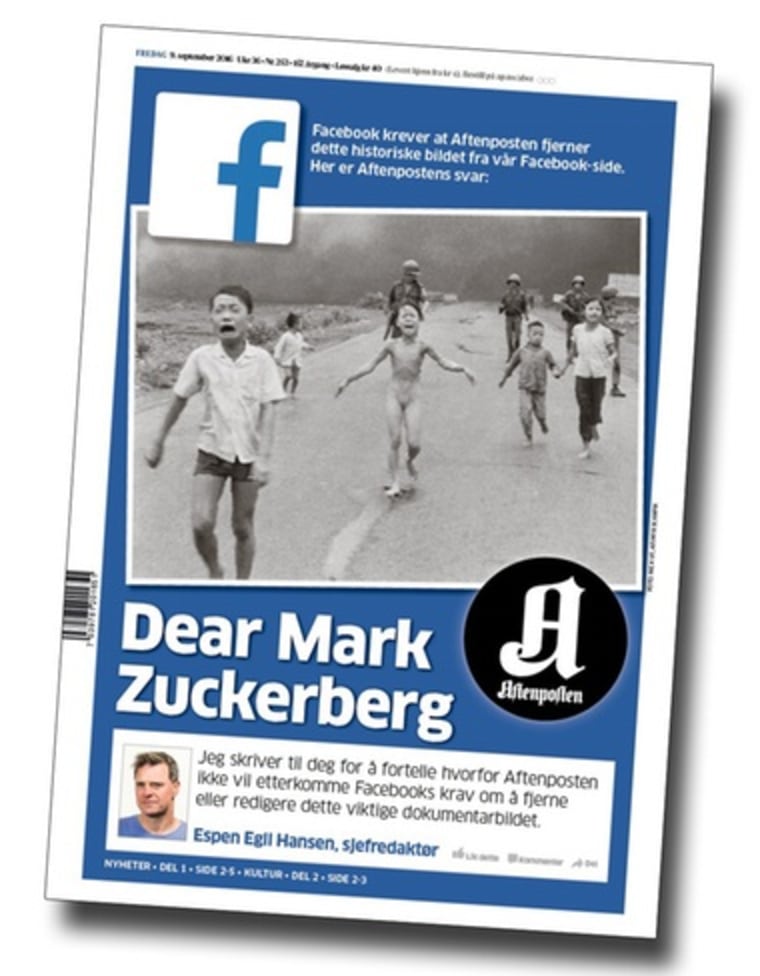 The Pulitzer-Prize-winning photo, shot by Associated Press photographer Nick Ut in 1972, was credited with helping turn the tide of public sentiment against the war after the haunting image appeared on the front page of the New York Times on June 9, one day after the attack on Trang Bang.
The Facebook furor began when the social network deleted the famous photo from Norwegian author Tom Egeland's Facebook page, where it was part of a series of memorable wartime imagery. When Egeland subsequently posted his shocked reaction to the removal of the "napalm girl" photo, he found his account suspended.
Norway's largest newspaper, Aftenposten, published Egeland's story on the censorship, only to find that its own Facebook posts were also quickly deleted.
Espen Egil Hansen, Aftenposten's editor, then took to the front page of his paper to slam Facebook in an open letter to CEO Mark Zuckerberg, describing how, "Less than 24 hours after the email was sent [by Facebook to request deletion], and before I had time to give my response, you intervened yourselves and deleted the article as well as the image from Aftenposten's Facebook page."
The social network should be able to understand the difference between child pornography and historic images, argued Aftenposten.
"I am upset, disappointed — well, in fact even afraid — of what you are about to do to a mainstay of our democratic society," wrote Hansen, addressing Zuckerberg directly.
Read More: Report Claiming Facebook Bias in Trending Topics Sparks Social Media Outcry
Prime Minister Solberg joined the debate on Friday, only to find that her comments and posts about the suppressed photo were also deleted by Facebook.
"While we recognize that this photo is iconic, it's difficult to create a distinction between allowing a photograph of a nude child in one instance and not others," said a Facebook statement addressing the issue.
"Facebook gets it wrong when they censor such pictures," wrote Solberg later on her Facebook page. "It limits the freedom of speech. I say yes to healthy, open and free debate — online and wherever else we go. But I say no to this form of censorship."
Solberg later posted a series of famous historic photos — with black boxes censoring the focal point of each image.
"If you edit past events or people, you change history and you change reality," she wrote.
When contacted by NBC News for comment, a Facebook spokesperson said on Friday afternoon, "After hearing from our community, we looked again at how our Community Standards were applied in this case."
Whereas an image of a naked child would ordinarily not meet the social media giant's guidelines, said Facebook, in the case of the Trang Bang photo, "We recognize the history and global importance of this image in documenting a particular moment in time. The value of permitting sharing outweighs the value of protecting the community by removal, so we have decided to reinstate the image on Facebook where we are aware it has been removed."
Facebook also said it will alter its "review mechanisms" in order to encourage free expression.
Read More: Gaffes Ensue as Facebook Removes Humanity From Trending Topics