LONDON — Alex Conn, 7, a fan of England's soccer team, had plenty to cheer about this summer as his heroes exceeded expectations in the World Cup.
Every time star striker Harry Kane scored, Alex took to dancing for joy in front of the television.
After one of Kane's goals against Tunisia early in the tournament, his mother, Kathryn, posted a short clip of Alex spinning and celebrating in her living room for family and friends to see on Twitter.
When she woke up the next day, though, Twitter had sent her a notification saying that FIFA, soccer's international governing body, had requested that the video be taken down for copyright infringement.
"I was like: 'That's just ridiculous,'" Conn, a business manager from Weston-Super-Mare in western England told NBC News. "Because you can't even really see the telly clearly in the background anyway — it's, like, six seconds."
"It just seems a bit pathetic," she added. "The fact that the TV is on in the background is largely incidental, really. He's just enjoying himself and enjoying the game."
The removal of Conn's tweet created a minor tabloid furor in the U.K.
It also raised broader questions about how effectively accusations of copyright infringement are enforced on digital platforms, and whether such notices — and the filter technologies that are likely behind them — take into account copyright exceptions and fair use of material.
Conn's notice was issued under the Digital Millennium Copyright Act (DMCA), a piece of Clinton-era U.S. copyright legislation. It's one of the ways Twitter enforces copyright policies on its platform, and it does contain recourse for users who think it's been applied inappropriately.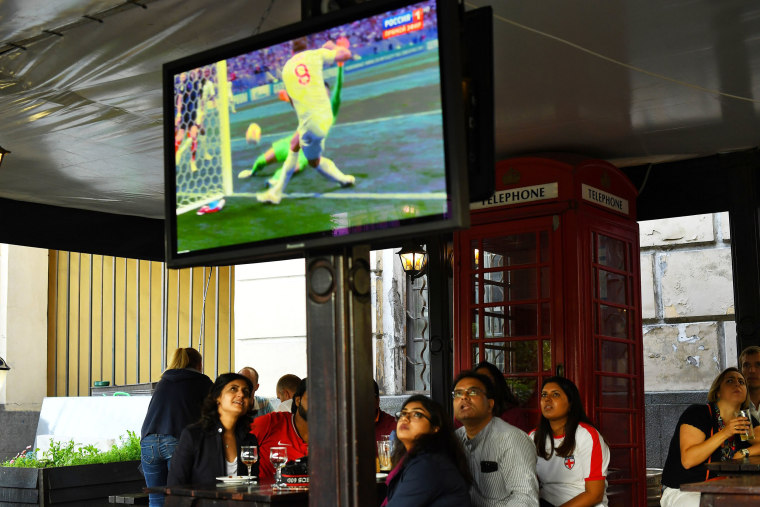 But Jim Killock, executive director of the London-based digital rights campaigners Open Rights Group, said Alex's clip was a fair use of copyrighted material. "It's clear fair dealing," he said.
"It's absurd to remove something like that. What's more, it's really damaging to football," Killock said. "The idea that you're going to censor people being enthusiastic about football in the interests of football, it ought to be obvious to anyone that that's just nonsense."
Conn was far from the only one who has been hit by a takedown notice during the World Cup. Dozens of Twitter users have complained throughout the tournament over what they see as FIFA's heavy-handed approach to protecting its intellectual property online.
Paul Bradshaw, a journalism professor from Birmingham, England, was watching last month's England versus Belgium game in a London pub.
During the second half, as England's Trent Alexander-Arnold was about to take a free kick, the television's standby timer started counting down.
"All the fans in the pub start to yell to try and get the attention of the bar to stop this TV going to sleep. So I started recording," Bradshaw said.
"What you actually see in the video is mainly a corner of the screen just where this timer is so you can't actually see much of the match at all"
"You can see a patch of grass, and you hear the noise of the fans and basically the TV goes to sleep, there's a big roar of half-jolly annoyance from the fans … and that's it," he said.
Bradshaw edited the footage down to about five seconds to keep the final standby countdown and show the timer on the TV, and then posted to Twitter and Instagram.
Around two hours later, Instagram sent him a removal notice, and Twitter followed within 48 hours.
Bradshaw, who is familiar with copyright issues as a journalism professor, said he thinks cases like his demonstrate how copyright enforcement is ill suited for how people use the internet today.
"I don't think any judge would consider this seriously at all," he said.
"There's no damage to income, it's not stopping FIFA making any money, it's quite obviously an incidental piece, it's not central to what's happening, it's in the background," he said. "It just strikes me as an automated process, which just assumes no one is going to bother or have the resources to appeal or take things any further."
The removal notices forwarded to Conn and Bradshaw contained links to tweets by other users that FIFA had also complained had violated copyright protection. Conn's notice contained six tweets from accounts around the world, while Bradshaw's contained 19 links.
It's not entirely clear how FIFA tracks alleged breaches of copyright. FIFA did not respond to NBC News' requests for comment.
However, Bradshaw suspects FIFA has been using content recognition technologies, which are increasingly being used across social media platforms.
"My suspicion is that there's some kind of audio tracker embedded in the broadcast, and that's being automatically picked up," Bradshaw said. "It's a bit like the YouTube copyright system, because there's nothing in that screen where you could identify that this is a particular set of pixels."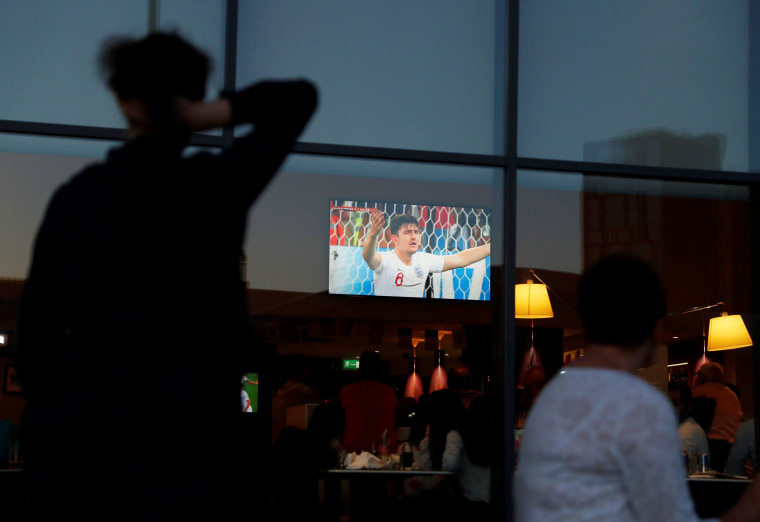 Twitter declined NBC News' request to comment on the specifics of individual rights holders. However, the company's copyright policy describes how rights holders can file copyright complaints, and how users can respond with counter notices.
Facebook-owned Instagram, meanwhile, lets rights holders use its automated video matching Rights Manager technology to protect their intellectual property across both platforms.
The technology allows holders to upload a reference library of video content they want Rights Manager's algorithms to automatically check against. YouTube also operates a similar system.
Whether FIFA has its own in-house system remains unclear.
Content recognition technologies made headlines last week, when digital rights campaigners successfully lobbied European lawmakers to rethink legislation that would have forced all platforms to use them to police video, audios images and codes for possible copyright infringement.
Critics claimed this would have indefinitely altered the free and open nature of the internet.
Open Rights Group's Killock says these upload filters aren't the right monitoring tool because they can't effectively make legal or cultural judgments.
"FIFA completely have shown us how these technologies can overreach," Killock said.
Bradshaw, the journalism professor, agreed.
"It's very difficult for an algorithm to judge whether something is transformative, whether it's denying the creator money, whether it's satirical," he said. "So I think it's outsourcing legal judgement."