Smile! A whole set of new emojis are coming your way and this round includes gender-neutral characters, a woman in a headscarf and even a breast feeding emoji.
More than 6 billion emojis are sent every day, according to a 2016 report, and they appear in every form, on billboards, in movies and on clothes.
Emoji originated in Japan but have now become a universal language across the world. That's where the Unicode Consortium comes in — they are the group responsible for making sure that all words and images are read the same on any device in any part of the world. And they control what emojis get made and added to your phone.
"It's not like the Supreme Court, they're not going off into some star chamber in robes or anything. It's not like that at all," Greg Welch, a member of the consortium, told NBC News
And anyone can submit an emoji proposal to be considered by the group for approval. The process can be long, and there are many technical factors that go in to the final decision, but use and popularity are among the most highly considered issues.
When an emoji is selected to be part of an update, it is then up to designers at individual tech companies like Apple and Google to design the way it appears on their respective devices.
Rachel Been is a creative director at Google and oversees a team of designers responsible for their emojis.
"We kind of define the look and the feel and sort of some of the concepts behind what the emojis look like specifically for Android devices," said Been.
Unicode is responsible for making sure an iPhone user sending a smiley face to a user on an Android phone see the same thing- designers at those companies have a freedom in their process.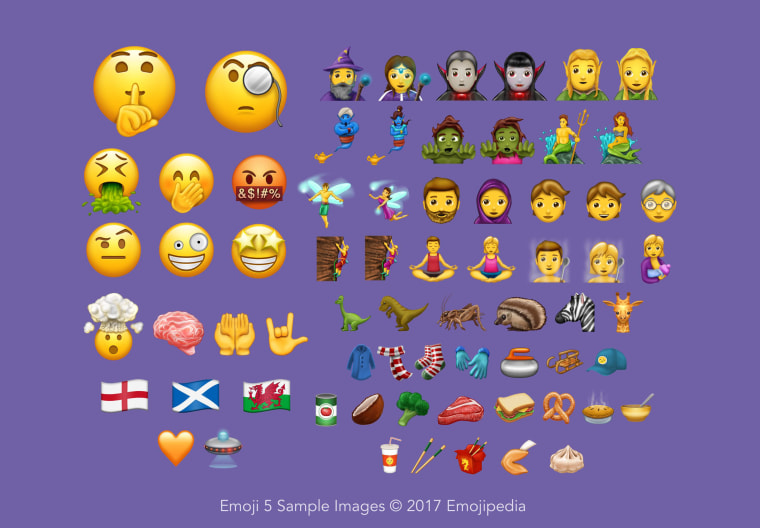 "They might use different colors, they might use different shading, they might put in different levels of detail. What might look great on this phone could look terrible on this phone" says Welch.
Been said feels like she has a lot of power in defining the look and feel of emojis. "I think one of the hopes when we're creating emojis is to both be incredibly literal in terms of our representation but then also open up that emoji ... to be used in a variety of creative ways kind of across the globe."
The newest release is available now to phone companies and should appear in your next system update.