Gwyneth Paltrow isn't who you'd expect to speak at a big tech conference featuring Microsoft and Google honchos. But on Tuesday, she gave a short and impassioned speech about the dark side of the Internet.
The actress was the surprise guest at Re/Code's Code Conference outside of Los Angeles. She spoke about the anonymity of the Internet — and its ability to allow "objectification and dehumanization" of others, especially celebrities.
"It's like the scabs from your high-school wounds being ripped off on a daily basis," Paltrow said.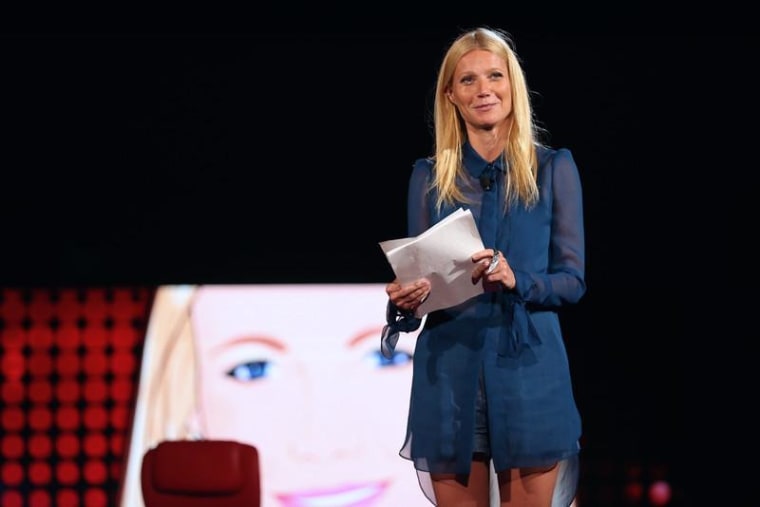 A visibly nervous Paltrow started off self-deprecating — she promised that she wouldn't talk about Javascript or Ruby On Rails — but she relaxed as she went on about the effect Internet trolls have had on her life and those of her celebrity friends.
Paltrow acknowledged that some abuse goes along with being a public figure: "When you go back through history, it's always happened. From a spiritual leader to Katharine Hepburn ..."
But the nature of the Internet adds a disturbing layer, she said. Paltrow gave one chilling example: A celebrity friend who posted a "normal photo" on Instagram received a comment from a user who expressed a desire to "rape and disembowel" her.
Paltrow, who specifically slammed Facebook for its "foundation of objectification," didn't go into many details about the online abuse she herself has taken.
But in February, a user of the anonymous secrets-sharing app Whisper posted a message alleging that Paltrow was cheating on husband Chris Martin — a claim that her rep quickly denied. The following month, Paltrow earned Internet scorn for calling her separation from Martin a "conscious uncoupling."
"At a certain point when you've been made fun of and excoriated and dragged through the mud ... for 20 years ... you realize it's not really about you," Paltrow said.
Instead, Paltrow said, she has accepted she "cannot be more than an external representation" of whatever hurts the trolls keep inside themselves.
Paltrow said she thinks about how her children will grow up in an online world, and wonders: "Perhaps the Internet has been brought to us as a test of our own emotional evolution."
Paltrow hopes that evolution will bring changes to the Internet and the way we live online.
"It's no accident that as the Internet grows, and the voices get softer and softer because there are so many of them ... we're drawn to authenticity."