Mark Zuckerberg and a few of his lieutenants at Facebook fielded questions from the public in a live Q&A Thursday. Questions were submitted on Facebook itself and also taken from people in the room where the "town hall" style event was held. Zuckerberg's answers may not have been revelatory, but they were interesting:
On features that never saw the light of day:
"We designed this version of news feed that was very spaced out... It was very aesthetically pleasing. But it turned out the people who used this just did not like it." Facebook's engineers, it seems, had optimized the new version for their own huge monitors. "Most people are not using like a 25-inch screen when they're using Facebook. instead of seeing two, maybe three stories on the screen when they loaded Facebook, now they saw maybe one and a half." The feature never rolled out widely and "we kind of ate our pride," Zuckerberg added.
On the accuracy of the 2010 movie "The Social Network":
"The reality is that writing code and building a product and building a company actually is not a glamorous enough thing to make a movie about. It would have been of me sitting at a computer coding for two hours straight." Some details they got right, he said, but not his reasons for making the site. "They just kind of made up a bunch of stuff that I found kind of hurtful." Particularly troubling was the implication that he'd created Facebook to get girls, when he was dating his now wife well before that.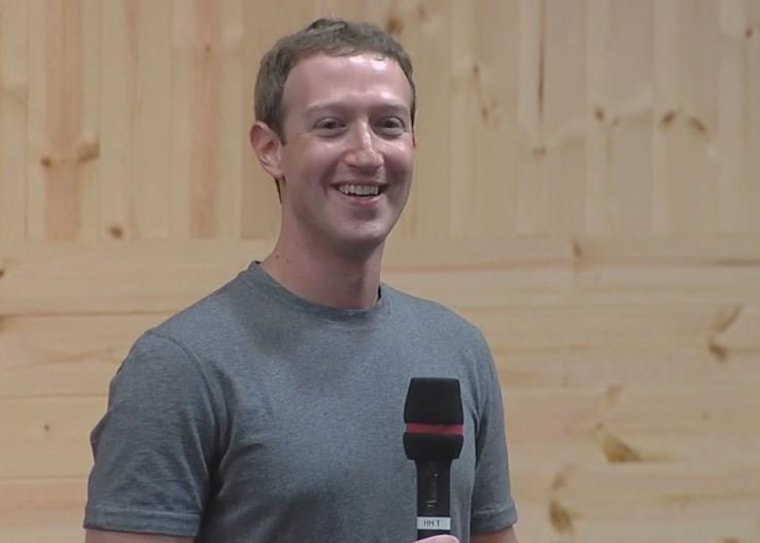 On whether Facebook is losing its cool:
"My goal was never really to make Facebook cool. I am not a cool person. And I've never really tried to be cool!" Instead of cool, he said, Facebook should be useful and always there, like a utility. "You go home, you turn on the lights, right? You're probably not like, 'Yeah, electricity!' It just needs to work. My goal is that the ability to connect and communicate should be that. It just should work."
And on why he wears the same shirt every day:
"You'll be happy to know there are multiples of the same shirt. I really want to clear my life to make it so I have to make as few decisions as possible about anything except how to best serve this community. I feel like i'm not doing my job if i spend any of my energy on things that are silly or frivolous about my life."
He's in good company, he added — as evidence for the effectiveness of this minimal wardrobe style, Zuckerberg cited former Apple CEO Steve Jobs and President Obama.