New or expecting moms will often hear that motherhood is beautiful, miraculous, a blessing! That may all be well and true, but any mother will tell you that raising a human is also tough. It's hard to make time for yourself, and often harder to make time for others, even old friends. As for making new friends? Well, that sounds close to impossible.
Peanut, a new app created by mom Michelle Kennedy, looks to solve that by providing a platform where moms can meet other moms in their area. Moms sign up, build a profile, select up to three categories to describe themselves ("wine time," "bookworm," "single mama," and "spiritual gangsta" are some of the options), and then find potential matches. Sounds a lot like a dating app, right? That's exactly what Kennedy, who previously worked at Bumble and Badoo, was going for.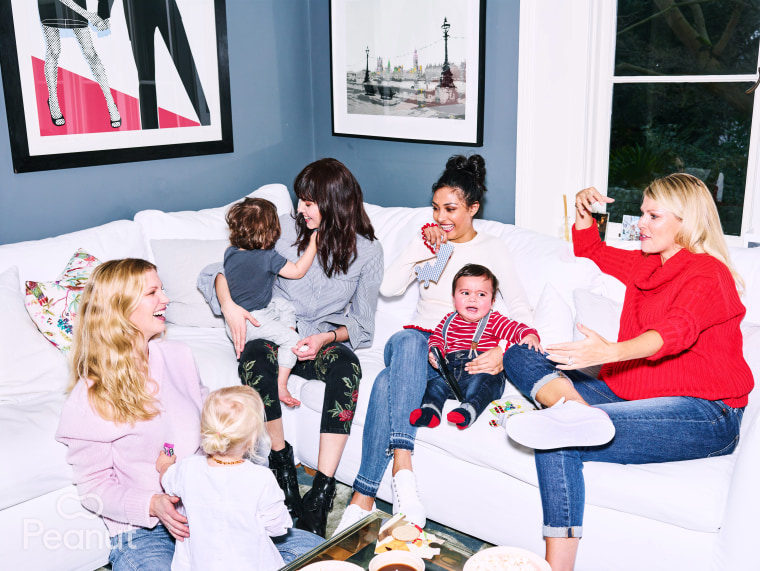 "When I became a mom and was looking to [socialize], everything felt very old school. All of a sudden online forums were my only option," Kennedy told NBC News. "I thought, 'I am not the only woman of my generation who has a child and wants to use a cool, sleek, modern product to meet other moms.'"
So Kennedy quit her job and went to work on Peanut. She came up with the name after appreciating it as a term of endearment for her own son, when he was still in her womb.
The Joys of Motherhood, and the Loneliness
But it wasn't just a hip, slick platform Kennedy was looking to provide for moms; she also wanted to solve a problem of her own that she hadn't anticipated: a sense of alienation and loss of identity.
"When I had my little boy three and a half years ago, it was an amazing experience as I was taught it would be — but I also found it to be isolating and lonely, which is something we don't often talk about," said Kennedy. "It was also boring, something I really didn't expect. But when they're tiny, they don't do much apart from feed and sleep. I had a moment where I forgot what it was to be me."
Related: Swipe Right for... a Sperm Donor?
Kennedy, 34, had trouble finding a friend she could relate to on issues of new motherhood. Once she began working on Peanut, which has been live for three months in the U.S, Canada, and the U.K., she consulted other moms and realized she was far from alone.
"I found absolute evidence that women need this now more than ever," said Kennedy. She declined to disclose the number of sign-ups the app has had since going live, but noted that there have been around 8.5 million profile views and swipes, and some 400,000 messages sent between users.
Like an Online Forum, But Easier
Perhaps the app is seeing so much interest because it's really not that big of a leap from online groups and messaging boards, a system that moms have been using for years.
"I actually found some of my best mommy friends through meetup.com," said Erin Zavala, a Los Angeles-based mother of two. "I could totally see this app working. [As a new mom] you're desperate to find people in the same place of life as you and rarely do you have any friends from pre-pregnancy that are in the same stage. I've been friends with some of these women for over a decade now and I can't imagine navigating through parenthood without them."
LaToya Jordan, a Brooklyn-based mom, met one of her closest mom pals through an online message board about parenting/pregnancy.
Related: Most Moms Are Too Busy to Buy Mother's Day Gifts
"Our first 'date' happened when my daughter was two and hers was one," Jordan told NBC News. "We now work near each other and get together for lunch to trade stories about our kids, our careers, just everything that's going on in our lives. It's nice to meet someone I like as a person but who also understands when I say I have mommy guilt, or when I talk about what I want next for my career, or the latest stage of parenting — because she's going through that, too."
I'm a Mom, But Also a Human With Interests
Jordan also appreciates that she didn't meet her best mommy friend through something that had to do with her child, but rather out of her own interests. Peanut could inspire similar friendships.
"What I like about the idea of this app is that you can pick out the types of people you want to hang out with — whether that's single parents, [moms] into fitness, into books, whatever," said Jordan. "It's nice to have someone I didn't meet through my child, [so] I get to have a deeper friendship, be the friend who is also a mother, and not the my-kid's-friend's-parent-that-I'm-friendly-with."
The ability to narrow down your choices of the type of mom you want to be matched with (much like you may a prospective romantic partner), could be the strongest quality of this app. To simply pair moms with moms, even if they live in the same neighborhood and have kids the same age, usually isn't enough to ignite the sparks of a lasting friendship.
Erica Shiner, a Toronto-based mom, found that when she had her son five years ago she was "desperate" to make friends and eagerly befriended other desperate new moms only to find that after a while, they really didn't have much in common outside the hunger for friendship.
"Over time it was revealed that simply sharing the circumstance of recent procreation wasn't enough to sustain a friendship," Shiner told NBC News. "An app like this would be a great way to shop around for mom friends you have more than one thing in common with."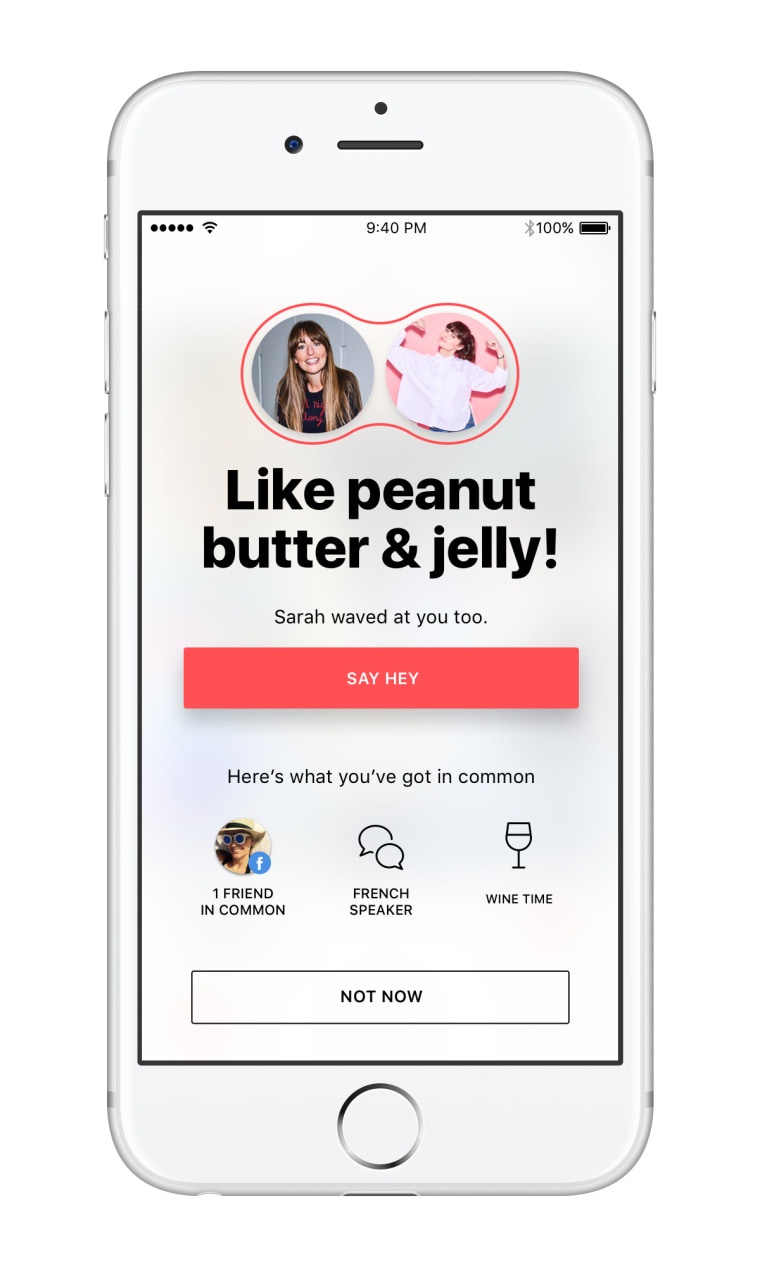 It Takes All Kinds of Moms
Kennedy says she has been overwhelmed with feedback and is working on upgrades to the app. This includes adding new "icons," or categories of interest. Recently she added "special needs" as an icon, along with "single mama." Soon, moms will also be able to identify as stepmothers, as well as adoptive mothers, and mothers of "multiples."
Lindsay King-Miller, a Denver-based mom, says she's probably not interested in using the app until it adds a queer option, as she's "leery of meeting homophobes, or well-intentioned but clueless straight people."
Kennedy said a LGBQT or similar icon is definitely a priority, and will be implemented in the near future. But what's top of mind at the moment is making the app accessible to Android users.
Perfecting the App, Ad-Free
"Seventy-percent of our email traffic is about 'When is Android coming?' So, that will be late next month," said Kennedy. "From then on, our focus will be on more features and localized products in other countries. There's a team of only five of us trying to build and create as quickly as the demand comes."
One could imagine the app would be a fruitful space for advertisers touting mom-related products, but Kennedy finds the idea of ads disruptive, and while it's unclear at this point how the app will generate revenue (Kennedy said it currently is not making money), her "feeling is strong that ads won't be the way."
Surely that's something any mom who already has enough noise to deal with can appreciate.