Before the Internet, people found roommates through friends or the classified section. Then came Craigslist in the '90s. Now a new generation of services like Roomi and RoomZoom are helping people shack up with perfect strangers.
Roomi is kind of like Tinder, but for roommates. (One woman's quest to actually use Tinder to look for a roommate didn't turn out so well).
Say someone is looking for a dude who doesn't bring home random drunks at 2 a.m. and loves old-school hip-hop. Well, Roomi lets you search for that guy, and even message with him before meeting. The idea is to narrow down candidates before the awkward in-person interviews that often take place between lease-holders and those who need a place to stay.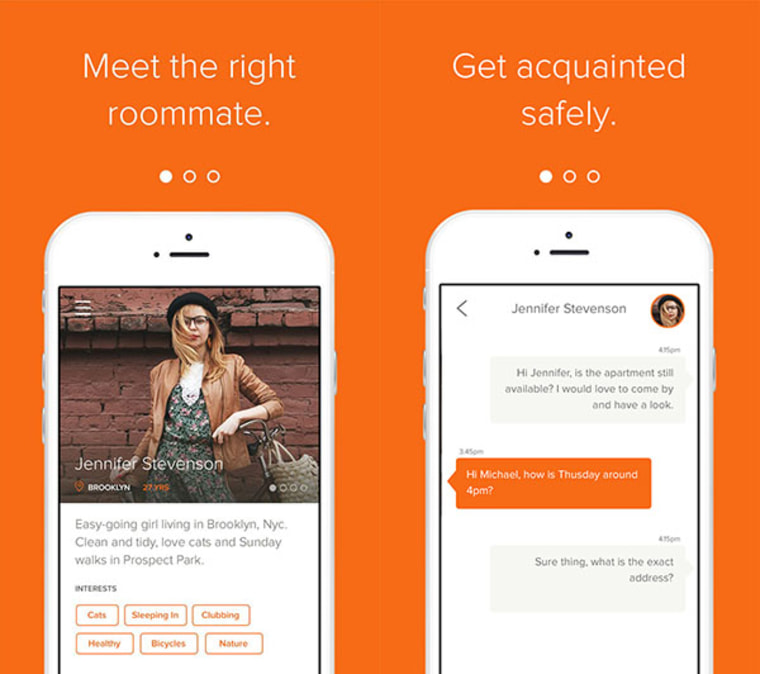 Ajay Yadav knows a little something about terrible roommates. Nine years ago, he moved to New York City. After a trip to visit family in Indiana, he returned to NYC to find his roommate gone, along with all of Yadav's stuff and safety deposit.
"I was pretty much homeless," he told NBC News.
That memory inspired him to start Roomi, which launched last week for iOS, and will eventually be released for Android. Right now, the seven-person company is focused on New York, but plans to expand to Los Angeles, Boston, and other cities soon.
RoomZoom also has a dating-service vibe. Its founder, Elien Blue Becque, lived in the same four-bedroom apartment in Williamsburg, Brooklyn, for six years.
Every time someone moved out, she would have to sort through at least 200 emails from people who saw her ad on Craigslist. Becque also had a lot of friends who were using OKCupid.
Over time, the two separate frustrations — looking for roommates and dates — became the catalyst for RoomZoom.
Like OKCupid, the site asks lifestyle questions, and then matches compatible people with an algorithm.
The idea is that people won't lie about things like cleanliness to boost their chances of getting picked as a roommate; instead, RoomZoom will encourage honesty by matching people who truly feel the same way about cleanliness, noise and other hot-button issues.
Most users, Becque said, end up connecting with the top few people picked by RoomZoom's algorithm, eliminating the need to search through lots of profiles.
The service also takes into account how much people want to spend, what neighborhood they want to live in, and when they are looking to move. The result, according to Becque, is something far more targeted and efficient than using Craigslist or Facebook.
"It's not like putting a message out on Facebook and praying that your cousin's friend's sister from Oklahoma is also moving that week," Becque told NBC News
A few months ago, Becque (pictured above) decided to quit her job as a writer for Vanity Fair and run RoomZoom full-time. It operates only in New York City for now, with an iOS app coming soon to complement the desktop version.
Roomi and RoomZoom are not the only companies looking to get roommates together. There is MatchPad, which holds speed-dating-style bar events to go along with its app, and NYC-based Roomster.
There are also companies that cater specifically toward colleges. RoomSync was started by four people who used to match people in the student housing office at the University of Florida. Instead of randomly bunking kids together, it uses information from Facebook to let students look for common interests, friends, and majors.
The universities still decide who rooms with whom. Still, RoomSync increases the chances that the 18-year-old girl who is really into The Smiths will find someone who, like, really gets her and isn't all fake and stuff.
"While it sounds kind of generic, sometimes common interests are a really important way that students connect to each other," Rob Castellucci, president and CEO of RoomSync, told NBC News.
When those college kids graduate, they will find Roomi and RoomZoom among the slickest roommate-matching apps out there. Still, with all of their bells and whistles, they will have trouble supplanting the current king: Craigslist.
"Regardless of what we do, Craigslist has a massive supply of listings," Yadav said, explaining why the site remains top dog. But he pointed to AirBnB as a company that found a niche on Craigslist — short-term sublets — and turned it into an extremely profitable business.
Becque agrees that Craigslist isn't going anywhere.
"The people who like using Craigslist should keep using it," she said. "But it's time for an easier solution than what is essentially a corkboard with a Post-It notes stuck to it — that is Craigslist, really, it just happens to be digital. RoomZoom is a good alternative for people who care who they live with."