In this contentious election cycle, one incendiary political post on Facebook -- or any social media platform -- can have the potential to turn friends into foes.
While politics may have previously been considered a taboo topic among some groups of friends, the rivalry between Donald Trump and Hillary Clinton supporters is playing out full force on Facebook.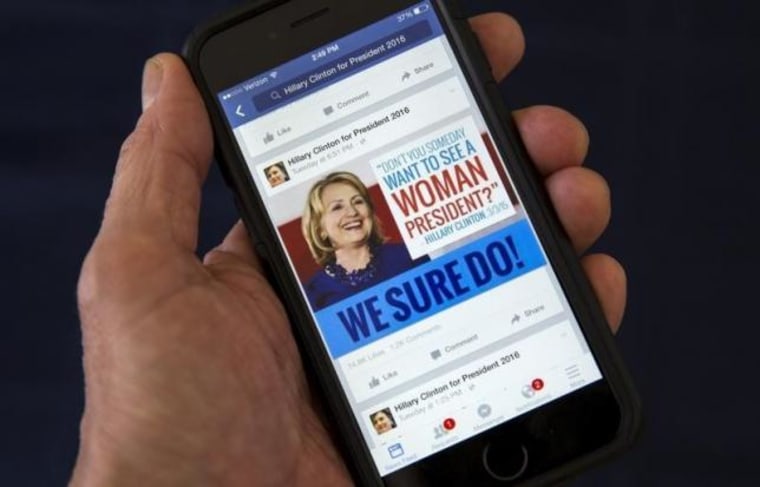 In the past 30 days, 42 million people on Facebook in the United States generated 406 million likes, posts, comments and shares related to Donald Trump, a Facebook representative told NBC News.
By comparison, 33 million Facebook users in the United States generated 313 million likes, posts, comments and shares related to Hillary Clinton, said Facebook.
Whether you've got into a few heated debates with Facebook friends (or your friends' friends) or are sick of it all, there are a few easy tricks to help you survive this election season on Facebook.
If You're Tired of a Friend's Posts
It's a safe bet almost everyone has at least one friend they don't agree with who posts a daily avalanche of stories or rants about the election.
If this is someone who you generally enjoy interacting with on Facebook, but want to take a breather until after the election, you can unfollow them but still remain friends.
Go to their profile and click in the bottom right corner of their cover photo where it says "following" and then choose "unfollow."
They'll never know you secretly opted out of receiving their flurry of posts in your News Feed and you can follow them again at any time.
When It's Time to Unfriend
In a heated election cycle, practicing restraint on social media may not always come easy.
Some people may even invite those who don't like their posts to unfriend them, Diane Gottsman, an etiquette expert, author and founder of The Protocol School of Texas, told NBC News.
"Take the challenge. If they challenge you to unfriend, by all means," she said.
If You Like to Post Political Content
It's your Facebook page, go for it.
If you want to make sure the discussion is kept civil, Gottsman recommends asking yourself first whether there are any negative undertones in your post that could potentially offend one of your friends.
"It is not that we're able to express a view, it's the manner. Keep your tone calm," Gottsman said. "Make a comment that is a fact but doesn't have a negative undertone. Think about your audience. Your boss or pastor could be watching."
If your friends are mostly civil but there's just a handful of them who stir up some unwanted discussion on your page, consider putting them on a special list of people who can be restricted from seeing certain posts that you feel may stir up some unwanted debate.
On the left side of News Feed, scroll down to "Friends," hover your cursor and select "More." Next, click "Create List," name it and add the people you want to include.
Next time you post, click on the button to the left of "Post," and select "Custom." Add the list of all those friends who like to stir the pot to the "Don't Share With" section.
After that, you're all set.
One Final Guideline
Gottsman said there is nothing wrong with letting someone know you disagree. However, she recommends doing so privately.
"If you disagree with someone vehemently, every single thought doesn't have to be transcribed. It's not necessary we have the last word. If you want to call someone out on their rant, do it privately," she said.
"The best way is to hide, delete, ignore."
Read More: Facebook's Political Influence Under a Microscope