Americans hoping to connect with other Americans on social media after the deadly school shooting in Florida may find themselves mired in a surge of content from Kremlin-linked accounts.
According to live data collected by the nonpartisan Hamilton 68 dashboard, Russian-linked Twitter accounts flooded the service with tweets using popular hashtags like #parkland, #guncontrolnow and #florida.
"It's information war out there and social media increasingly becomes a battlefield of political adversaries ambiguously foreign and domestic," David Carroll, an associate professor of media design at the New School, said in an email.
By clicking or searching for a hashtag, the firehose of tweets can be organized into smaller topic categories. Users can add a hashtag to participate in a smaller conversation on that subject. Russian trolls use popular hashtags to get into trending conversations, but then add more incendiary hashtags to drive readers to more partisan conversations and explosive imagery.
Without identification by Twitter or the government, it's impossible to know who is a troll and who isn't.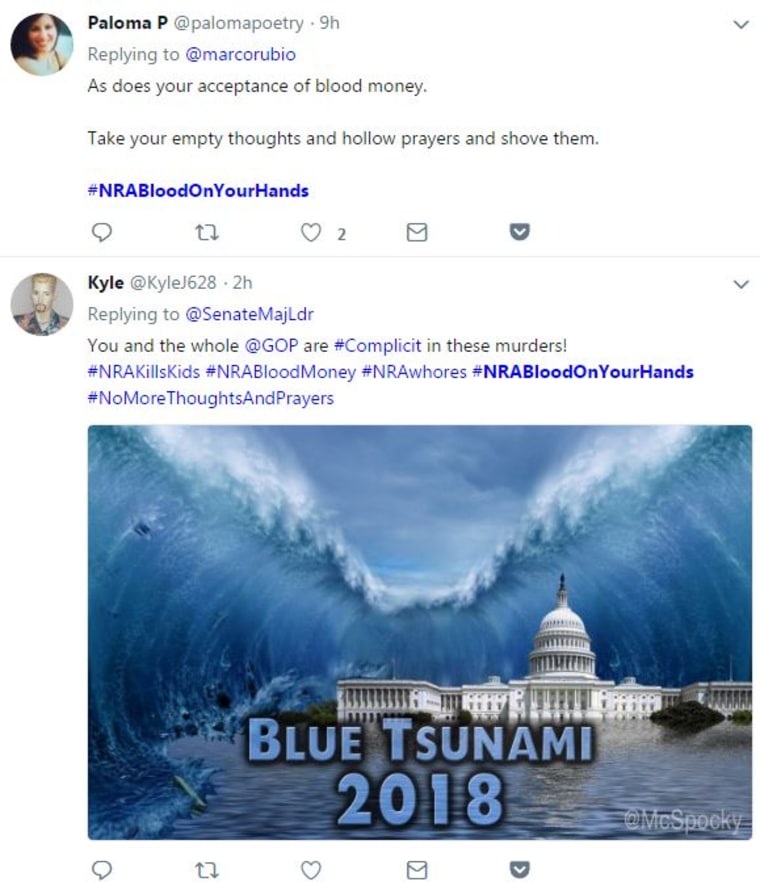 A survey of tweets using the top hashtags flagged by the Hamilton 68 dashboard showed tweets adamantly in favor of gun control and saying the NRA had taken "blood money." Other tweets attacked liberals, the media and lawmakers.
It's difficult to decipher who is sending the content and what their motivations are, said Carrol.
Social media is "where mass shootings can unfold as they happen, inside classrooms under siege, as shocking point-of-view carnage and terror disseminates across parallel feds saturated with hyper-partisan misinformation, foreign state disinformation, and hoaxers-for profit," he said.
A hashtag that gets boosted by a malicious network — even if that network wasn't the first to use it — is designed to get picked up by other accounts who may have no idea the intent of those who are amplifying it. That's how social media manipulation works.
It can be hard to decipher whether any individual account you see is a Russian troll, or another actor who used the same hashtags boosted by the Krelmin-linked influence networks.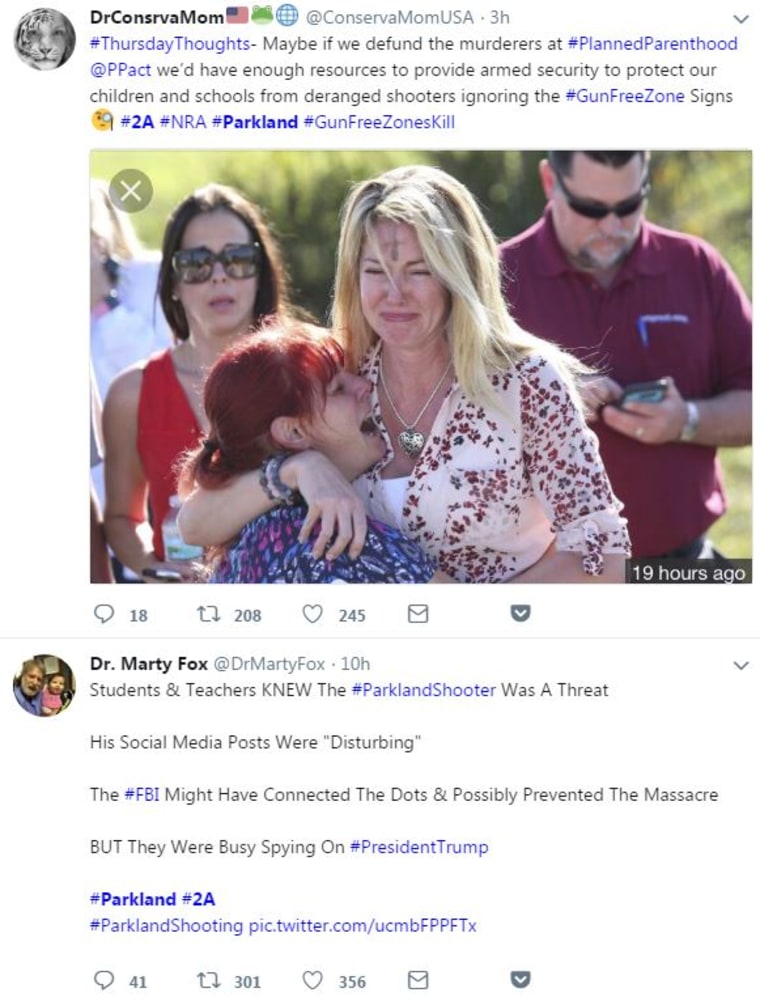 Experts say the goal of Russian troll propagandists isn't to sway people's opinions in one way or another. Instead, the accounts seek to exploit divisions in order to break down society into smaller, warring groups. Trolls drum up persona accounts on every side of the ideological spectrum and take advantage of high-impact events to spread confusion and disarray. In particular, they're able to take advantage of how Twitter doesn't require users to verify their identity.
Social media companies including Twitter, Facebook and Google have faced rebuke and testified in hearings about how Russian trolls and other malicious actors exploit their platforms to spread political disinformation and profit from partisan hoaxes.
Twitter didn't respond to a request for comment from NBC News. Recently the social media giant has said it will "continue to strengthen our fight against malicious automation and coordinated efforts to manipulate the Twitter platform."