Russian trolls used Twitter to challenge the validity of the U.S. presidential election months before it took place, according to new NBC News analysis.
In apparent expectation of a Trump loss, the trolls began sowing seeds of doubt to make voters question a win by Hillary Clinton. But when Donald Trump's victory began rolling in, they changed their tune and began tweeting about the Trump success.
Kremlin propaganda tweets using the "VoterFraud" hashtag first appeared in August 2016 and slowly ramped up to an Election Day blitz, according to the NBC News analysis of some 36,000 archived tweets from a single anonymous source with knowledge of social media data.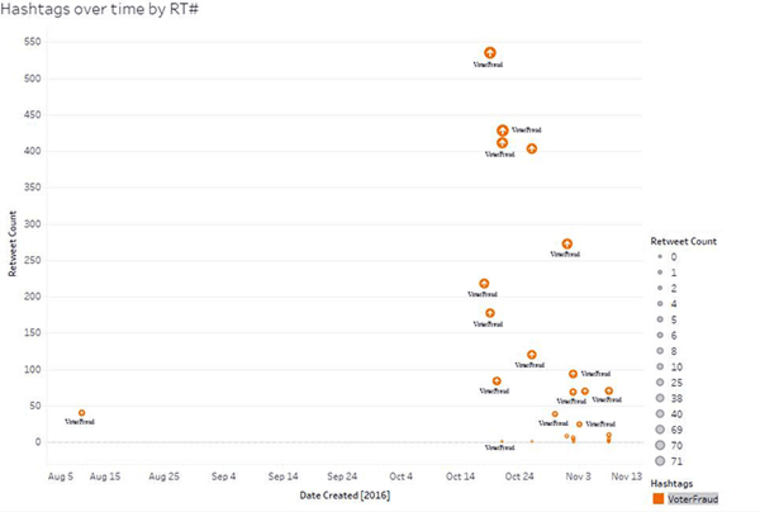 Twitter has deleted the identified Russian troll accounts from public view, clouding efforts to show how the Russians attempted to interfere with the 2016 presidential election via social media.
But the tweets were able to be retrieved by matching the roughly 2,700 verified Russian Internet Research Agency "troll factory" twitter handles released by the House Intelligence Committee against the database of archived tweets. The result included records for nearly 400 accounts dating to 2015, revealing the threads of a voter fraud conversation that began brewing online much earlier in the year.
The first of the thousands of Russian troll tweets about "voterfraud" came on Aug. 11, 2016.
Related: Russian trolls pushed graphic, racist tweets to American voters
"North Carolina finds 2,214 voters over the age of 110 #VoterFraud," wrote @TEN_GOP, a Russian troll account that masqueraded as the official account of the Tennessee Republican Party.
That account also sent the most retweeted #voterfraud tweet on Oct. 21st: "Bob Creamer, who was just implicated in the mass #VoterFraud video, is also a writer for the @HuffingtonPost #draintheswamp.""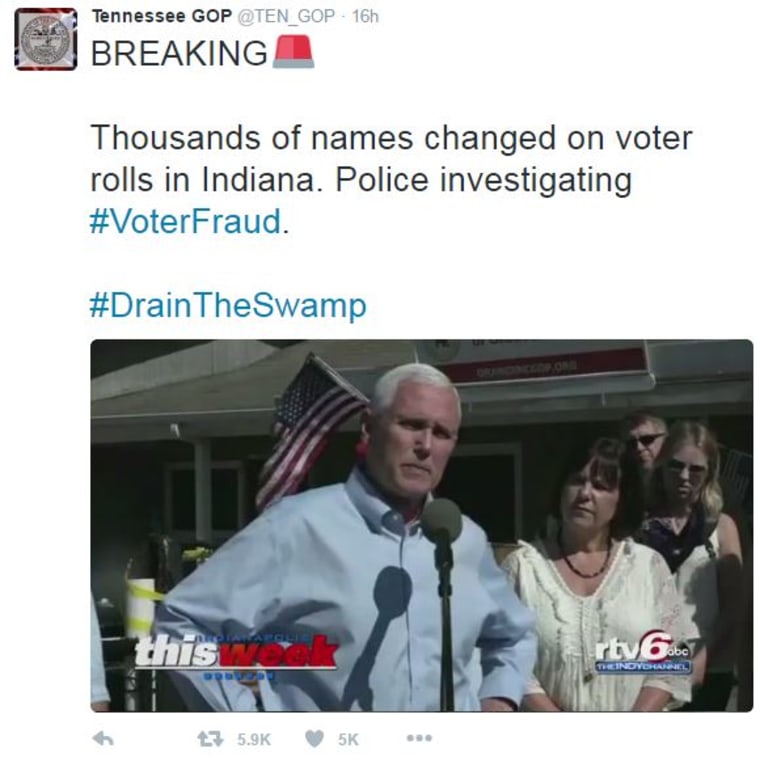 The frequency of the tweets began picking up as Election Day drew near.
"Have you ever wondered if dead illegals vote for Hillary too? #VoterFraud," Russian troll @TheFoundingSon wrote on November 2, 2016.
The hashtag was promoted by other high-impact impostor accounts, including the popular @Pamela_Moore13 — an account with over 70,000 followers, whose profile showed a nearly naked masked woman holding an American flag. "Moore" identified herself as a "Pro-God" conservative from Texas who was "Anti-Racism."
The "Moore" account was retweeted at other points in the campaign by political figures in the Trump orbit, including Donald Trump Jr.; the son of Michael Flynn, Trump's fired national security adviser; and Trump associate and political consultant Roger Stone.
The account was also retweeted by conservative media commentators like Fox News host Sean Hannity, Fox Business Network host Lou Dobbs, author Ann Coulter and conspiracy theorist Alex Jones.
In the final week of the presidential campaign, as most leading polls predicted a win for Clinton, the "Moore" account tweeted about voter fraud seven times, including one on Nov. 4 that read, "#VoterFraud in Florida: 10's of thousands of Ballots being opened in Broward County Florida... Debbie Wasserman Schultz District."
Related: Russian Trolls Duped Global Media And Nearly 40 Celebrities
"Moore" also tweeted four times on Election Day about voter fraud. On Election Day and into the following morning, even after the election had been called, @Pamela_Moore13 went back and forth between tweeting about voter fraud and touting Trump's wins.
At 3:39 a.m. on Nov. 9, the account tweeted "THIS HILLARY'S THUG [sic] DESTROYED NEARLY 2000 VOTES IN FLORIDA BEFORE BEING ARRESTED! DEMS DESTROY OUR ELECTIONS!
Four hours later — in what would be "her" penultimate captured tweet — the Russia-backed account posted "Congratulations, President Donald J. Trump! America Will Be Great Again!"