Amid a backlash from longtime Snapchat users over a recent app redesign and mounting doubt from analysts over the company's future, Snap did what just about any company would do: It released a series of augmented reality games that people play by contorting their faces and bobbing their heads around.
The new games, called Snappables, debuted about a week before the company's first-quarter earnings report for 2018 and were very much in line with the company's recent trajectory — quirky, innovative and not particularly concerned with making money.
Snapchat's seeming disregard for its short-term business prospects has been catching up with it, as revealed Tuesday in its earnings report that the company continues to struggle to bring in advertisers and add users. Snap shares plunged to an all-time low.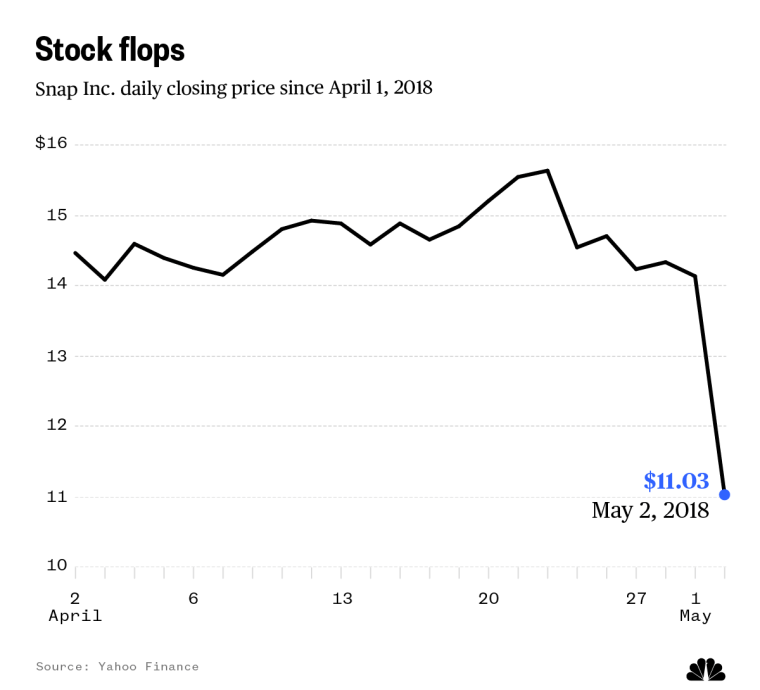 "Snap is a poorly structured company that is demonstrating a clear pattern of mismanagement," wrote Piper Jaffray analyst Sam Kemp in a note to clients. "We think the negative news cycle around Snap will continue and advertisers will likely continue to approach Snap skeptically."
Snap isn't claiming that things will get better in the near term. CEO Evan Spiegel told investors on Tuesday that the company's second-quarter revenue growth would "decelerate substantially."
It's been about 14 months since Snap went public. The app, started in 2011 by Spiegel and two other co-founders, built a rabid following of younger users thanks to its disappearing messages, helping it become the next big thing in tech. Spiegel reportedly turned down a $3 billion acquisition offer from Facebook, which then started copying some of Snapchat's most popular features. Google later reportedly offered $30 billion.
Snap's recent struggles have been fueled by a redesign to its app that has not gone over well with users. In November, the company tried to separate "the social from the media" by moving photos and videos from users' friends to the left side of the app's interface and content from publishers and influencers to the right.
It also didn't help that Snapchat suffered from a few high-profile critiques from celebrities with large social followings, including Kylie Jenner, whose tweet about Snapchat was ballyhooed as taking a chunk out of the company's stock price.
Snapchat has already tested some changes that would undo parts of the redesign and admitted that some users found the changes "confusing," as a Snap spokesperson said in an email.
"We are always listening to our community and will continue to test updates that we hope will give Snapchatters the best possible experience on our platform," the spokesperson said in the email.
Snap has always marched to its own tune, thanks particularly to Spiegel, who is reported to retain tight control of the company. When Snap filed paperwork to go public, it called itself a "camera company." Some found that idea to be forward thinking, while others derided it as a gimmick.
Among Snapchat's most ambitious efforts has been Spectacles, sunglasses that feature a video camera that connects to Snapchat. The company recently announced that it will soon release a second version, even though the first version made a big initial splash but struggled to find mainstream appeal.
Philip Napoli, a public policy professor at Duke University who studies media regulation and audience measurement, said he believes that Snap is facing backlash because it has dared to break the established mold of social media platforms.
Snap was expected to compete with Facebook but most of its new features and projects point to a distant and unsure future, leaving investors wary.
"The template for social media is fairly set at this point," Napoli said. "The fact that Snapchat dared to tweak the formula as much as they did did more harm than good."
But investors aren't the only ones Snap has alienated. Mackenzie Stith, an actress with a significant following on Snapchat, isn't a fan of the redesign, but noted that the biggest issue is that most of her friends don't use the app anymore and she's lost followers.
"It has been a devastating loss with my followers since the redesign," Stith said. "I've lost thousands upon thousands of viewers daily. None of my friends are even on Snapchat anymore."