With jammed phone lines and precious smartphone battery power to conserve, social media has become a savior for people affected by Hurricane Harvey who are seeking help.
From rescue requests to real-time updates of where people can find everything from food and shelter to a safe route out of town, people are using social media to manage the aftermath of Hurricane Harvey.
Allison Matherly, coordinator of digital engagement at Texas Tech University, is eight hours away from the storm in Lubbock, Texas.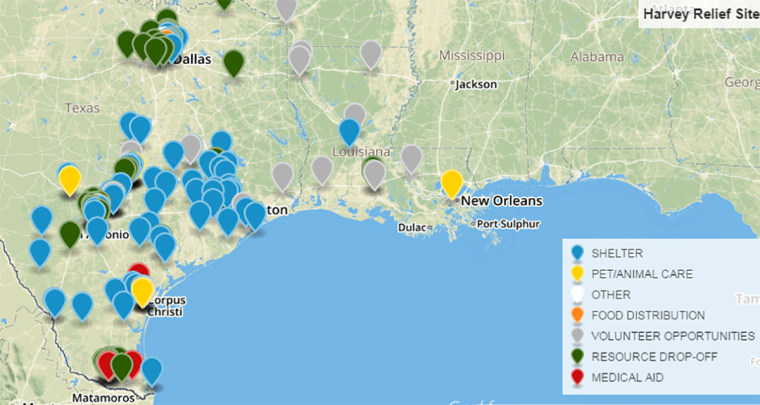 "I managed to find a neighborhood Facebook group. Now someone who lives around the corner from him keeps posting pictures and updates," Matherly said. "They are all binding together and saying, 'If anybody needs dog food, I have some,' to a more broad level of 'here are resources.'"
One Twitter account, @HarveyRescue, created a Google Doc for people to enter their address and any details of their request for help.
Harvey Relief is also offering a list of places where people can find food and shelter. In addition, the group is mobilizing volunteers to help provide relief to those affected by the storm.
"Social media seems to have been especially good so far with Harvey. We have learned a lot from scams or mistakes in previous disasters, so I've seen a lot of very accurate information circulating on how to
help through vetted charities, information about what is needed and what is available in abundance, and what other ways people can help," Jen Golbeck, a professor at the University of Maryland's College of Information Studies, told NBC News.
On Reddit, a live Hurricane Harvey Megathread kept people up to date on everything from shelters accepting pets to an offer from the University of North Texas to accept students displaced by the storm, which came just as the school year was starting.
And those Snap Maps, which were called "creepy" by some when they were first released by Snapchat in June, have proven to be a huge resource for not only tracking friends' locations but also the damage from the storm.
Even if you're not in Houston, you can check out photos and videos from around town by opening Snapchat's camera screen. Pinch the screen with your thumb and index finger to be taken to the Snap Map. Zoom out until you see Houston, where you can then click and explore the content people are sharing around the city.
"I think it really shows the great nature of humanity and people really do want to help each other and they have this platform to do it," Matherly said.