Twelve years ago Thursday, Mark Zuckerberg founded Facebook with a simple dream: to have everyone spending as much time as possible clicking around on his website. Today, the social network site's users are closing in on $3.5 trillion in squandered productivity.
The company has about 1.6 billion monthly active users, more than the population of any single country on earth. And those users are valuable — Facebook makes an average of $3.73 in revenue per user worldwide (and much more for Americans), according to quarterly results reported last week. By market cap, each of those users is worth more than $200 in valuation.
Facebook's users spend an aggregate of 10.5 billion minutes per day on the platform (excluding mobile), according to the company's 2012 IPO filings. And engagement — based on the number of monthly users who visit the site daily — is even higher today.
Assuming that users spend about the same amount of time today, that means people all over the world have spent a collective 55 million years on Facebook since the beginning of 2009.
Related: As Facebook Turns 12, Zuckerberg Wants to Catch Baby's First Steps in Virtual Reality
Twenty minutes a day is a lot of time — well more than a year over the course of the average life span. If users spent just that time working for minimum wage instead of liking and poking each other, each would pull in about $880 a year. That's almost $900 billion in aggregate hypothetical labor last year.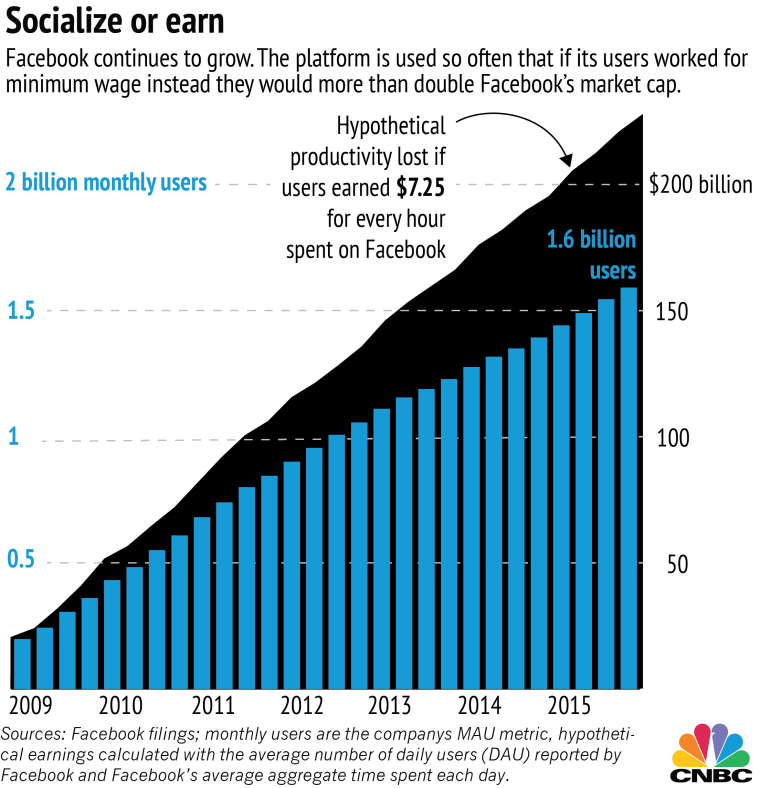 Facebook hit 100 million users at the end of 2008, and according to the calculations above, the social network has occupied enough time to inhibit more than $3 trillion in hypothetical labor since then. (Back-of-the-envelope calculations suggest that companies lose billions every year from employees spending time on Facebook during work hours.)
For its part, Facebook is celebrating its own birthday as "Friends Day" to "reflect on the importance of connecting," according to a press release. The company did not immediately respond to CNBC.com requests for comment.
To be fair, most users would probably be doing something else equally unproductive if they weren't on Facebook, but the math shows how much all that engagement is potentially worth. If every user replaced their 20 minutes of Facebook time with minimum-wage work, they could collectively buy Zuckerberg's entire company two times every year. Since 2009, their collective earnings would be greater than the gross domestic product of the United Kingdom.
That may seem like a silly way to think about a social media company, but consider that advertisers are paying for exposure during all those wasted hours. That means the more time you spend perusing friends' wedding pictures, the more the company as a whole is worth.And that valuation isn't anything to sneeze at. Facebook's market capitalization is currently 12 percent of the total valuation of the nearly 300 publicly traded companies in the technology services sector in the United States, U.S., according to FactSet data.
Related: Zuckerberg: Facebook's New 'Like' Button Options Coming 'Pretty Soon'
In the Internet services subsector, the company is worth more than every company but Alphabet, and the two companies make up a stunning 72 percent of that entire subsector (which includes 93 other companies like Yahoo, LinkedIn and Twitter). And of course, Zuckerberg himself surpassed Amazon founder Jeff Bezos as the fourth-richest person in the world this week.
Read More: Twitter's 412 years of cash puts it in its own league
So what's the best gift you can get Zuckerberg on his company's birthday? Just open up your browser or phone to Facebook, and don't forget to give him your 20 minutes.