What do President Donald Trump, CNN anchor Jake Tapper, The Washington Post, Breitbart and Jack Dorsey, the head of Twitter, all have in common?
They and nearly 40 celebrities and politicians were all roped into retweeting or otherwise engaging with accounts created by a Russian "troll factory" to millions of followers, according to a new exclusive analysis.
Over 3,000 global news outlets also inadvertently published articles containing embedded tweets by the confirmed Kremlin-linked troll accounts in over 11,000 news articles in the run-up to the 2016 election, separate exclusive reporting shows.
On Wednesday, the House Intelligence Committee publicly released for the first time the list of over 2,700 handles provided by Twitter that the social media platform linked to the Internet Research Agency (IRA), a Russian intelligence agency-linked firm based in St. Petersburg, Russia.
Exclusive to NBC News, the list of known IRA-linked handles published by the committee was cross-referenced against an archive of tweets by 855 politicians and public figures tracked by PolitiTweet, an online tool published by PolitiWatch, a nonprofit, nonpartisan technology and public accountability organization.
Related: Timeline of Social Media and the American Election
List of names
The result was a list of high-influence individuals and accounts that inadvertently promoted or engaged with Russian state-sponsored propaganda, previously unreported in its entirety. Most of them retweeted. Some replied to or commented on the accounts.
The handles flagged in the database, along with less than half-a-dozen from previous reports, contains these political figures: President of the United States, Donald J. Trump (@realdonaldtrump), prominent white nationalist Richard Spencer (@RichardBSpencer), Trump associate and political consultant Roger J. Stone Jr. (@RogerJStoneJr), Former US UN Ambassador Samantha Power (@AmbPower44), the president's son Donald J. Trump Jr. (@DonaldJTrumpJr), former KKK Grand Wizard David Duke (@DrDavidDuke), nationalist Dutch politician Geert Wilders (@gertwilderspvv), Sen. John Coryn, (R-TX) (@JohnCornyn), presidential advisor and spokeswoman Kellyanne Conway (@KellyannePolls), Women's March national co-chair Linda Sarsour (@lsarsour), son of fired Trump National Security Advisor Michael Flynn, Michael Flynn Jr. (@mflynnJR), Sen. Nina Turner (D-OH) (@ninaturner), Trump's digital media advisor Brad Parscale (@parscale), Senior Advisor of Executive Deputy Director, UN Women, Ravi Karkara (@ravikarkara), former Trump White House communications director Anthony Scaramucci (@Scaramucci), former White House press secretary Sean Spicer (@seanspicer), and Sen. Ted Cruz (R-TX) (@tedcruz).
The list also includes media personalities and commentators like FOX News host Sean Hannity (@seanhannity), conservative author Ann Coulter (@AnnCoulter), MSNBC host Chris Hayes (@chrislhayes), conservative author Eric Bolling (@ericbolling), NYU political scientist Ian Bremmer (@ianbremmer), conservative TV and radio host Laura Ingraham (@IngrahamAngle), CNN anchor Jake Tapper (@jaketapper), Slate Chief Political Correspondent Jamelle Bouie (@jbouie), Editor of CounterPunch, a left-leaning political investigative magazine Jeffrey St. Clair, (@JSCCounterPunch), Fox Business Network host Lou Dobbs (@LouDobbs), journalist Micah Lee (@micahflee), upstart online radio host of YourVoice America Bill Mitchell (@mitchellvii), popular right wing video blogger Paul Ramsey (@ramzpaul), conspiracy theorist and InfoWars host Alex Jones (@RealAlexJones), popular "alt-right" video blogger Stefan Molyneux (@StefanMolyneux), and @whpresscorps, whose Twitter bio says, "Daily adventures with the White House Press Corps in their own words"...
And pop culture icons singer Nicki Minaj (@NICKIMINAJ), comedian Sarah Silverman (@SarahKSilverman), Daily Show host Trevor Noah (@Trevornoah), James Woods (@realjameswoods), and even the CEO of Twitter Jack Dorsey (@jack) have also been flagged.
Reporters and editors for global news outlets also embedded the Russian propaganda tweets from Jan. 1, 2016, to Sept. 30, 2017, according to social media analysis by Meltwater, a San Francisco-based media intelligence company, which shared its findings with NBC News.
The list of media organizations duped into rebroadcasting the tweets includes the Washington Post, Breitbart, Buzzfeed, the Daily Mail, HuffPo Canada, NBC News and thousands of other online U.S., Russian and other outlets, large and small.
Though not an exhaustive list, the database of celebrities and politicians includes many famous social media accounts — but there could be even more.
The resulting samples provide a sharper picture than the raw numbers and percentages that the social media platforms released to Congress. And it reveals in greater depth how high-powered Americans may have unwittingly retweeted and shared the content, which was shared by a wide range of users with a spectrum of political leanings.
These bold-faced names, along with lesser known but influential Twitter accounts, didn't necessarily make the content go viral — and we can only guess as to why a certain person retweeted or engaged with a post: perhaps to support or criticize a message, or just as part of what they thought was regular Twitter conversation. . As innumerable Twitter bios trumpet, "retweets do not equal endorsements."
But by engaging with the troll accounts, these public figures unwittingly amplified the magnitude, velocity and reach of this Kremlin-linked propaganda. They lent it their luster and credence.
Stars lured by Russian trolls
One of the most actively retweeted an re-embedded accounts by celebrities and online news outlets was @TEN_GOP, which amassed over 130 million followers while masquerading as the official Twitter account of the Tennessee Republican Party before it was suspended. Its self-described "backup" account, @10_GOP, collected over 40 million followers.
Trump himself tweeted back "So nice, thank you!" to the @10_GOP when the account tweeted at him, "We love you, Mr. President!" in September. Like all of those who retweeted the troll accounts, there is no indication that the president knew the tweet had been sent by Russian state-sponsored operatives.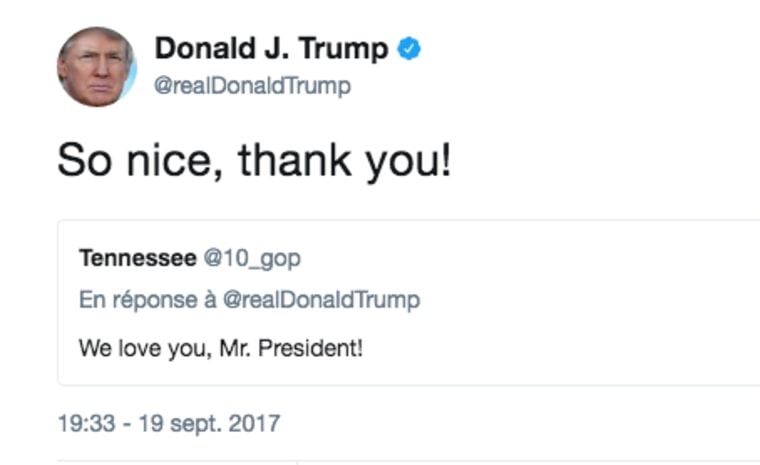 The @TEN_GOP account appeared five out of the six times Donald Trump Jr. retweeted the troll accounts. The issues ranged from an immigrant riot hoax in Sweden, voter fraud in Illinois and Florida, to support for his father.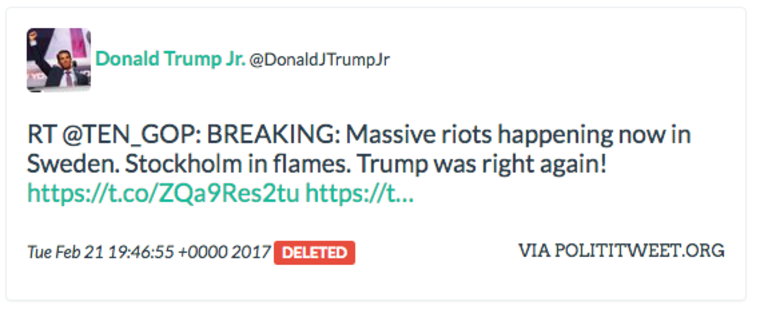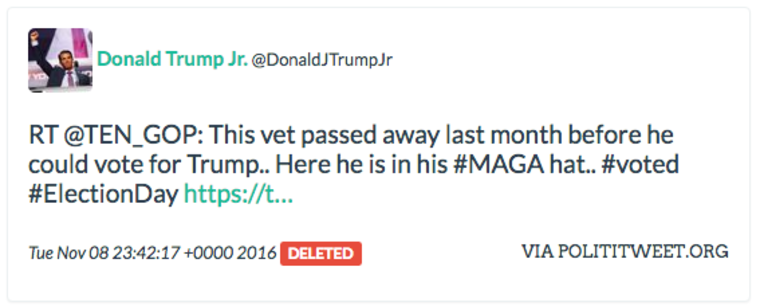 Coulter also retweeted @TEN_GOP repeatedly, with it appearing 17 out of the 28 times she retweeted a Kremlin-linked troll account.
In at least two of the total cases, Coulter retweeted a Russian troll's retweet of one of her tweets.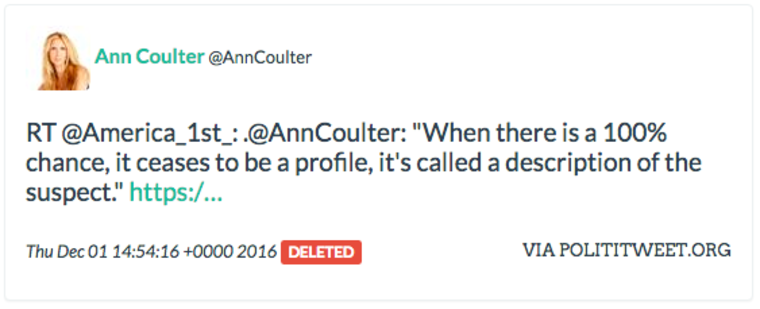 But the retweeting wasn't confined to one side of the political spectrum.
Silverman, who gave a speech at the 2016 Democratic National Convention, made a now deleted retweet of Russian troll account @Crystal1Johnson that adopted the persona of a black activist. The tweet celebrated the graduation of Notre Dame's first black valedictorian, Katie Washington.

The Daily Show host Trevor Noah also interacted with a Russia-linked account that promoted a pro-black story.
"RT @BlackToLive: Katherine Johnson, a Math genius. Her calculations put the 1st man on the Moon. Our history books never mentioned her name…" he wrote in early January.
Some of the interactions even flagged that the accounts were sketchy. On Oct. 18, CNN's Tapper tweeted "so it turns out @TEN_GOP was a Russian account."
In June, Tapper had unknowingly interacted with the troll account when it appeared to question how he phrased a tweet. "i explained this. i rewrote it to make it more precise," he replied.
Even Twitter's Dorsey got sucked in. In March, he retweeted two posts from @Crystal1Johnson. The account portrayed itself as the account of a black woman and largely posted feel-good stories. This week it appeared on the list of verified Kremlin-linked troll accounts published by the Intelligence Committee.
"Rihanna collects her Humanitarian of the Year award from Harvard. She kicked off #WomensHistoryMonth with a bang!" read one tweet.
"Nobody is born a racist. This picture is so sweet! Teach your children to judge others by the kind of person they are inside," read another.

Hacking the media
Reporters will often embed a user tweet that comments on the subject of their article. It's a quick way to demonstrate social media sentiment and engage with the online conversation.
But journalists don't always verify the identity of the tweet they embed. They may not know whether the "man on the street" is actually operating from a street in St. Petersburg, Russia.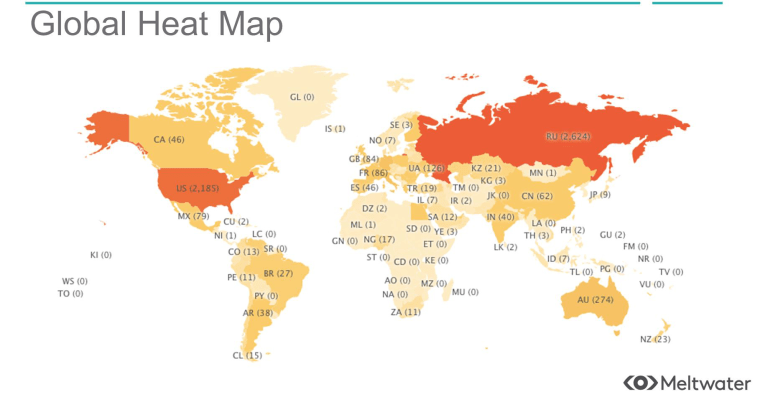 A Washington Post article on Starbucks's pledge to hire thousands of refugees embedded a tweet from the troll account @TEN_GOP. The account also appeared in a Buzzfeed story on LGBT YouTube stars who said their content was being restricted.
And at least two articles on NBCNews.com included embedded troll tweets. One was an article on alleged reports of "vote flipping" by Pennsylvania voters. The other was about gay pride events being held after the Orlando Pulse nightclub shooting.
In an ironic twist, a Daily Mail story about a hoax video created by the troll factory contained an embedded tweet sent by an account controlled by one of the troll factories.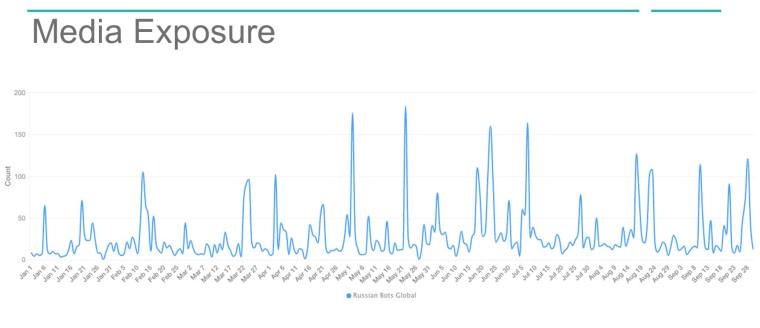 "I certainly wasn't expecting to find as much as I did," Johnny Vance, Meltwater's Director of Strategic Programs, told NBC News. "The level of penetration in news media and to see the amount of traction [the Russian state-sponsored trolls] were able to get in global news media was eye-opening."
The top ten countries from which the articles were published, ranked by most sites to least, include Russia, the United States, Germany, Australia, Italy, Ukraine, Switzerland, Finland, France and the United Kingdom.
Meltwater identified 14 known Russian troll accounts which appeared in more than 100 individual stories.
Ranked by number of separate URLs, the accounts are @inforeactor (3,070 times), @TEN_GOP (2,615), @WarfareWW (626), @Jenn_Abrams (453), @Pamela_Moore13 (424), @SouthLoneStar (300), @todayinsyria (279), @Crystal1Johnson (241), @NovostiDamask (235), @lukas_rosier (185), @inspectan (158), @blacktivists (142), @ComradZampolit (126), and @GattiSilgatti (121) — each a prolific tweeter.
Big names, big boost
The impact of a high-powered individual or media organization retweeting, interacting or embedding a Russian troll account has three levels, explained Sam Woolley, research director of the Digital Intelligence Lab of the Institute for the Future, a Palo Alto, California-based think tank.
On the first level, a bot or troll may talk to a person, who then reshares the content to their relatively small network.
On the second level, a celebrity may share a piece of unwitting propaganda with their hundreds of thousands of followers, some of whom retweet out to their networks, creating a cascade or viral effect.
And that's where most people's understanding stops. A tweet becomes like a billboard that people see and copy — and send to more people who see and copy it.
But there's also a third level, where the social media platforms themselves became an accelerant for the fake news, disinformation and propaganda.
Specifically: Twitter designs its code to prevent bot content from directly retweeting a topic into appearing in one of the front page sections such as "Trending," "While you were away," and the "Catchup feed." But when a mega-user or famous person retweets a piece of content and their followers engage, it becomes a piece of organic content and starts getting up-ranked like any other exciting photo or idea emanating from a popular Twitter account.
"When a celebrity retweets a bot ... it's really likely the algorithm says 'this is a really important thing,' so we're going to create a trend and we're going to prioritize it on the Facebook or Twitter news feed," Woolley said.
"Then it's the companies themselves 're-legitimizing' that information," he said.
Twitter did not immediately provide comment in response to an NBC News request, but its terms of service prohibit a user from trying to "access or search or attempt to access or search the Services by any means (automated or otherwise) other than through our currently available, published interfaces."
They also forbid "scripting the creation of Content in such a manner as to interfere with or create an undue burden on the Services," and the use of fake IP addresses. Twitter says it challenges 4 million accounts a week to test whether they're real, and blocks 450,000 suspicious log-ins daily.
In testimony on Capitol Hill this week, Twitter's acting general counsel Sean Edgett said the social media platform had suspended all accounts linked to Russia's Internet Research Agency and had doubled its ability in the past year to stop the rogue accounts.
"We are committed to working every single day at solving this problem," he testified.