On Thursday night, Turkish Prime Minister Recep Tayyip Erdogan said he would "eradicate Twitter." Hours later he blocked access to the social networking site.
The result: Twitter use actually increased 138 percent in the immediate aftermath of the ban.
How is that possible? Many Twitter users are using free, mobile virtual private network (VPN) apps like AnchorFree's Hotspot Shield and TunnelBear to get around the censorship. The services replace an Internet user's IP address with an address from their own servers, which masks the user's location and lets them access restricted sites.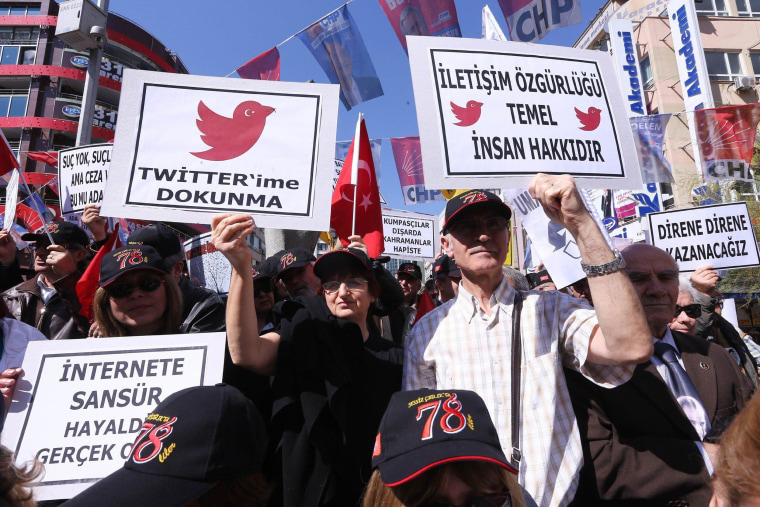 The numbers are impressive. In the first 12 hours after the Twitter ban, Hotspot Shield was downloaded 270,000 times in Turkey, a country with a population of around 81 million. After 72 hours, the count had reached 1.1 million.
"Freedom is part of our business model," David Gorodyansky, CEO of AnchorFree, told NBC News.
Recently, Erdogan's government has stepped up the censorship, meaning that simply changing their Domain Name System (DNS) settings is no longer enough for many Turkish citizens to get around the block. That makes VPN software — along with anonymous browsing software like Tor, as well as Twitter's text-to-tweet option — even more valuable.
Beyond a general assertion that access to information should be secure and private, however, AnchorFree avoids getting mired in political debate.
"We are completely politically agnostic," Gorodyansky said. "Whether you are a user in the United States who wants to remain private online or you are a dissident in Turkey, it doesn't really matter to us."