Forget Facebook stalking. Now users can just "Ask" their friends whether or not they are single.
The new feature began appearing on Facebook profiles this week. In the "About" section, there is now an "Ask" button next to every section that is not filled out.
Yes, that includes "Relationship Status." Unless you are Benjamin Button-ing your way through life, you are not getting any younger, something that nosy mothers are fond of bringing up.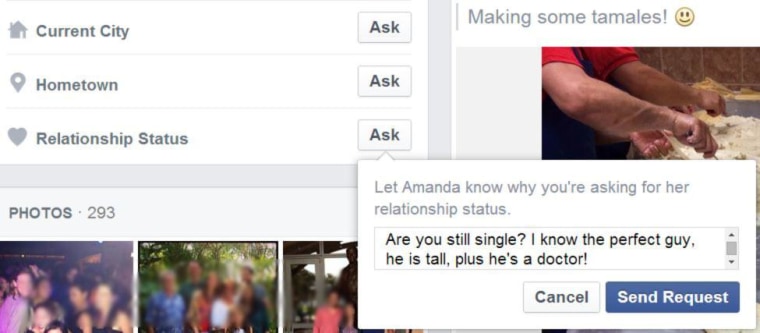 Annoying, yes. Creepy? Also yes, especially considering how many random acquaintances people "friend" on Facebook.
Obviously, not everyone is going to love this feature. So why add it? Facebook could be looking to make a play in the online dating space. Plenty of apps, including Tinder and Hinge, already use Facebook's API to create profiles and establish networks of potential dates.
Facebook already has access to those networks. Plus, in July, it unveiled Graph Search, which lets users sort friends with search terms like, "My female friends who are single."
A recent Pew Research poll found that 59 percent of Americans think that online dating is a "good way to meet people," up from 44 percent from 2005. Meanwhile, 71 percent of Americans who are online use Facebook.
Those numbers could add up to a big opportunity for Facebook. The company, however, seems to have bigger goals than just dominating the dating game.
People on Facebook can now also ask others for things like their email, phone number and current city. The site has essentially outsourced its nagging to its users.
"This feature provides an easy way for friends to ask you for information that's not already on your profile," a Facebook spokesperson told NBC News. "If you choose to answer, this information is then added to your profile. By default, only you and your friend can see it, and you also have the option of sharing it with others, too."
Here is guessing that Facebook would rather users choose "sharing it with others."