It might seem hard to believe, for those of us who are connected at all times via our phones, tablets and laptops, but 20 percent of Americans say they don't use the Internet.

Harder still to grasp is the reason they give: Nearly half of those folks say they're not online because they're not interested, according to a new Pew Internet & American Life Project study on "Digital differences."

However, another recent study contends the lack-of-interest reason is "almost entirely fictional," and that Americans who aren't online are in that situation because of geography and economics.

In "Connected: Rural, poor areas lag in broadband," the Investigative Reporting Workshop noted that last year, a National Telecommunications and Information Administration survey showed that said 68 percent of households had a high-speed, or broadband, connection, "far more than what the Workshop analysis shows."

The NTIA survey found that those with annual family incomes of $15,000 or less adopted broadband at a 32 percent rate, while nearly 90 percent of those with annual family incomes of $150,000 or more had broadband.

When the NTIA asked those who did not subscribe to explain, 46 percent said "don't need/not interested;" 25 percent said it was too expensive; and 14 percent said it was because they didn't have a computer. The question of non-adoption, then, seems a little more complex than simple income. The FCC commissioned the Social Science Research Council to study why people do not adopt. They interviewed 170 non-subscribers and learned that the "not interested" answer did not come up. "We found no evidence of that," said Joe Karaganis, one of the study's authors. The reason was in part because of survey methods, he said. "We think that's an almost entirely fictional category at this point," he said.
Fictional it well may be. Pew says that in 1995 -- the Mesolithic Period for the Internet -- only about 1 in 10 U.S. adults were going online; as of last August, 78 percent of adults and 95 percent of teens were online.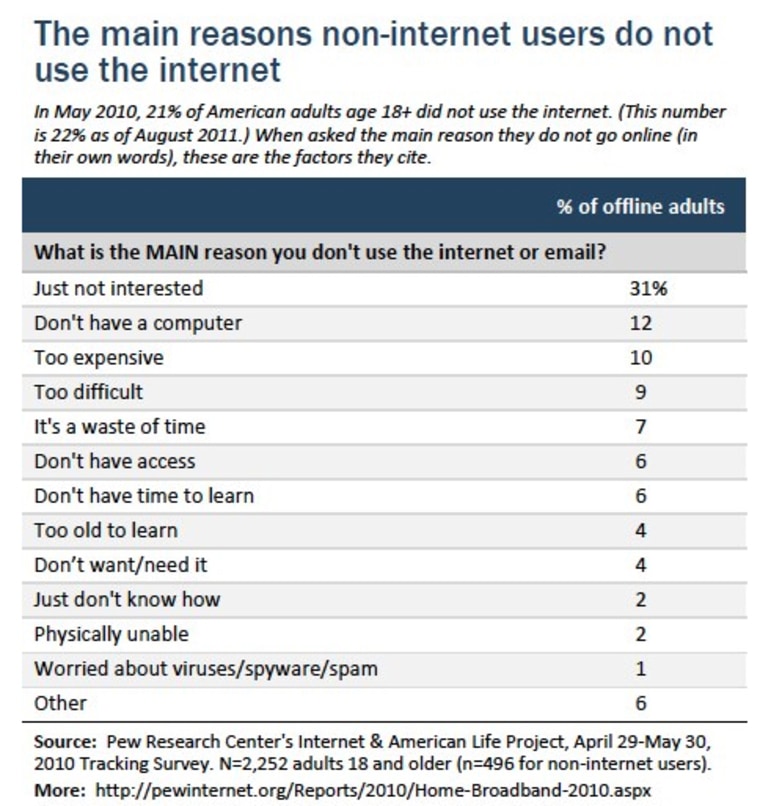 By 2000, a majority of U.S. adults still weren't using the Internet, and 54 percent of them said it was because they viewed the Internet as "a dangerous thing," Pew said, "especially seniors and those with less than a high school education."

Another 39 percent said then that Internet access was too expensive, and 36 percent said the Internet was "confusing and hard to use."

Pew's report is based primarily on data from telephone interviews with 2,277 adults, age 18 and older, done in April and May, 2011.

In its new research, the non-profit group says that among those who still don't use the Internet, 48 percent say the main reason is "because they don't think the Internet is relevant to them -- often saying they don't want to use the Internet and don't need to use it to get the information they want or conduct the communication they want."

About one in five (21 percent) mention price-related reasons, and a similar number cite usability issues (such as not knowing how to go online or being physically unable to). Only 6 percent say that a lack of access or availability is the main reason they don't go online. Most of these non-users have never used the Internet before, and don't have anyone in their household who does. About one in five (21 percent) say that they know enough about technology to start using the Internet on their own, and only one in ten told us that they were interested in using the Internet or email in the future.
What do you think? Is it lack of interest that keeps so many away still from the Internet? The costs of having Internet service? The lack of geographic coverage, especially in many rural areas? Let us know in your comments here.

Check out Technolog, Gadgetbox, Digital Life and In-Game on  Facebook , and on Twitter , follow Suzanne Choney.