The first images from a phone-booth-sized 570-megapixel camera mounted on a telescope in Chile were released Monday as part of a five-year survey to help scientists figure out why the universe is speeding up.
The Dark Energy Camera is able to see light from over 100,000 galaxies up to 8 billion light years away in each snapshot. It has an array of 62 charged-coupled devices. 
The camera CCDs are constructed specifically to be sensitive to longer wavelengths of light (the red end of the spectrum) from distant galaxies and stars, which will help astronomers probe the nature of dark energy and the accelerating expansion of the universe.
The fact that the expansion of the universe is accelerating, rather than slowing down, remains one of the biggest mysteries of physics. According to Einstein's theory of relativity, gravity should lead to a slowing of the expansion.

The speedup is thought to be due to an exotic form called dark energy that fills approximately 75 percent of the universe and exerts a gravitational force that works in opposition to gravity. But what, precisely, dark energy is and why it's causing cosmic expansion, is unclear.
Over the next five years, the Dark Energy Camera at the Cerro Tololo Inter-American Observatory in Chile will create detailed color images of one-eighth of the sky to discover and measure 300 million galaxies, 100,000 galaxy clusters and 4,000 supernovae.
Members of the Dark Energy Survey will use the images to study the nature of dark energy via handful of technique that allow them to measure the expansion of the universe and the forces at play.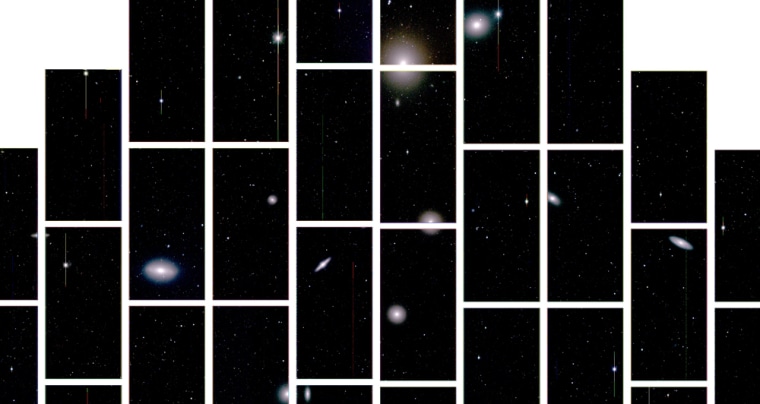 Scientists first learned of the accelerating expansion in 1998 thanks to studies of supernovae light that appeared to have been stretched on its way to Earth, suggesting the universe had also stretched. 
The findings have been backed up with studies of galaxies and galaxy clusters showing they are receding from each other. 
The Dark Energy Survey will, for the first time, make all four techniques used to probe dark energy possible in a single experiment. 
The "first light" images released Monday illustrate that the camera is working. After a few months of testing, the experiment will get underway in December.
John Roach is a contributing writer for NBC News Digital. To learn more about him, check out his website. For more of our Future of Technology series, watch the featured video below.